Showing 1 to 10 of 10 results
Nearby Listings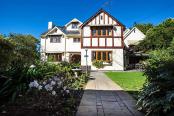 From
R 830,00
Per person, per night sharing.
0.8km South of center of Rosebank
There are 4 tastefully decorated rooms with en-suite bathrooms. Each is fitted with all the amenities necessary to making sure their guests' needs are attended to. The Knight's are an impressive double act at breakfast, which is indulgent with ...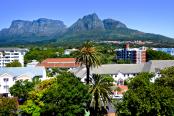 From
R 700,00
Per unit, per night.
1.0km South East of center of Rosebank
Rondebosch Place is a two bed-roomed, one bathroom self catering flat situated on the 5th floor in a secure apartment block in central Rondebosch with wonderful views, it is a spacious and light and bright flat.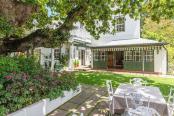 Sleeps: 12 in 4 units/rooms
From
R 525,00
Per person, per night sharing.
1.2km South East of center of Rosebank
Sandown Lodge is a charming 19th Century Georgian House, centrally situated in picturesque surroundings directly opposite Rondebosch Park.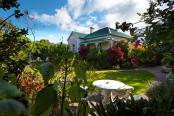 From
R 545,00
Per person, per night sharing.
1.3km North West of center of Rosebank
We're an owner-run guest house in the suburb of Observatory, Cape Town - below the towering Devil's Peak as it runs down to the Liesbeek River. We have 8 en-suite double and single rooms.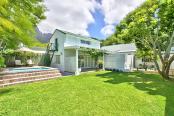 Sleeps: 20 in 4 units/rooms
From
R 1 035,00
Per person, per night sharing.
1.7km South of center of Rosebank
Newlands Cottages consist of three attractively restored, self-catering cottages with small private gardens in the convenient Rondebosch area. Up to 14 guests can be accommodated.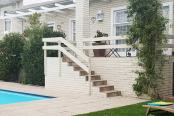 Sleeps: 4 in 2 units/rooms
From
R 400,00
Per person, per night sharing.
1.8km South East of center of Rosebank
Mulberry House is situated in the heart of Rondebosch with easy access to Cape Town Airport and the City centre freeway. It is walking distance to Newlands rugby and cricket grounds. Claremont shopping centre, Hospitals, the University and Kirsten...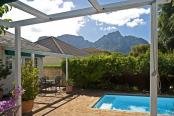 2.1km South East of center of Rosebank
Squirrels Way offers three self catering cottages offering fully equipped family accommodation in the leafy suburb of Newlands in Cape Town. Each cottage has its own private entrance, security, mountain view and secure on site parking. Each fully ...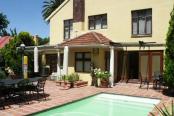 Sleeps: 11 in 4 units/rooms
From
R 440,00
Per person, per night sharing.
2.2km North East of center of Rosebank
Blyplek @ Central Avenue was built in 1928 as part of the original Pinelands Garden Village, finished with lavish amounts of teak - panelling, doors and window frames. Over time, different families with different needs, have developed it .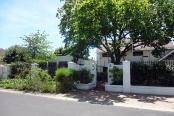 Sleeps: 4 in 2 units/rooms
From
R 875,00
Per unit, per night.
2.2km South East of center of Rosebank
MAYFIELD COTTAGE is a spacious and sunny north facing self-catering unit which is situated in the leafy and historic suburb of Rondebosch. It is a flatlet which adjoins the main house in a tranquil, lush garden.
2.5km North East of center of Rosebank
Thatchwood Cottage is situated in Pinelands which offers a self contained cottage with its own entrance and secure off street parking. There is a swimming pool and tranquil garden where guests can relax.
---
Rosebank
Rosebank is one of the Southern Suburbs of Cape Town, and can be found between the suburbs of Mowbray and Rondebosch.

The suburb is located on the lower eastern slope of Devils Peak, it stretches down to the Liesbeeck River, accross the river and up to the edge of Rondebosch Common. On its west side it is bordered by the M3 freeway. A large portion of the land between the M3 and Main Road, which runs from north to south through the suburb, belongs to the University of Cape Town and is used for residences and sports fields. The area around Main Road is a mixture of university residences, shops and blocks of flats. The historic Mosterts Mill is located just next to the M3 freeway.

Running parallel to Main Road, and one block east from it, the Metrorail Southern Line divides Rosebank in half; Rosebank railway station is the main public transport facility in the suburb. There are no road crossings of the railway in Rosebank; the nearest are the Durban Road bridge in Mowbray to the north and the Belmont Road bridge in Rondebosch to the south. There are, however, several pedestrian subways under the railway.

The area east of the railway, as far as Liesbeek Parkway, contains a mixture of blocks of flats and detached houses; many of the residences in this area are occupied by students from the university. The Cape Town offices of the Council for Scientific and Industrial Research and the South African Bureau of Standards are also located in this part of Rosebank. Liesbeek Parkway is a dual carriageway which runs north-south through the suburb, running mostly parallel to the Liesbeeck River. East of Liesbeek Parkway and the river is an area of larger houses, with a more affluent population. Also located in this area is Rustenburg Girls High School.

The Campground Shopping Centre provides for all your convenience needs, from a dog parlour to hardware to beauty salon. There are two wonderful play parks in the area, which are extensively used by local children and their parents. It's a safe neighbourhood with well-structured security systems in place. Rondebosch Fountain forms the centre of this suburb, and can be found where Belmont and Main Road meet. Rondebosch offers a large variety of places to eat, drink and be merry.

Rosebank, being a suburb of Cape Town, shares the Mediterranean climate, with mild, moderately wet winters and dry, warm summers. Winter, which lasts from the beginning of June to the end of August, may see large cold fronts entering for limited periods from the Atlantic Ocean with significant rain and strong north-westerly winds. Winter months average a maximum of 18.0 degrees Celsius and minimum of 8.5 degrees Celsius. Summer, which lasts from early December to March, is warm and dry with an average maximum of 26.0 degrees Celcius and minimum of 16.0 degrees Celcius. The region can get uncomfortably hot when the Berg Winds blow from the Karoo interior for a couple of weeks in February or early March. Late spring and early summer may sometimes feature a strong wind from the south-east, known locally as the Cape Doctor, so called because it blows air pollution away.