Groote Schuur Hospital
Groote Schuur Hospital


One of Cape Towns man made Landmarks is the Groote Schuur Hospital. The off-white painted, hospital buildings are built on the slopes of Devils Peak, and as such are set against the background of the beautiful mountain range that has become so iconic of Cape Town. During the 1600's the land that the hospital was on was a settler farm called Groote Schuur, which is Dutch for Great Barn. The hospital was first opened in 1938 and named after the original farm, but after 46 years the landmark had to undergo massive extensions to the original building in 1984. Two new wings were added to the hospital, and the original building was preserved. The original building currently houses several clinical academic departments and is also home to The Heart of Cape Town Museum.

One of the hospitals greatest moments was in December 1967, when a young University Of Cape Town educated surgeon named Dr Christiaan Barnard completed the world's first successful human heart transplant on Louis Washkansky. This catapulted bot Barnard and the hospital into the global spotlight. As one of the countries top government funded teaching hospitals, the hospital is staffed by highly experienced individuals who can typically be seen to be mentoring medical school students from the University of Cape Town who are completing the final period of their training. The hospital is internationally renowned as the training ground for some of South Africa's best doctors, surgeons and nurses, and this leads to an extremely high standard of care.

The Heart of Cape Town museum is dedicated to the major medical event performed by Barnard and the hospital staff. The human heart transplant that has, since its first successful implementation, saved the lives of tens of thousands of patients from around the world. A and B theatres are the original general surgery theatres used for the first heart transplant. They remain laid out in the museum to create a fully authentic representation of the pioneering operation. A tour of the museum covers the introductory room, accident room, animal laboratory, the race to transplant the first heart, a timeline of events that led up to the first heart transplant, the donor Denise Darvall and a Barnard exhibit. The Heart of Cape Museum is a true testament to the quality of South African medical practitioners, but also serves as a reminder that organ donors who die tragically are nonetheless heroic in their selfless commitment to a spirit of aiding others in their hour of desperation.
Nearby Listings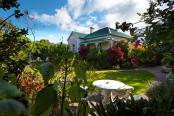 0.9km North East of center of Groote Schuur Hospital
Koornhoop Manor House provides bed and breakfast accommodation in Observatory in the Cape Town City Bowl. We're an owner-run guest house in the leafy suburb of Observatory, Cape Town - below the towering Devil's Peak as it runs down to the Liesbeek River.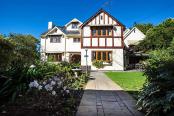 1.9km South East of center of Groote Schuur Hospital
There are 4 tastefully decorated rooms with en-suite bathrooms. Each is fitted with all the amenities necessary to making sure their guests' needs are attended to. The Knight's are an impressive double act at breakfast, which is indulgent with ...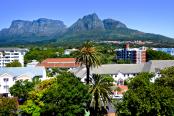 2.6km South East of center of Groote Schuur Hospital
Rondebosch Place is a two bed-roomed, one bathroom self catering flat situated on the 5th floor in a secure apartment block in central Rondebosch with wonderful views, it is a spacious and light and bright flat.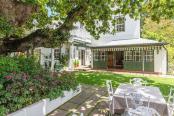 Sleeps: 12 in 4 units/rooms
2.9km South East of center of Groote Schuur Hospital
Sandown Lodge is a charming 19th Century Georgian House, centrally situated in picturesque surroundings directly opposite Rondebosch Park.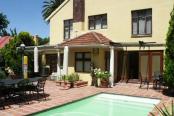 Sleeps: 11 in 4 units/rooms
From R 400,00
Per unit, per night.
3.1km East of center of Groote Schuur Hospital
Blyplek @ Central Avenue was built in 1928 as part of the original Pinelands Garden Village, finished with lavish amounts of teak - panelling, doors and window frames. Over time, different families with different needs, have developed it .
From R 450,00
Per person, per night sharing.
3.5km East of center of Groote Schuur Hospital
Thatchwood Cottage is situated in Pinelands which offers a self contained cottage with its own entrance and secure off street parking. There is a swimming pool and tranquil garden where guests can relax.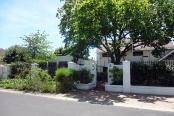 Sleeps: 4 in 2 units/rooms
From R 650,00
Per unit, per night.
4.0km South East of center of Groote Schuur Hospital
MAYFIELD COTTAGE is a spacious and sunny north facing self-catering unit which is situated in the leafy and historic suburb of Rondebosch. It is a flatlet which adjoins the main house in a tranquil, lush garden.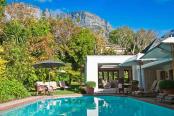 4.1km South of center of Groote Schuur Hospital
Fernwood Manor is an elegant colonial style home in the leafy suburb of Newlands surrounded by lush greenery with wonderful mountain views.
From R 540,00
Per unit, per night.
4.1km South West of center of Groote Schuur Hospital
Etafileni Studio Flat provides visitors with self catering flatlet accommodation in Vredehoek, Cape Town City Bowl. Helen & Richard welcome you to Etafileni, an open plan self catering fully furnished studio flat in Vredehoek, nestling at the foot of Tabl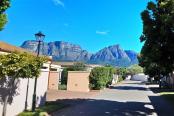 4.3km South East of center of Groote Schuur Hospital
Keurboom Cottage is a self catering cottage and holiday home situated in the leafy suburbs bordering of Claremont bordering Rondebosch. Sleeps 4.