Every January the streets of Cape Town are filled with the festive sights and sounds of the city's biggest social event - The Cape Town Minstrel Carnival - a.k.a. the Coon Carnival.

The history of the festival dates back to the mid 1800's when American minstrels visited the Cape with their Al Jolson-style black-painted faces and banjos. The Coloured community of Cape Town who themselves had just recently been emancipated from slavery, mimicked these performers, but in their case, painted their faces white, and sang merry but sarcastic songs, often ridiculing their former masters.

Today, the historical roots of the Carnival are all but forgotten. The Minstrel Carnival is more a celebration of life and a reflection of the naturally gregarious nature of the Cape's Coloured community. Recently the City of Cape Town has renamed the festival from "Coon Carnival" to the "Minstrel Carnival" presumably because the term "coon" has a derogatory connotation in for some people.

"Every New Year, thousands of minstrels take to the streets in a dazzling display of colourful satin uniforms, shiny parasols, painted faces and foot-tapping banjo tunes that accompany the traditional folk songs, many of Cape Malay origin"

The Minstrel Parade itself consists of over 10,000 singers dancers and musicians dressed in the most garish costumes imaginable. The Parade usually begins in District Six and / or Green Point Stadium. Dozens of out-of-tune brass bands merrily blare a cacophony of festive tunes across the City Bowl, accompanied by hundreds of dancers and encouraged by nearly ten's of thousands of cheering spectators that line the streets.

Nearby Listings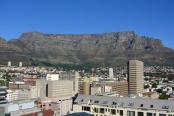 0.6km South of center of Minstrel Carnival
Fully furnished, including DStv and broadband connection. Serviced once a week. Secure parking, swimming pool, and gym in building. Suited for business travellers and holiday makers alike. Available for holiday rental/short term let. Luxury 16th ...
0.8km West of center of Minstrel Carnival
The first impression of this double volume 2 bedroom penthouse apartment is of opulence, combine this with a view of trendy De Waterkant's trade district and you have a perfect balance of luxury and urban living...
Sleeps: 11 in 5 units/rooms
From
R 680,00
Per unit, per night.
1.5km South of center of Minstrel Carnival
Six on Scott Guesthouse.Centrally located in the heart of cosmopolitan Gardens / Cape Town. The five individually designed guestrooms together with comfortable beds and their own special flair, offer all visitors a good nights sleep.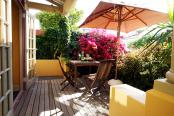 1.6km South of center of Minstrel Carnival
Silver Lattice is a true 'home from home' with charming self catering apartments, centrally situated in the historical heart of Cape Town, close to the famous "Company Gardens".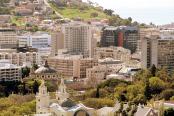 From
R 750,00
Per unit, per night.
1.7km South of center of Minstrel Carnival
Hear the sound of the Noon Gun everyday from this newly renovated self catering studio apartment with up market finishes and fittings.This wonderful unit sleeps two persons privately as well as having a double sleeper couch which can accommodate...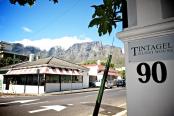 Sleeps: 11 in 6 units/rooms
From
R 855,00
Per unit, per night.
1.8km South West of center of Minstrel Carnival
Tintagel is an elegant, well managed Victorian guesthouse, situated just off Kloof Street, Gardens in Cape Town. We are known for outstanding hospitality, convenient location and charming ambience.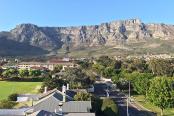 1.9km South of center of Minstrel Carnival
15 on Upper Orange provides self catering apartment accommodation in Gardens, Cape Town. Offering an outdoor pool and views of the sea, the luxury self catering units of 15 Upper Orange Road in Gardens, Cape Town provide the perfect base from which to exp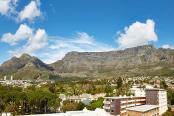 2.1km South of center of Minstrel Carnival
Mount Sierra apartments offers self catering accommodation in Gardens, Cape Town. Located in the heart of Cape Town it will delight you with its numerous award-winning restaurants, galleries, shops and tourist sites. While staying at Mount Sierra you will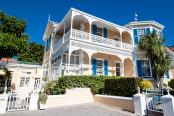 Sleeps: 14 in 7 units/rooms
From
R 1 560,00
Per unit, per night.
2.1km South West of center of Minstrel Carnival
Situated against Cape Town's most famous backdrop, Table Mountain, lies The Walden House built in 1900. There are seven beautifully designed en-suite rooms, suited to our unique look and feel, that offer unique privacy.
2.1km South of center of Minstrel Carnival
The 9 On Camp Villas offer an elegantly furnished self-catering accommodation in the historic suburb of Gardens in Cape Town, nestled against the foothills of Table Mountain. Whether you are a tourist visiting Cape Town's top attractions or a business tra