Showing 1 to 10 of 10 results
Nearby Listings
Sleeps: 31 in 9 units/rooms
From
R 720,00
Per person, per night sharing.
2.7km West of center of Fordsburg
Uniquely positioned on the highest point of Johannesburg, with panoramic views over the city, Grand View B&B provides an enclave of solitude and elegance in northern Johannesburg. This striking establishment is located in one of the most sough...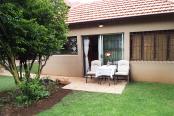 Sleeps: 8 in 4 units/rooms
From
R 650,00
Per unit, per night.
2.9km North West of center of Fordsburg
Parktown Guesthouse is set in a beautiful garden of a private Parktown estate - Situated in a lovely neighborhood. The cottage can accommodate two persons.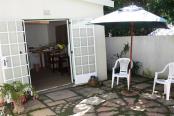 3.5km North of center of Fordsburg
Nestled in the leafy suburb of Forest Town, in a quiet and secure cul-de-sac with 24 hour security guards. Friendly and warm comfort offered by Annie and Chris Challis - this is your home away from home.
Sleeps: 12 in 6 units/rooms
From
R 406,50
Per person, per night sharing.
3.5km North West of center of Fordsburg
33 on First Guesthouse is situated a stone's throw from the Bohemian suburb of Melville's famous 7th Street with its vibe atmosphere, pavement cafes, cozy restaurants, antique/vintage stores and cocktail clubs, we are in the perfect location to explore Jo
From
R 600,00
Per person, per night sharing.
3.5km North West of center of Fordsburg
7th Street Guesthouse and Conference Venue is a 4 star graded by TGCSA, with 13 luxury en suite rooms equipped with DSTV, Wifi internet access, heaters, hairdryers, fans, digital safes, coffee/tea facilities and bar fridges stocked with compliment...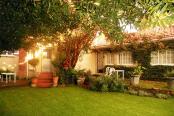 3.8km North of center of Fordsburg
Forest Town Guest Cottages situated in Forest Town in Johannesburg. These attractively and comfortably furnished villas are self-contained, separate and private, 1- and 2-bedroom villas to suit families, the business traveller and tourists.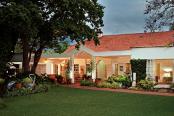 Sleeps: 8 in 4 units/rooms
From
R 750,00
Per person, per night sharing.
5.4km North of center of Fordsburg
Cotswold Gardens situated in the beautiful treed suburb of Saxonwold Johannesburg. Beautiful garden, a large sparkling swimming pool, with free standing sculptures and a variety of contemporary art inside the house.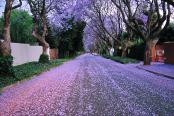 Sleeps: 4 in 2 units/rooms
From
R 350,00
Per person, per night sharing.
5.8km North of center of Fordsburg
Situated in Parkwood, close to Rosebank, Jacaranda Place offers comfortable, attractive accommodation comprising a large living area with either King size bed or twin beds, built in cupboards, arm chairs and a TV.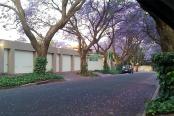 From
R 495,00
Per person, per night sharing.
5.9km North of center of Fordsburg
The Rosebank Lodge Guesthouse is just a 5 minute walk from the Rosebank Gautrain and Rosebank shopping Mall, along beautiful Jacaranda-lined streets bordering Rosebank/Parkwood and Houghton Estate, just off Oxford rd/Glenhove rd/Bolton rd corner...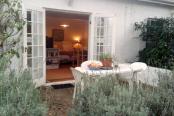 Sleeps: 6 in 3 units/rooms
From
R 425,00
Per person, per night sharing.
6.1km North West of center of Fordsburg
6 on Sixth Bed & Breakfast is conveniently situated in the up-market Johannesburg suburb of Parktown North.
---
Fordsburg
Fordsburg is a vibrant suburb which is a haven of Middle Eastern and Indian culture, food and merchandise and is situated right in the middle of downtown Johannesburg. Affectionately known as little India, it offers fascinating insight into South Africas cultural diversity.

The suburb was initially created to house white gold miners and artisans, but, as apartheids segregation laws were put in to force, it became primarily an Indian area. Apartheid law also facilitated the building of the Oriental Plaza Johannesburg, a landmark in the area, which has shrugged off its mantle as an apartheid experiment and is now a bustling centre of business.

There are a large number of South Africans who have their roots in the area, including the writer Herman Charles Bosman and playwright Athol Fugard. Anti-apartheid activists, like Yusuf Dadoo, GM Naiker and even Nelson Mandela, spent a lot of time in Fordsburg during the struggle years.

Mingling in the crowds in Fordsburg on a bustling Saturday evening, you are hit by a sensual treat, with smoke wafting out of streetside grills, spurts of fire erupting from the coals, and the smell of sizzling tikka chicken. In the background, you can hear the sounds of the latest Bollywood hit playing. The streets are littered with people filing in and out of restaurants, takeaways and bakeries.

Fordsburg Square is known as one of the main centres of Indian culture in South Africa. Within walking distance of the Oriental Plaza and Newtown, the citys cultural hub, the square is an important and intensely colourful and vibrant gathering place for the community.

Over the past few years there has been an influx of Middle Eastern, Asian and African residents to Fordsburg, residents who have brought with them their own cuisine and customs that add even more colour to the local scene. With its diversity, shopping bargains, exceptional cuisine and busy, friendly vibe, Fordsburg is well worth a visit while in Johannesburg.