Jozi Book Fair
The Jozi Book Fair is an annual event which takes place in Newtown, Johannesburg. The Fair will be held over two days from the 27th October 2012 to 28th October 2012. The Jozi Book Fair will be preceded by a conference on the literacy movement, this will take place on the 26th October 2012. The theme of the Book Fair this year is the "State of adult literacy in South Africa, from Apartheid to post Apartheid democracy." Unemployment, development of skills and the quality of life are just some of the challenges that post apartheid South Africa faced.

Together with Botsotso Pulbishers, Khanya College launched the first edition of Jozi Book Fair(JBF) in 2009 at Museum Africa. The aim of the fair is to provide a public platform where reading and writing and publishing come together. This is where authors and publishers can come together and strengthen smaller publishers, which will in turn create a market for writers as well as the public mingling with all of them. When these groups come together it creates an ongoing cycle where they reinforce each other, creating a stronger reading and writing culture. The Fair will give smaller publishers the opportunity to exhibit their products. There will also be a variety of training workshops, children's programmes to encourage reading and writing and discussions and public lectures. Public libraries also get a chance to exhibit and to network with these publishers. There will also be invited international guest authors who will interact with the public and the South African writers and publishers.

Khanya College has partnered with three organisations, the Tembaletu Trust, the Centre for Education Rights and Transformation, and the DVV International. Some of the discussions at the Fair will include, understanding the context and orientation of the literacy movement historically, educational materials and ways to deepen adult literacy and publishing and promoting indigenous language in South and Southern Africa today.

Registration for Jozi Book Fair will open on the 1st June 2012. For more information visit www.jozibookfair.org.za or contact Oupa Lehulere on 084-377-3001, Sekiwe Yena on 084-377-3018 or Tremaine Bam on 084-377-3013.
Nearby Listings
Sleeps: 8 in 4 units/rooms
2.6km North West of center of Jozi Book Fair
Parktown Guesthouse is set in a beautiful garden of a private Parktown estate - Situated in a lovely neighborhood. The cottage can accommodate two persons.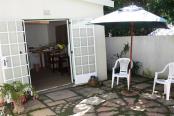 2.9km North of center of Jozi Book Fair
Nestled in the leafy suburb of Forest Town, in a quiet and secure cul-de-sac with 24 hour security guards. Friendly and warm comfort offered by Annie and Chris Challis - this is your home away from home.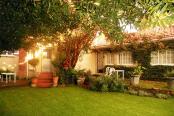 3.1km North of center of Jozi Book Fair
Forest Town Guest Cottages situated in Forest Town in Johannesburg. These attractively and comfortably furnished villas are self-contained, separate and private, 1- and 2-bedroom villas to suit families, the business traveller and tourists.
Sleeps: 12 in 5 units/rooms
3.5km North West of center of Jozi Book Fair
7th Street Guesthouse and Conference Venue is a 4 star graded by TGCSA, with 13 luxury en suite rooms equipped with DSTV, Wifi internet access, heaters, hairdryers, fans, digital safes, coffee/tea facilities and bar fridges stocked with compliment...
Sleeps: 12 in 6 units/rooms
From
R 680,00
Per unit, per night.
* Rates may vary according to season
3.8km West of center of Jozi Book Fair
33 on First Guesthouse is situated a stone's throw from the Bohemian suburb of Melville's famous 7th Street with its vibe atmosphere, pavement cafes, cozy restaurants, antique/vintage stores and cocktail clubs, we are in the perfect location to explore Jo
Sleeps: 8 in 4 units/rooms
5.6km North of center of Jozi Book Fair
The PERFECT ROSEBANK ACCOMMODATION for Business and Leisure Travellers. There are 56 huge rooms and apartments, the beds are comfortable, the WiFi is fast & free and the coffee is GOOD! This perfect location makes getting around Johannesburg that much eas
5.8km North West of center of Jozi Book Fair
Self catering accommodation in Parkhurst, Johannesburg. Including office area and within walking distance restaurants, shops and pubs. A sports club is on the boundary of the establishment.
Sleeps: 8 in 3 units/rooms
5.9km North of center of Jozi Book Fair
The Residency Jellicoe is situated in Rosebank's pristine business hub, yet providing the tranquillity one needs to restore the soul after a day in Gauteng's heart of art. Book a Luxury Hotel Room, One Bedroom Apartment or Two Bedroom Apartment and enjoy
Sleeps: 4 in 2 units/rooms
6.6km North of center of Jozi Book Fair
La Bougain Villa is an elegant Bed and Breakfast in a quiet peaceful garden setting in the heart of Johannesburg's northern suburbs. Holiday makers and business executives are most welcome.
Sleeps: 12 in 4 units/rooms
8.0km North West of center of Jozi Book Fair
Panhandle Place Cottages are lovely self-catering units in a beautiful garden setting with views of the city skyline. We are centrally placed in an old Johannesburg suburb with tree-lined streets, safe for walking and jogging.