FNB Stadium


Built in preparation for the 2010 FIFA World Cup which was hosted in South Africa, Soccer City or FNB Stadium was completed on the 21st of October 2009. Presently the stadium is the largest stadium in Africa and fifth largest in the world, with a seating capacity of almost 95 000. Although the stadium was not built from the floor up, the original building underwent a major upgrade for the World Cup, with a new design inspired by the shape of an African pot called a calabash, this lending itself to the buildings nickname, The Calabash. The Stadiums colouring on the outside is a mosaic of fire and earthen colours and incorporates a ring of lights which run around the bottom of the structure, simulating fire underneath the calabash pot. The symbolism behind the calabash is important, not only to the World Cup but also to the citizens of South Africa, as it is a symbol of sharing and togetherness.

As if the original stadium which was built in 1987 was big enough, the refurbishment saw the addition of more than 80 000 cubic metres of concrete, 9 000 tons of reinforcing steel, 8 000 tons of structural steel and 120 000 cubed metres of soil. The upgrade saw the addition of an extended upper tier around the stadium to increase the capacity, an additional 2 executive suites, an encircling roof, new changing room facilities and new floodlights. The number of suites in the stadium was also increased to 195.

The stadium has hosted some events of major importance, both locally and internationally. It was the venue where former president Nelson Mandela was welcomed back to Soweto after his release from prison in 1990, as well as the venue for his memorial service which was held on 10 December 2013 and saw an unprecedented gathering of world leaders. These leaders included; USA president Barrack Obama, former presidents Bill Clinton, Jimmy Carter and George W Bush. The stadium is also the home grounds of Kaizer Chiefs Football Club and the South Africa national football team, Bafana Bafana.

Apart from soccer, the stadium has also host Rugby fixtures. In 2010 the FNB stadium hosted its first rugby union match, which was the Tri Nations match between South Africa and New Zealand, and to the dismay of local rugby fans the game was won by the latter. This match boasts the third highest rugby attendance ever in the Southern Hemisphere and the current record attendance for the redeveloped stadium, with an attendance of 94,713.

The stadium has played host to a number of intenational performers, including U2, Neil Diamond, Coldplay, Kings of Leon, Linkin Park, Lady Gaga, Red Hot Chili Peppers, Metallica, Bon Jovi, Justin Bieber, Rihanna, Bruce Springsteen and The E Street Band and Foo Fighters.

The FNB Stadium stands as a unique architectural landmark in Gauteng and FIFA has described it as being one of the most artistic and awe-inspiring football venues on the African continent.


The stadium offers Tours:

Monday - Friday 09:00, 10:30, 12:00, 13:30 and 15:00
Weekend: 12:00 and 13:30
Nearby Listings
Sleeps: 31 in 9 units/rooms
From
R 700,00
Per unit, per night.
4.7km North of center of FNB Stadium
Uniquely positioned on the highest point of Johannesburg, with panoramic views over the city, Grand View B&B provides an enclave of solitude and elegance in northern Johannesburg. This striking establishment is located in one of the most sough...
Sleeps: 12 in 6 units/rooms
From
R 680,00
Per unit, per night.
5.9km North of center of FNB Stadium
33 on First Guesthouse is situated a stone's throw from the Bohemian suburb of Melville's famous 7th Street with its vibe atmosphere, pavement cafes, cozy restaurants, antique/vintage stores and cocktail clubs, we are in the perfect location to explore Jo
6.6km North of center of FNB Stadium
7th Street Guesthouse and Conference Venue is a 4 star graded by TGCSA, with 13 luxury en suite rooms equipped with DSTV, Wifi internet access, heaters, hairdryers, fans, digital safes, coffee/tea facilities and bar fridges stocked with compliment...
Sleeps: 8 in 4 units/rooms
6.8km North of center of FNB Stadium
Parktown Guesthouse is set in a beautiful garden of a private Parktown estate - Situated in a lovely neighborhood. The cottage can accommodate two persons.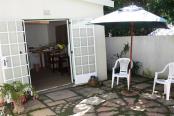 8.1km North of center of FNB Stadium
Nestled in the leafy suburb of Forest Town, in a quiet and secure cul-de-sac with 24 hour security guards. Friendly and warm comfort offered by Annie and Chris Challis - this is your home away from home.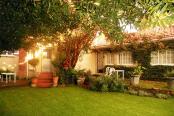 8.4km North of center of FNB Stadium
Forest Town Guest Cottages situated in Forest Town in Johannesburg. These attractively and comfortably furnished villas are self-contained, separate and private, 1- and 2-bedroom villas to suit families, the business traveller and tourists.
Sleeps: 10 in 5 units/rooms
From
R 425,00
Per person, per night sharing.
9.5km North of center of FNB Stadium
Cherry Tree Cottage offers value for money, and is a safe & secure, Executive Bed and Breakfast with limited self catering facilities. Situated in the northern suburbs of Johannesburg.
Instant Booking
Call Direct
9.6km North West of center of FNB Stadium
Bearing the proud crest of the Higgo family, this boutique guesthouse offers luxury accommodation and conference facilities in the northern suburb of Northcliff, Johannesburg.
9.6km North of center of FNB Stadium
Self catering accommodation in Parkhurst, Johannesburg. Including office area and within walking distance restaurants, shops and pubs. A sports club is on the boundary of the establishment.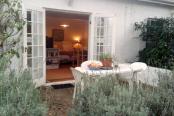 Sleeps: 6 in 3 units/rooms
From
R 425,00
Per person, per night sharing.
9.7km North of center of FNB Stadium
6 on Sixth Bed & Breakfast is conveniently situated in the up-market Johannesburg suburb of Parktown North.