Ellis Park Stadium


Mr JD Ellis was instrumental in building an Icon! An Icon that was named after him, The Ellis Park Stadium. After he made the land available the stadium was constructed in 1928. The stadium was erected in approximately eight months and in June 1928 the first test was played against the New Zealand All Blacks. Over the years Ellis Park Stadium has become internationally renowned and synonymous with rugby, although other major events have also been staged at the facility. These events include, amongst others, soccer matches and open-air concerts.

A photograph that has been viewed millions of times, by people around the globe, was taken during one of the country's most significant sporting events, the 1995 Rugby World Cup. The photo is of then-president Nelson Mandela and Springbok captain Francois Pienaar holding up the Webb Ellis trophy on 24 June 1995. This was the first major international sporting achievement for South Africa after years of isolation, and the victory was considered a stepping stone toward the creation of a united South Africa. The South Africa national rugby union team, known as the Springboks, defeated New Zealand's All Blacks 15-12. The story of this period in South African history and this achievement in particular was turned into a motion picture in 2009 by Hollywood director Clint Eastwood, the movie was called Invictus.

The old stadium was completely demolished in March 1979 to make way for a bigger, more modern facility. The new facility which includes upgrades made in preparation of the 2010 FIFA World Cup now seats in the region of 62 000 people. It is believed that the only extended period in the stadiums history where rugby was not played at the facility was during the 1979 rebuild. Games were played at the Wanderers while the stadium was being rebuilt.

The Ellis Park Stadium is home to Super Rugby's Lions, Currie Cup's Golden Lions and the Premier Soccer League's Orlando Pirates. In 2005, 10 years after hosting the legendary Rugby World Cup final, it became the first black-owned stadium in South Africa when the Golden Lions Rugby Union relinquished management to a majority black-owned company. Today, the stadium is managed by Interza Lesego, Orlando Pirates Football Club and Ellis Park World of Sport.

After a R500 million upgrade was completed in 2008, Ellis Park Stadium was ready for the 2010 FIFA World Cup. The upgrade saw the seating capacity increased by 5000 seats, a facelift to the Presidential Suite, a new hospitality room and new changing rooms. Ellis Park hosted five group games, one second round game and one quarter-final of the 2010 FIFA World Cup.

Ellis Park now boasts high-tech media facilities, a premium audio-visual set-up and improved accessibility for the disabled. It also has nine conferencing venues, which host up to 1 000 people at a time. Visitors can choose between executive suites and banquet conference venues, all overlooking the pitch. It is also a popular concert venue in South Africa, with the likes of the Rolling Stones having performed there.
Nearby Listings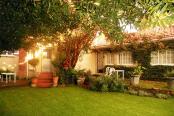 3.5km North West of center of Ellis Park Stadium
Forest Town Guest Cottages situated in Forest Town in Johannesburg. These attractively and comfortably furnished villas are self-contained, separate and private, 1- and 2-bedroom villas to suit families, the business traveller and tourists.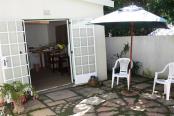 3.5km North West of center of Ellis Park Stadium
Nestled in the leafy suburb of Forest Town, in a quiet and secure cul-de-sac with 24 hour security guards. Friendly and warm comfort offered by Annie and Chris Challis - this is your home away from home.
Sleeps: 8 in 4 units/rooms
4.4km West of center of Ellis Park Stadium
Parktown Guesthouse is set in a beautiful garden of a private Parktown estate - Situated in a lovely neighborhood. The cottage can accommodate two persons.
Sleeps: 12 in 5 units/rooms
5.6km West of center of Ellis Park Stadium
7th Street Guesthouse and Conference Venue is a 4 star graded by TGCSA, with 13 luxury en suite rooms equipped with DSTV, Wifi internet access, heaters, hairdryers, fans, digital safes, coffee/tea facilities and bar fridges stocked with compliment...
Sleeps: 8 in 4 units/rooms
5.6km North West of center of Ellis Park Stadium
The PERFECT ROSEBANK ACCOMMODATION for Business and Leisure Travellers. There are 56 huge rooms and apartments, the beds are comfortable, the WiFi is fast & free and the coffee is GOOD! This perfect location makes getting around Johannesburg that much eas
Sleeps: 8 in 3 units/rooms
5.9km North West of center of Ellis Park Stadium
The Residency Jellicoe is situated in Rosebank's pristine business hub, yet providing the tranquillity one needs to restore the soul after a day in Gauteng's heart of art. Book a Luxury Hotel Room, One Bedroom Apartment or Two Bedroom Apartment and enjoy
Sleeps: 12 in 6 units/rooms
From
R 680,00
Per unit, per night.
* Rates may vary according to season
6.2km West of center of Ellis Park Stadium
33 on First Guesthouse is situated a stone's throw from the Bohemian suburb of Melville's famous 7th Street with its vibe atmosphere, pavement cafes, cozy restaurants, antique/vintage stores and cocktail clubs, we are in the perfect location to explore Jo
Sleeps: 10 in 4 units/rooms
From
R 1 169,00
Per unit, per night.
* Rates may vary according to season
6.5km North East of center of Ellis Park Stadium
Bedford Square Apartments offers convenient self catering accommodation in Bedfordview in the Johannesburg East Rand. We offer 6 apartments, accommodating 2 - 4 people. Bedford Square Apartments are tastefully fully furnished up market executive apartment
6.7km North West of center of Ellis Park Stadium
Self catering accommodation in Parkhurst, Johannesburg. Including office area and within walking distance restaurants, shops and pubs. A sports club is on the boundary of the establishment.
Sleeps: 4 in 2 units/rooms
6.8km North West of center of Ellis Park Stadium
La Bougain Villa is an elegant Bed and Breakfast in a quiet peaceful garden setting in the heart of Johannesburg's northern suburbs. Holiday makers and business executives are most welcome.