Showing 1 to 10 of 10 results
Nearby Listings
Sleeps: 8 in 4 units/rooms
From
R 650,00
Per unit, per night.
1.7km North West of center of Braamfontein
Parktown Guesthouse is set in a beautiful garden of a private Parktown estate - Situated in a lovely neighborhood. The cottage can accommodate two persons.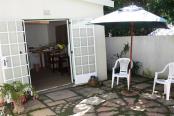 1.9km North of center of Braamfontein
Nestled in the leafy suburb of Forest Town, in a quiet and secure cul-de-sac with 24 hour security guards. Friendly and warm comfort offered by Annie and Chris Challis - this is your home away from home.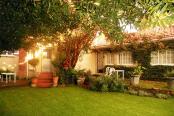 2.2km North of center of Braamfontein
Forest Town Guest Cottages situated in Forest Town in Johannesburg. These attractively and comfortably furnished villas are self-contained, separate and private, 1- and 2-bedroom villas to suit families, the business traveller and tourists.
From
R 550,00
Per person, per night sharing.
2.8km West of center of Braamfontein
7th Street Guesthouse and Conference Venue is a 4 star graded by TGCSA, with 13 luxury en suite rooms equipped with DSTV, Wifi internet access, heaters, hairdryers, fans, digital safes, coffee/tea facilities and bar fridges stocked with compliment...
Sleeps: 31 in 9 units/rooms
From
R 650,00
Per person, per night sharing.
3.0km West of center of Braamfontein
Uniquely positioned on the highest point of Johannesburg, with panoramic views over the city, Grand View B&B provides an enclave of solitude and elegance in northern Johannesburg. This striking establishment is located in one of the most sough...
Sleeps: 12 in 6 units/rooms
From
R 389,50
Per person, per night sharing.
3.2km West of center of Braamfontein
33 on First Guesthouse is situated a stone's throw from the Bohemian suburb of Melville's famous 7th Street with its vibe atmosphere, pavement cafes, cozy restaurants, antique/vintage stores and cocktail clubs, we are in the perfect location to explore Jo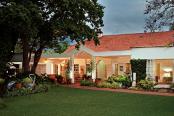 Sleeps: 8 in 4 units/rooms
From
R 750,00
Per person, per night sharing.
3.8km North of center of Braamfontein
Cotswold Gardens situated in the beautiful treed suburb of Saxonwold Johannesburg. Beautiful garden, a large sparkling swimming pool, with free standing sculptures and a variety of contemporary art inside the house.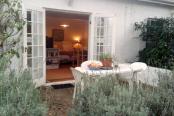 Sleeps: 6 in 3 units/rooms
From
R 425,00
Per person, per night sharing.
4.7km North West of center of Braamfontein
6 on Sixth Bed & Breakfast is conveniently situated in the up-market Johannesburg suburb of Parktown North.
From
R 650,00
Per unit, per night.
4.8km North West of center of Braamfontein
Self catering accommodation in Parkhurst, Johannesburg. Including office area and within walking distance restaurants, shops and pubs. A sports club is on the boundary of the establishment.
Sleeps: 4 in 2 units/rooms
From
R 400,00
Per person, per night sharing.
5.7km North of center of Braamfontein
La Bougain Villa is an elegant Bed and Breakfast in a quiet peaceful garden setting in the heart of Johannesburg's northern suburbs. Holiday makers and business executives are most welcome.
---
Braamfontein
Braamfontein, which means the spring by the brambles, was declared a township in the late 1880s, and before that, was part of a vast Witwatersrand farm. Located north of Johannesburgs city centre and despite decades of fluctuating socio-economic fortunes, Braamfontein remains an important economic and entertainment hub.

Braamfontein is a commercially and culturally diverse business district comprising a mix of office blocks, student accommodation, restaurants, retail outlets, colleges, theatres and hotels. Colloquially known as ''Braamies'', it is the seat of the City of Johannesburgs local government and is the home of South Africas Constitutional Court and a top South African university, the University of the Witwatersrand (Wits). An area with working class roots, in the early 1950s, when the centre of Johannesburg declined, Braamfontein became the alternative metropolitan place to work and play. Between the late 1980s and early 2000s, urban decay from the inner city spread to Braamfontein, causing an exodus of corporate and tertiary institutions northward.

In 2002, local government realised how important the location and function of Braamfontein was to the local economy, and embarked on a multi-million rand regeneration programme for the area, supplemented by significant private-sector investment. Today, a city improvement district (CID), managed by the Braamfontein Management District , provides security and maintenance of the upgraded environment, including a high visibility uniformed security force, parking attendants, closed circuit TV cameras, and extensive greening initiatives. Braamfonteins transformation from a rundown business district to a revamped Soho style neighbourhood with chic hotels, art galleries, trendy bars clubs and restaurants, continues apace. A number of Braamfonteins buildings have been, or are being turned into student accommodation or Manhattan-style loft apartments. Repairs to infrastructure and public artworks have enhanced the urban environment. Braamfonteins allure is its mix of historical landmarks, like the Lord Milner Hotel dating back to 1906, and its bustling modern African mélange of hair salons, newspaper kiosks, fast-food restaurants, spaza (informal) shops and internet cafes. Likewise, Braamfontein attractions range from cultural stalwarts like the Johannesburg Theatre, to the revolutionary Origins Centre that re-examines humankinds past through the medium of rock art.

Attractions
Braamfontein must sees include the striking Nelson Mandela Bridge, the Constitution Hill complex, the Johannesburg Planetarium, and a whole new generation of contemporary creative spaces, like 70 Juta, that house avant-garde interior design, art, fashion, and film studios. More information Braamfontein Management District Origins Centre Johannesburg Planetarium Johannesburg Theatre University of the Witwatersrand

Around the area Nearby is Newtown, and about 9km away, Gold Reef City and the Apartheid Museum. Enoch Mankayi Sontonga, the composer of South Africa's national anthem, Nkosi Sikelel'' iAfrika, is commemorated in the Braamfontein Cemetery. In central Joburg, about 5km away, go to the top of the 50-storey Carlton Centre, and bargain shop in Fordsburg and at the Oriental Plaza.