Blyde X Fest
The Blyde X Fest is held annually in March/ April each year and is a festival of extreme fun and adventure. Kayakers from around the country gather to test their skills on the extreme white waters of the Blyde River. Although the Blyde X-Fest 2012 was cancelled due to a massive flood which tore through the canyon, making significant changes to the river, its back again! Hosted by Mohtlatsi Adventures and sponsored by leading action retailers such as Ark Inflatable's, Vibram Five Fingers, White Water Training, Werner Paddles as well as leading local businesses this event is one of the most looked forward to activities on the action adventure calendar.

Organisers say that even if you have never paddled before or dont know what a croc or tube look like, they can almost guarantee that you will have the best fun ever if you enter the croc and tube race. They have kids from the age of 11 years entering and they have a ball of a time in the water. You dont need any experience to participate and enjoy and they provide all the gear you will need. A good way to build team spirit in your company and for some fun rivalry between opposition companies will be to enter the corporate croc and tube races.

If you go to the festival and the white water bug happens to bite you, don't stress because the sponsors as well as Whitewater Training will be exhibiting and selling their products on site. And if you are not quite sure about buying that Gecko croc, you can even have a go on it for free!

But the fun does not stop at the races. Along with the legendary after party on Saturday night, the only festival kayak ramp in SA again promises to be a huge attraction. And a social paddle on the Olifants River on Sunday morning rounds off the festival with fun for the whole family.

Although accidents in some form are inevitable in adventure water sports, Blyde X Fest has in 5 years not had a single incident that went horribly wrong. They have really been fortunate in having Africa Safe-T on standby every year. Organisers say that their service is excellent and they will be keeping an eye on things at the next weekend as well!

The 2013 Blyde X Fest takes place at the Blyde Adventure Camp from 28 February 2013 to 3 March 2013.

For more information and future event dates please contact:
Email: ronel@blydeadvernturecamp.com

Directions from Johannesburg
Get on the highway and follow the signs towards Witbank (Emalahleni). Then go through the towns in the following order, Witbank (Emalahleni), Middelburg, Belfast, Dullstroom, Lydenburg, Orighstad. Go through Orighstad and through the Abel Erasmus Pass, then through the Strydom Tunnel. Approximately 30 km after you have gone through the Strydom Tunnel you will turn Right into the Driehoek Road. You will turn into the Driehoek Road just before the Blyde One Stop and the bridge over the river. Approximately 10 km after turning into the Driehoek Road you turn left into the Blyde Adventure Camp. There is a sign at the entrance. Keep to the main gravel/ dirt road until you drive into camp (it is about 1km from our entrance to the camp). You can park the in the clearly marked parking area

Directions from Hazyview
Take the R40 out of Hazyview. Go past Klaserie One Stop on your left hand side still on the R40. Pass Kampersrus on your left side, still on the R40. Take a left on the Swadini Road (R 531) approximately 7 km after passing Kampersrus. Take the Jonkmanspruit Road on the right. Blyde Adventure Camp on left side approximately 4 km after the turn off on the Jonkmanspruit Road.
Nearby Listings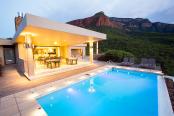 Sleeps: 10 in 5 units/rooms
From
R 2 000,00
Per unit, per night.
3.5km South East of center of Blyde X Fest
Tucked away in the heart of the Blyde River Canyon, one of South Africa's most glorious scenic destinations, umVangati House is sure to restore your sense of peace from the moment you check in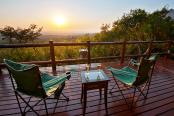 Sleeps: 28 in 9 units/rooms
From
R 640,00
Per person, per night sharing.
6.4km East of center of Blyde X Fest
Amafu Forest Lodge is a dream location in the spectacular Blyde River Canyon area. The sheer krantzes of these mountains act as a backdrop to our five spacious, private units and two luxurious, intimate tented camps...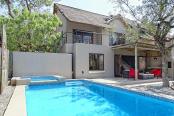 16.8km North of center of Blyde X Fest
BushGlam Luxury Holiday Home comprises three modern bedrooms, two state of the art bathrooms, spacious lounges, dining area and fully equipped kitchen. Outside is the perfect area to relax, here you can enjoy your own private pool and six seat...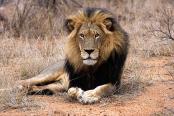 Sleeps: 19 in 6 units/rooms
19.4km North of center of Blyde X Fest
Situated in the Central Lowveld near the Blyderiver Canyon and the Kruger National Park, close to Hoedspruit. Tshukudu, a Big 5 Game Reserve, boasts 5000ha of unspoiled bush with a lovely view to the Drakensberg Mountains
Sleeps: 26 in 10 units/rooms
20.2km West of center of Blyde X Fest
Nestled below the majestic Northern Drakensburg Mountains in the Limpopo Lowveld. Accommodation is either in luxury suites with private bathroom or in comfortable rustic rondavel with shared accommodation. The two options are in separate camps.
From
R 2 000,00
Per unit, per night.
20.3km North of center of Blyde X Fest
This lovely 8 sleeper self-catering bush lodge is situated in the heart of the secure Hoedspruit Wildlife Estate, apart from any neighbours and facing onto open bushlands, ensuring the ultimate in a private bush living experience. A watering hole outside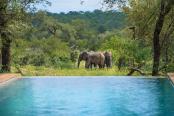 30.7km North of center of Blyde X Fest
Toro Yaka, which means "My Dream" in Northern Sotho, is a one-of-a-kind lodge situated in the unforgettably pristine bushveld of Balule, a 30 000 hectare nature conservancy in the Greater Kruger National Park area.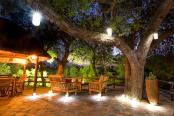 Sleeps: 12 in 5 units/rooms
From
R 1 990,00
Per person, per night sharing.
31.4km North of center of Blyde X Fest
Ku Sungula Safari Lodge is a Greater Kruger Park Safari Lodge in South Africa which exudes the romance and beauty of a bygone age whilst offering every day comfort and convenience. Your stay with us is an unique, personalized adventure in the South Africa
34.0km North of center of Blyde X Fest
Sangasava is a newly built, exclusive self-catering lodge in the Greater Kruger National Park, an unfenced area of 3.6 million hectares. The lodge has a total capacity of up to 8 (12) guests.
Sleeps: 24 in 5 units/rooms
35.1km South West of center of Blyde X Fest
Please Note: This page is a test page!!! The following text is simply to count how many words will fit into a given area. Barney Bills is a made up name, should it be in use by someone else please let us know as it is purely coincidental.