Hoedspruit Wildsfees
Hoedspruit Wildsfees
Tucked away in the Central Lowveld, nestled between the Kruger National Park and the Blyde River Canyon you will find the small tourism and agriculturally orientated town of Hoedspruit, this is also the home to the Hoedspruit wildsfees.

The Hoedspruit wildsfees was first held on 10th of July 1987 and has since become one of the oldest festivals held in the lowveld region. The festival was originally held around the game auction - when the reserves were fenced in and owned privately, and game movement was achieved through the buying and selling of game. Allthough the auction still occurs on the Friday of the festival it is not on the scale of what it was in the past! It was unfortunate but the 2012 auction was cancelled due to the lack of game but the festival continues! Over the years the festival has moved numerous times, starting at its original location in Swadini, it then moved to the airforce base, and now to the Blyde Wildlife Estate 16km out of town.

There is loads to see and do at the festival including, the Miss Wildfees pageant, a Beer Tent, MTB Race, Fun Run, Horse Rides, a 4x4 route and demo area, Air Shows, free Game Drives, displays from the Moholoholo rehab Centre and Khamai Reptile Park, 1km Bike Speed Trials, Gospel Day Sunday, Flight Simulators in the Air Force Tent, a kids entertainment/area, and venison potjies, wors and sosaties for sale, plus many, many more stalls.

For more information, future dates and entrance fees please contact:
Sheena Boshoff (Marketing / Web)
Mob: +27-82-9621735
Fax: +27-86-6286307
Or email: boshoffsheena@gmail.com
Directions from Hoedspruit
Take the R527 to Lydenburg/Tzaneen and travel for approximately 15 km. Turn right into Blyde Wildlife Estate.
Accommodation Near Hoedspruit Wildsfees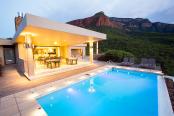 Sleeps: 10 in 5 units/rooms
12.6km South East of Hoedspruit Wildsfees
Tucked away in the heart of the Blyde River Canyon, one of South Africa's most glorious scenic destinations, umVangati House is sure to restore your sense of peace from the moment you check in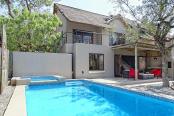 14.5km North East of Hoedspruit Wildsfees
BushGlam Luxury Holiday Home comprises three modern bedrooms, two state of the art bathrooms, spacious lounges, dining area and fully equipped kitchen. Outside is the perfect area to relax, here you can enjoy your own private pool and six seat...
Direct Enquiry
Call Direct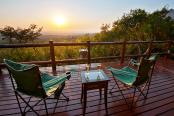 Sleeps: 26 in 8 units/rooms
14.7km South East of Hoedspruit Wildsfees
Amafu Forest Lodge is a dream location in the spectacular Blyde River Canyon area. The sheer krantzes of these mountains act as a backdrop to our five spacious, private units and two luxurious, intimate tented camps...
Instant Booking
Direct Enquiry
Call Direct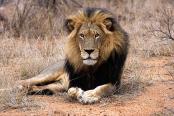 14.7km North East of Hoedspruit Wildsfees
Situated in the Central Lowveld near the Blyderiver Canyon and the Kruger National Park, close to Hoedspruit. Tshukudu, a Big 5 Game Reserve, boasts 5000ha of unspoiled bush with a lovely view to the Drakensberg Mountains
Direct Enquiry
Call Direct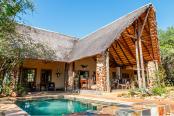 Sleeps: 22 in 10 units/rooms
15.6km South West of Hoedspruit Wildsfees
Nestled below the majestic Northern Drakensburg Mountains in the Limpopo Lowveld. Accommodation is either in luxury suites with private bathroom or in comfortable rustic rondavel with shared accommodation. The two options are in separate camps.
18.3km North East of Hoedspruit Wildsfees
This lovely 8 sleeper self-catering bush lodge is situated in the heart of the secure Hoedspruit Wildlife Estate, apart from any neighbours and facing onto open bushlands, ensuring the ultimate in a private bush living experience. A watering hole outside
Direct Enquiry
Call Direct
18.9km North East of Hoedspruit Wildsfees
Twiga Tower Lodge is situated in the Hoedspruit Wildlife Estate. The lodge consists of 3 double rooms with private bathrooms including one outdoor shower, sitting area, dining hall, gourmet kitchen, veranda and splash pool with braai area.
Direct Enquiry
Call Direct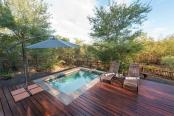 Sleeps: 4 in 2 units/rooms
18.9km North East of Hoedspruit Wildsfees
Twiga Tower's Double Rooms are situated in the Hoedspruit Wildlife Estate. Guests can enjoy the peaceful bush surroundings as well as personalised Kruger National Park safaris and tours.
Direct Enquiry
Call Direct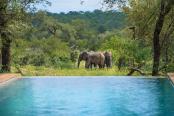 22.8km North of Hoedspruit Wildsfees
Toro Yaka, which means "My Dream" in Northern Sotho, is a one-of-a-kind lodge situated in the unforgettably pristine bushveld of Balule, a 30 000 hectare nature conservancy in the Greater Kruger National Park area.
Direct Enquiry
Call Direct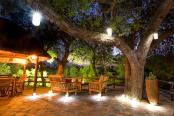 Sleeps: 12 in 5 units/rooms
23.7km North of Hoedspruit Wildsfees
Ku Sungula Safari Lodge is a Greater Kruger Park Safari Lodge in South Africa which exudes the romance and beauty of a bygone age whilst offering every day comfort and convenience. Your stay with us is an unique, personalized adventure in the South Africa
Direct Enquiry
Call Direct