Tucked away between two of South Africas most well known Natural Heritage sites, The Kruger National Park and the Blyde River Canyon live a number of communities that realized that they have a more than usual responsibility towards their environment - but also an unique opportunity to jointly embrace ecosystem friendly sustainable development. This responsibility and unique opportunity led to the creation of the Kruger to Canyons (K2C) Biosphere Region. This has been a recently discovered jewel of South Africa but development is occurring at an accelerated, and at times, out of control rate. Therefore the education and creation of awareness of sustainable principles and ethics within the region are of utmost importance.

Sustainable living is no longer a term used in theoretical studies but rather a vital part of the future of South Africa and therefore looking after our natural environment is no longer just a cause for the conservation minded. In fact, it may become the only way to ensure a good quality of life in the future, with access to sufficient water, secure food supplies, good health and ultimately even our own survival. It is each individuals responsibility to make the lifestyle and consumer choices to reduce our personal contribution to the causes of climate change and global warming.

As such the vision of the Pick n Pay Sustainable Living Festival is to offer a platform for the common vision of sustainability and to inspire this through a festival that develops a sense of responsibility for our natural environment and social systems.

The Pick n Pay Sustainable Living Festival is planned and activated on 5 Sustainable Living Pillars. All activities and workshops at the festival are identified and selected in line with one or more of each of these pillars. Each of these pillars are vital sectors within the all encompassing concept of SUSTAINABLE LIVING. To give a little more insight into these and the planning behind the festival, here is a little information on each of these pillars.

Conservation
This pillar relates to the PROTECTION of our natural environment, our resources and our fauna & flora. This includes both landscape conservation, biodiversity conservation, and individual species conservation.

Community
Activities and projects reaching out and ENGAGING society at large, focusing on EDUCATION, empowerment and effecting changes in communities.

Resource Management

This showcases a LIFESTYLE that attempts to reduce an individuals or societies use of Earths Natural resources and brings awareness of resources derived from the environment and the need to MANAGE them sustainably.

Innovation
This highlights the INNOVATIVE creation of better or more effective products, processes, services, technologies, or ideas that are of benefit to society.

So come on and celebrate the best of a green lifestyle with fantastic music, cooking demos, inspirational art, workshops and a fun mountain bike race, all in the beautiful town of Hoedspruit.

The next festival is to take place from the 20th September to 22nd September 2013 at the GKNP College, Hoedspruit Wildlife Estate.

If you would like to receive regular updates informing you of activities and developments linked to the event, please send your name and email address to coordinator@sustainablelivingfestival.co.za

Directions from Johannesburg
From Johannesburg or Pretoria, take the highway towards Witbank / Middelburg, continue on the N4 direction Nelspruit, and take the Belfast off-ramp. Continue past Dullstroom, Lydenburg and Ohrigstad until you get to Hoedspruit. Go through the town until you go over the railway bridge, then turn right at the 4 way stop. Take the first left, past the Pick n Pay centre into the estate.
Directions from Nelspruit
From Nelspruit take the R40 north towards Phalaborwa. Go past White River, Hazyview and Bushbuckridge. Just past Buckbushridge you will get a turn off right towards Orpen gate, drive past this turn off, and then take the next turn off on your right, towards Phalaborwa. As you enter Hoedspruit, you will see a Total petrol station on your left-hand side and the Pick n Pay centre on your right. Turn-off right before you get to the four-way stop, and then continue straight, dont turn-off into the Pick n Pay centre itself - after a few hundred metres, you will get to the entrance to the estate.
Nearby Listings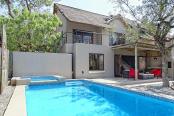 1.4km South West of center of Pick n Pay Sustainable Living Festival
BushGlam Luxury Holiday Home comprises three modern bedrooms, two state of the art bathrooms, spacious lounges, dining area and fully equipped kitchen. Outside is the perfect area to relax, here you can enjoy your own private pool and six seat...
From
R 2 000,00
Per unit, per night.
2.6km North East of center of Pick n Pay Sustainable Living Festival
This lovely 8 sleeper self-catering bush lodge is situated in the heart of the secure Hoedspruit Wildlife Estate, apart from any neighbours and facing onto open bushlands, ensuring the ultimate in a private bush living experience. A watering hole outside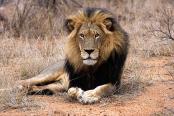 Sleeps: 19 in 6 units/rooms
4.4km North West of center of Pick n Pay Sustainable Living Festival
Situated in the Central Lowveld near the Blyderiver Canyon and the Kruger National Park, close to Hoedspruit. Tshukudu, a Big 5 Game Reserve, boasts 5000ha of unspoiled bush with a lovely view to the Drakensberg Mountains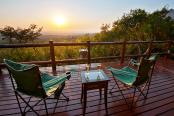 Sleeps: 28 in 9 units/rooms
From
R 640,00
Per person, per night sharing.
18.6km South of center of Pick n Pay Sustainable Living Festival
Amafu Forest Lodge is a dream location in the spectacular Blyde River Canyon area. The sheer krantzes of these mountains act as a backdrop to our five spacious, private units and two luxurious, intimate tented camps...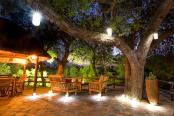 Sleeps: 12 in 5 units/rooms
From
R 1 990,00
Per person, per night sharing.
18.8km North West of center of Pick n Pay Sustainable Living Festival
Ku Sungula Safari Lodge is a Greater Kruger Park Safari Lodge in South Africa which exudes the romance and beauty of a bygone age whilst offering every day comfort and convenience. Your stay with us is an unique, personalized adventure in the South Africa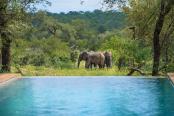 18.9km North West of center of Pick n Pay Sustainable Living Festival
Toro Yaka, which means "My Dream" in Northern Sotho, is a one-of-a-kind lodge situated in the unforgettably pristine bushveld of Balule, a 30 000 hectare nature conservancy in the Greater Kruger National Park area.
19.0km North West of center of Pick n Pay Sustainable Living Festival
Sangasava is a newly built, exclusive self-catering lodge in the Greater Kruger National Park, an unfenced area of 3.6 million hectares. The lodge has a total capacity of up to 8 (12) guests.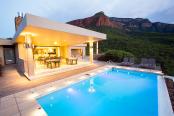 Sleeps: 10 in 5 units/rooms
From
R 2 000,00
Per unit, per night.
19.7km South of center of Pick n Pay Sustainable Living Festival
Tucked away in the heart of the Blyde River Canyon, one of South Africa's most glorious scenic destinations, umVangati House is sure to restore your sense of peace from the moment you check in
Sleeps: 12 in 4 units/rooms
28.4km North of center of Pick n Pay Sustainable Living Festival
Come and experience the African Bush and it's wildlife close up. Inyanga Safari Lodge is situated in Grietjie Nature Reserve, which is a part of Balule Nature Reserve, It is in an open connection to Kruger National Park. Experience big 5 animals, at priva
Sleeps: 26 in 10 units/rooms
31.0km South West of center of Pick n Pay Sustainable Living Festival
Nestled below the majestic Northern Drakensburg Mountains in the Limpopo Lowveld. Accommodation is either in luxury suites with private bathroom or in comfortable rustic rondavel with shared accommodation. The two options are in separate camps.
Covid-19 Compliant
Instant Booking