Just Nuisance Memorial
Just Nuisance Memorial

Visitors to Simonstown in the Western Cape of South Africa may be surprised to see an impressive statue of a dog near the Simonstown Naval Base. This is the Just Nuisance Memorial, a memorial dedicated to a member of the Royal Navy - Able Seaman Just Nuisance. Just Nuisance was a Great Dane that was born in Rondebosch, Cape Town around 1 April 1937. The pup was bought by Benjamin Chaney before he moved to Simonstown to run the USI (United Services Institute). Sailors from the Royal Navy would often visit the USI and quickly took to the dog offering him treats, taking him for walks and giving him plenty of attention. He began to follow them back to the naval base and dockyards, where he would lie on the decks of ships that were moored up in dock, normally at the top of the gangplanks. Since he was a large dog even for a Great Dane (almost 2 metres tall when standing on his hind legs) he presented a sizeable obstacle for those trying to board or disembark and he became affectionately known as Nuisance. That is how he got the name Just Nuisance.

Just Nuisance was allowed to roam freely by his owner and he began to take day trips by train as far afield as Cape Town, 35 km away. Despite the seamens attempts to hide him, the conductors would have him removed from the trains as soon as he was discovered. This did was not a problems for him, as he would wait for the next train or walk to another station where he would board the next train that came along. Travellers would occasionally offer to pay his fares, but the railway company eventually warned his owner, Chaney, that Nuisance would have to be put down unless he was kept under control to prevent him boarding the trains.

This brings about the unique solution to the problem, which saw Just Nuisance enlisted into the Royal Navy on 25 August 1939. He was registered with the Christian name of Just and his trade was Bone Crusher. As a full fledged member of the Navy Just Nuisance received the same benefits including a sailors bed and seamans hat. He was later promoted from Ordinary Seaman to Able Seaman and did much good for the morale of the Royal Navy seamen. He was also commended for stopping fights between men and assisting drunk sailors back to the base.

Unfortunately, Just Nuisance was involved in a car accident which ultimately resulted in paralysis. Due to this he was discharged from the Royal Navy on 1 January 1944 and on 1 April of that same year Just Nuisance was taken to the Simons Town Naval Hospital and put down. Able Seaman Just Nuisance was laid to rest at Klaver Camp with the full military honors and a firing party from the Royal Marines.

Its not the story of a dog, but rather, the legend of Just Nuisance that survives to this day and will continue to touch the hearts of many for decades to come. A statue of the Able Seaman was erected at Jubilee Square in Simonstown as a memorial to this unique member of the Royal Navy.
Accommodation Near Just Nuisance Memorial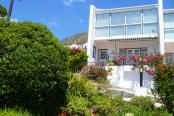 0.6km East of Just Nuisance Memorial
A beautiful townhouse above the Naval Harbour in Simonstown. The panoramic view is spectacular. You can look down onto the harbour, yacht club, and out to Glencairn, Kalk Bay and Gordon's Bay. In fact a clean sweep of the entire bay...
Direct Enquiry
Call Direct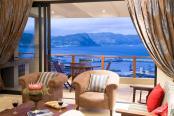 Sleeps: 21 in 9 units/rooms
0.7km East of Just Nuisance Memorial
Custom built on the mountainside in historical Simon's Town, award-winning 4-star Mariner Guesthouse offers breathtaking sea views across False Bay. We are within walking distance of restaurants and beaches, and pride ourselves on offering style, comfort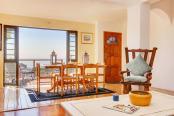 0.8km East of Just Nuisance Memorial
Welcome to Harbour Lights where sandy footsteps ensure that guests are at home! The house has magnificent Indian Ocean and False Bay views and overlooks the South African Navy's working Harbour, an easy walk to Boulders Beach famous...
Direct Enquiry
Call Direct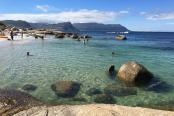 1.3km East of Just Nuisance Memorial
Cape Penguin Cottage is situated in Simon's Town, close to three beaches with safe swimming, smallish waves and no backwash or rip currents. Sleeps 5 adults in 3 bedrooms and a mattress can be put out for an additional child.
Direct Enquiry
Call Direct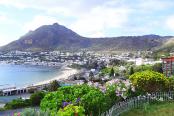 1.5km North West of Just Nuisance Memorial
Bay Splendour, nestles in a quiet cul-de-sac only ten minutes walk from the old world charm of Simon's Town, South Africa's premier naval station. A coastal gem of peace and tranquillity, Bay Splendour has a spacious open-plan lounge and kitchen...
Direct Enquiry
Call Direct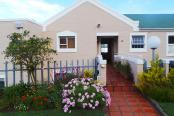 1.7km North West of Just Nuisance Memorial
Following on the great success of San's Place in Umdloti on the KZN North Coast, San has opened a penthouse situated in historic Simonstown on the Cape Peninsula. Simonstown is situated on the False Bay coast of the warm Indian Ocean...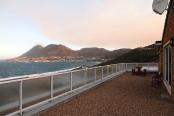 2.6km North West of Just Nuisance Memorial
Fully equipped seafront flatlet, additional rooms, honeymoon suite and entire complex available on request. The entire complex can accommodate up to 12 people if necessary. Amazing mountain and sea views, secure parking, DStv, playground equipment...
Direct Enquiry
Call Direct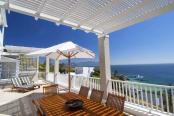 2.8km East of Just Nuisance Memorial
Luxury holiday home with stunning sea views of False Bay; 2 minutes walk to beach; 1 km from Boulders Penguin Beach; sleeps 6; beautifully furnished, fully equipped, all mod cons; satellite TV; free Wi-fi; superb patio for outdoor entertainment...
Instant Booking
Direct Enquiry
Call Direct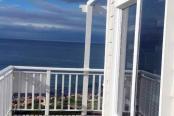 Sleeps: 12 in 2 units/rooms
3.1km North West of Just Nuisance Memorial
You are invited to enjoy the hospitality and peaceful atmosphere of Simon's Town Lodge where comfortable, affordable self-catering accommodation in Glencairn can be enjoyed.
Direct Enquiry
Call Direct
Sleeps: 8 in 3 units/rooms
3.2km East of Just Nuisance Memorial
The Flying Penguin holiday accommodation in Simonstown is a haven offering complete relaxation close to nature yet within easy reach of the city.
Instant Booking
Direct Enquiry
Call Direct