The Tibetan Teahouse
The Tibetan Teahouse is located in Simons Town in Cape Town, South Africa. The Teahouse offers stunning views from its verandah, over False Bay where you can sit and watch whales. This is a great place to relax and enjoy great ambience and delicious food.

The menu offers original Tibetan recipes with imaginative and delicious vegetarian and vegan food. This is a definite must for vegetarians and non vegetarians.

There is a welcoming fireplace where you can keep warm and enjoy Sherpa Stew during the winter months. Try a cup of homemade spice Chai or Tibetan butter tea. The tea is served in a wooden cup, Tibetan folklore states that "drinking tea from a wooden cup makes you handsome, popular and wise." All the food and cakes are made on the premises. There's a large variety of fresh home grown herb infustions and fresh herb teas to try.

The Teahouse is open from Tuesday - Sunday and is open from 10am to 5pm. Don't miss out on this wonderful attraction.

For more information visit www.sopheagallery.com or contact the Teahouse on these numbers 021-786-1544 or 082-896-6426.
Accommodation Near The Tibetan Teahouse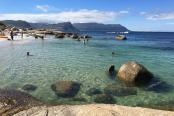 0.1km North West of The Tibetan Teahouse
Cape Penguin Cottage is situated in Simon's Town, close to three beaches with safe swimming, smallish waves and no backwash or rip currents. Sleeps 5 adults in 3 bedrooms and a mattress can be put out for an additional child.
Direct Enquiry
Call Direct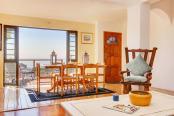 0.6km West of The Tibetan Teahouse
Welcome to Harbour Lights where sandy footsteps ensure that guests are at home! The house has magnificent Indian Ocean and False Bay views and overlooks the South African Navy's working Harbour, an easy walk to Boulders Beach famous...
Direct Enquiry
Call Direct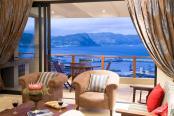 Sleeps: 21 in 9 units/rooms
0.7km West of The Tibetan Teahouse
Custom built on the mountainside in historical Simon's Town, award-winning 4-star Mariner Guesthouse offers breathtaking sea views across False Bay. We are within walking distance of restaurants and beaches, and pride ourselves on offering style, comfort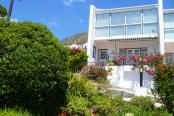 0.9km West of The Tibetan Teahouse
A beautiful townhouse above the Naval Harbour in Simonstown. The panoramic view is spectacular. You can look down onto the harbour, yacht club, and out to Glencairn, Kalk Bay and Gordon's Bay. In fact a clean sweep of the entire bay...
Direct Enquiry
Call Direct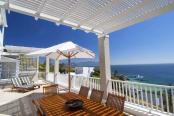 1.5km South East of The Tibetan Teahouse
Luxury holiday home with stunning sea views of False Bay; 2 minutes walk to beach; 1 km from Boulders Penguin Beach; sleeps 6; beautifully furnished, fully equipped, all mod cons; satellite TV; free Wi-fi; superb patio for outdoor entertainment...
Instant Booking
Direct Enquiry
Call Direct
Sleeps: 8 in 3 units/rooms
1.9km South East of The Tibetan Teahouse
The Flying Penguin holiday accommodation in Simonstown is a haven offering complete relaxation close to nature yet within easy reach of the city.
Instant Booking
Direct Enquiry
Call Direct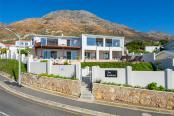 2.1km South East of The Tibetan Teahouse
The Lookout in Simon's Town, is a beautiful, contemporary guesthouse situated a few paces from the False Bay shoreline, offering uninterrupted views of the ocean and the Hottentots Holland Mountains. We are just a short stroll away from Fisherman's Beach,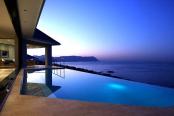 Sleeps: 10 in 5 units/rooms
2.4km South East of The Tibetan Teahouse
Situated in a prime position 5 minutes from the beach, this landmark house overlooks the entire False Bay, a symphony of architecture, glass and modern design Aqua Terra has one of the best possible views the area has to offer.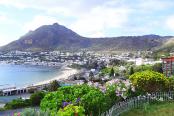 2.8km West of The Tibetan Teahouse
Bay Splendour, nestles in a quiet cul-de-sac only ten minutes walk from the old world charm of Simon's Town, South Africa's premier naval station. A coastal gem of peace and tranquillity, Bay Splendour has a spacious open-plan lounge and kitchen...
Direct Enquiry
Call Direct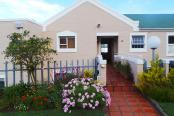 3.0km West of The Tibetan Teahouse
Following on the great success of San's Place in Umdloti on the KZN North Coast, San has opened a penthouse situated in historic Simonstown on the Cape Peninsula. Simonstown is situated on the False Bay coast of the warm Indian Ocean...