Paul Kruger House

Paul Kruger House, situated in Church Street, Pretoria, is a museum exhibiting the period residence of the late former South African president, as he would have experienced it between 1884 and 1901.

Paul Kruger, born Stefanus Johannes Paulus Kruger (10 October 1825 - 14 July 1904), but more familiarly known as "Oom Paul" (Afrikaans for "Uncle Paul") was famous for his contribution in the Boer War. Interestingly, although he was not formally schooled for more than a few months, he claimed to know most of the Bible by heart and was a founding member of South Africa's Dutch Reformed Church.
Kruger began his military service and eventually became Commandant-General. He was soon recognised for his potential, and was appointed member of the Volksraad, which had the task of drawing up the constitution in a republican parliament.In 1874, he was elected as a member of the Executive Council and then became the Vice-President of what was then know as the Transvaal.
On 30 December 1880, whilst married to his second wife, Gezina (du Plessis), and at the age of 55, Kruger was first elected President of the Transvaal. They had seven daughters and nine sons. The First Boer War began in 1880, and thus began an interesting and eventful presidency - the discovery of gold in the Witwatersrand also being a massive leadership challenge. In 1898, Paul Kruger was elected President for the fourth and final time and on 11 October 1899, the 2nd Boer War broke out. A statue of Paul Kruger, in his formal dress, stands in Church Square, Tswane - then named Pretoria.

The museum, Paul Kruger House, has been fully restored and refurbished, and his personal belongings, including his private railway carriage, and the State coach are on view there. This was one of the first houses to use electricity, and also had one of the first telephones in Pretoria. The house was built by builder Charles Clark from Pretoria in 1884. There is the famous reception room where many a famous visitor was welcomed. The room still exhibits historical pieces of furniture where important decisions were made and conversations were had. As a matter of fact, the entire house still contains most of the original furnishings, including some personal gifts of Oom Pauls, and Gezinas sewing equipment. Where the furnishings are not the originals, exceptional replacements have been used to encapture the ambience of the home as it was in that era. The front room was used more by his secretary and the inner room was more of Krugers sanctuary. The lions at the entrance were a birthday gift to President Kruger.
Some other fascinating facts about the man; The Kruger National Park is named after him. He was a pipe smoker, and there is still a specific design of pipe that is named Oom Paul being produced by pipe manufacturers. The Kruger Rand (a gold coin) is also named after him, which has his face on the design.
Nearby Listings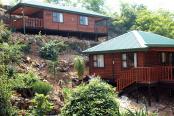 Sleeps: 8 in 3 units/rooms
3.1km North East of center of Paul Kruger House
This new chalets built in 2009. the property is the perfect place for a relaxing holiday break in Pretoria. Close to the city centre, with a wide range of tourist attractions to keep you occupied throughout your stay.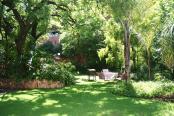 4.1km East of center of Paul Kruger House
Oorkant Loftus Self-catering flatlets in Pretoria East: Situated opposite Loftus Versfeld sport stadium, in Clydesdale the "village in the city",
Sleeps: 25 in 12 units/rooms
4.3km North of center of Paul Kruger House
Green Valley Lodge is a luxury guesthouse providing accommodation on a bed and breakfast basis in Wonderboom South, Greater Pretoria, Gauteng. Green Valley Lodge is located right in the heart of Wonderboom South a suburb of Pretoria, nestled below the Won
5.1km North of center of Paul Kruger House
Cozy self-catering garden cottage in central Pretoria with private entrance. Comfortable sleeping accommodation which is ideal for two guests with one bedroom, two beds and en-suite bathroom as well as undercover parking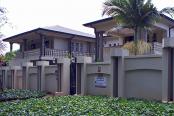 Sleeps: 19 in 9 units/rooms
From
R 447,50
Per person, per night sharing.
5.7km North East of center of Paul Kruger House
Goodey's Guesthouse is situated in the beautiful Jacaranda-lined Amos Street in the tranquil suburb of Colbyn - one of Pretoria's oldest suburbs.Goodey's Guesthouse offers you six well equipped, stylish en-suite bedrooms...
Sleeps: 10 in 4 units/rooms
From
R 495,00
Per person, per night sharing.
6.0km East of center of Paul Kruger House
We are nestled in the heart of Waterkloof, and cater for the solitary traveler as well as for a family of four. Peaceful and private, the Self Catering flatlets offer a luxurious and relaxing atmosphere aimed at making your stay a memorable one.
6.1km East of center of Paul Kruger House
The Village in Hatfield is a delightful guesthouse offering a cluster of separate units, perfectly appointed for a comfortable stay. We aim to create an urban village atmosphere where travellers from all over the world will feel welcome...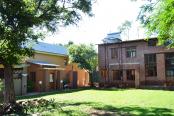 Sleeps: 36 in 14 units/rooms
From
R 400,00
Per person, per night sharing.
6.2km East of center of Paul Kruger House
Bed & Breakfast in Hatfield is serenely tucked away in the secluded part of Hatfield, Pretoria. Luxury and warm hospitality, provided by Des & Errol will make your South African stay memorable and create a home away from home.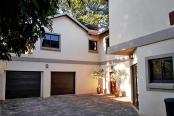 6.9km North of center of Paul Kruger House
This cosy, double storey, self catering guesthouse is situated in the sub-tropical area north of the Magaliesberg mountain in Pretoria with a ambiance of peace and tranquility. You can come "home" and enjoy the quietness after a busy schedule to relax in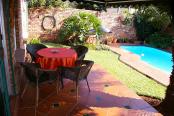 7.1km North of center of Paul Kruger House
Amaroo Guest House is in Pretoria South Africa. Situated in a tranquil, subtropical neighborhood at the foot of the Magaliesberg mountain, next to the historical Wonderboom nature reserve. Two comfortable double rooms with a connecting bathroom...