Burgers Park
Burgers Park is located in the centre of Pretoria, South Africa. It was founded in the 1870's. The park covers 4 acres and has been declared a South African National Monument. It was named after the second President of the Transvaal, Thomas Francois Burgers and there is a statue of the President in the park.
The park is beautiful and is a relaxing area where locals and visitors enjoy an escape from the busy city lifestyle. Some of the structures in the park are quite spectacular. There is a fish pond which is the focal point of the park and a cast iron bandstand which has a Chinese pagoda style roof. This was made in Scotland and has been in the park since 1895. In the middle of the park there is a small pavilion with a refreshment kiosk. This pavilion was where they held a glamorous dinner to welcome home the prime minister of South Africa from England. There is a florarium which was built in 1974 and displays many plants from a variety of different climatic regions. Many of the trees and plants in the park were planted to commemorate important events. There is also a World War 1 monument which was built to honour those South African Scottish Regiment who died in the battle.

This is a beautiful area in Pretoria which you should visit if you live in the area or if you are visiting. The park is well kept and beautifully maintained. You will enjoy relaxing and be amazed at the beautiful structures there.
Nearby Listings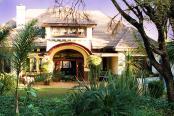 2.6km North East of center of Burgers Park
Come and feel right at home in the rich ambience of this charming Guesthouse, situated in Arcadia at 751 Park Street, on the T-Junction with Beckett Street.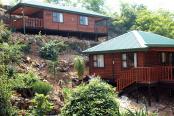 Sleeps: 8 in 3 units/rooms
2.9km North of center of Burgers Park
This new chalets built in 2009. the property is the perfect place for a relaxing holiday break in Pretoria. Close to the city centre, with a wide range of tourist attractions to keep you occupied throughout your stay.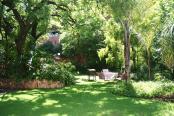 2.9km North East of center of Burgers Park
Oorkant Loftus Self-catering flatlets in Pretoria East: Situated opposite Loftus Versfeld sport stadium, in Clydesdale the "village in the city",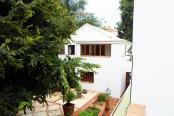 Sleeps: 10 in 4 units/rooms
From
R 495,00
Per person, per night sharing.
4.6km East of center of Burgers Park
We are nestled in the heart of Waterkloof, and cater for the solitary traveler as well as for a family of four. Peaceful and private, the Self Catering flatlets offer a luxurious and relaxing atmosphere aimed at making your stay a memorable one.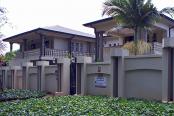 Sleeps: 19 in 9 units/rooms
From
R 447,50
Per person, per night sharing.
4.8km North East of center of Burgers Park
Goodey's Guesthouse is situated in the beautiful Jacaranda-lined Amos Street in the tranquil suburb of Colbyn - one of Pretoria's oldest suburbs.Goodey's Guesthouse offers you six well equipped, stylish en-suite bedrooms...
5.1km North East of center of Burgers Park
The Village in Hatfield is a delightful guesthouse offering a cluster of separate units, perfectly appointed for a comfortable stay. We aim to create an urban village atmosphere where travellers from all over the world will feel welcome...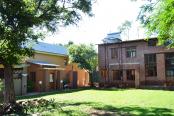 Sleeps: 36 in 14 units/rooms
From
R 400,00
Per person, per night sharing.
5.1km North East of center of Burgers Park
Bed & Breakfast in Hatfield is serenely tucked away in the secluded part of Hatfield, Pretoria. Luxury and warm hospitality, provided by Des & Errol will make your South African stay memorable and create a home away from home.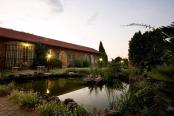 Sleeps: 220 in 10 units/rooms
6.0km East of center of Burgers Park
Farmers folly B & B a home from home experience set in a secure garden suburb located in the East off Pretoria, Lynwood, Gauteng - offering guests a relaxed and stylish environment for short and long term accommodation.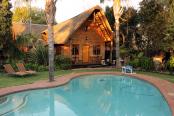 6.1km North of center of Burgers Park
Our Africa thatched cottages are value for money, centrally located in a tranquil suburb of Pretoria, Gauteng. The self catering guest cottages are furnished to a high standard throughout and are close to shopping centres, restaurants, hospitals, ...
Sleeps: 120 in 6 units/rooms
6.3km North East of center of Burgers Park
Queensrest self catering units is centrally situated in the suburb called Queenswood, in Pretoria close to Brooklyn Mall and Hatfield.