Showing 1 to 10 of 10 results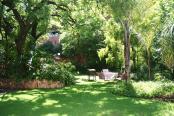 From
R 690,00
Per unit, per night.
Oorkant Loftus Self-catering flatlets in Pretoria East: Situated opposite Loftus Versfeld sport stadium, in Clydesdale the "village in the city",
Nearby Listings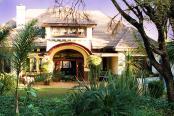 0.9km North East of center of Sunnyside
Come and feel right at home in the rich ambience of this charming Guesthouse, situated in Arcadia at 751 Park Street, on the T-Junction with Beckett Street.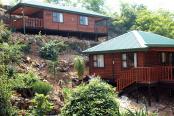 Sleeps: 8 in 3 units/rooms
From
R 500,00
Per person, per night sharing.
2.6km North West of center of Sunnyside
This new chalets built in 2009. the property is the perfect place for a relaxing holiday break in Pretoria. Close to the city centre, with a wide range of tourist attractions to keep you occupied throughout your stay.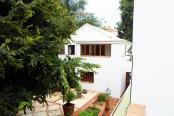 Sleeps: 10 in 4 units/rooms
3.2km South East of center of Sunnyside
We are nestled in the heart of Waterkloof, and cater for the solitary traveler as well as for a family of four. Peaceful and private, the Self Catering flatlets offer a luxurious and relaxing atmosphere aimed at making your stay a memorable one.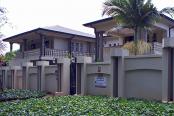 Sleeps: 19 in 9 units/rooms
From
R 495,00
Per person, per night sharing.
3.3km North East of center of Sunnyside
Goodey's Guesthouse is situated in the beautiful Jacaranda-lined Amos Street in the tranquil suburb of Colbyn - one of Pretoria's oldest suburbs.Goodey's Guesthouse offers you six well equipped, stylish en-suite bedrooms...
From
R 575,00
Per person, per night sharing.
3.3km North East of center of Sunnyside
The Village in Hatfield is a delightful guesthouse offering a cluster of separate units, perfectly appointed for a comfortable stay. We aim to create an urban village atmosphere where travellers from all over the world will feel welcome...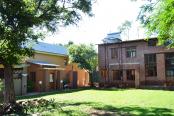 Sleeps: 36 in 14 units/rooms
From
R 510,00
Per person, per night sharing.
3.4km North East of center of Sunnyside
Bed & Breakfast in Hatfield is serenely tucked away in the secluded part of Hatfield, Pretoria. Luxury and warm hospitality, provided by Des & Errol will make your South African stay memorable and create a home away from home.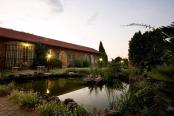 Sleeps: 220 in 10 units/rooms
From
R 450,00
Per person, per night sharing.
4.2km North East of center of Sunnyside
Farmers folly B & B a home from home experience set in a secure garden suburb located in the East off Pretoria, Lynwood, Gauteng - offering guests a relaxed and stylish environment for short and long term accommodation.
Sleeps: 120 in 6 units/rooms
From
R 410,00
Per person, per night sharing.
4.7km North East of center of Sunnyside
Queensrest self catering units is centrally situated in the suburb called Queenswood, in Pretoria close to Brooklyn Mall and Hatfield.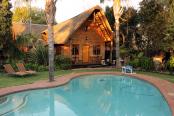 From
R 275,00
Per person, per night sharing.
5.6km North of center of Sunnyside
Our Africa thatched cottages are value for money, centrally located in a tranquil suburb of Pretoria, Gauteng. The self catering guest cottages are furnished to a high standard throughout and are close to shopping centres, restaurants, hospitals, ...
---
Sunnyside
Sunnyside, Pretoria


Pretoria, or Tshwane as it is now known, is one of the major cities in South Africa and the administrative seat of Government, but it is also home to the suburbs of Sunnyside, Arcadia and Hatfield, some of the most popular areas for embassies, shopping centres, pretty lanes, beautiful old homes and the University of Pretoria. The suburb of Sunnyside has become a popular place to stay and live.

Sunnyside is probably the busiest suburb of Pretoria and is a walking distance to the Pretoria city centre. The Eastern parts of the suburb are very close to the University of Pretoria and Loftus Versfeld Stadium. The stadium is home to the Blue Bulls Rugby team and is regularly the place where rugby fans meet for matches. The stadium also hosts soccer practices and a lot of other important events. In 2010 this stadium was one of the Soccer World Cup stadiums. You are likely to bump into lots of students and young professionals in Sunnyside. As its population is growing it is also getting younger and the shops are being revamped to fit in.

As well as being close to most of the major tourist attractions and museums, this neighbourhood is handily placed for the lively Hatfield district. Hatfield boasts bars, cafes, boutiques, sidewalk coffee shops and restaurants from which you can soak up the South African sun and watch the passing parade of students, artists, street artists and sidewalk traders selling stuff from all over Africa. About ten minutes from there, you will find the suburb of Arcadia, which is home to the Pretoria Art Museum, the showplace for the finest South African art.

For those looking for everything under one roof, a visit to Sunnypark shopping centre won't let you down. The centre is described as being spotless with a great choice of stores, from convenience shopping to fashion, music, specialist shoes, sports stores, banking, gifts, a gym and a food court with some of South Africa's best food brands.