Rooms On View

Rooms on View, South Africas premier decor and design show, offers exclusive insight into the status of South African decor and design. It is South Africa's foremost bi-annual decorating show and is firmly established as the benchmark by which the South African decor industry is measured, both at home and abroad. The show has joined the ranks of other international decor fairs as a fixture in the diaries of decorators, buyers and tastemakers, the world over.

The international decorating world has been alerted to the potential here in South Africa, bringing even greater rewards for those creating and accessorising the private worlds in which we live at home. Rooms on View is devoted specifically to interior decoration, the design of furniture, ceramics, fabrics and other household items. You can expect to see cutting edge thinking in the world of design, incorporating local and international designers, lifestyle merchants, and the best new young names to watch in the future. The exhibition is a themed event. Room settings, from living rooms and dining rooms, to studies and bedrooms, will provide a tangible view of what is possible using the wide range of merchandise available to the decorating world and its pool of creative talent.

Rooms on View postponed its May 2012 exhibition due to the South African decor industry taking a substantial knock during the global recession in the past few years. The owner and Managing Director, Sumari Krige, believes that the industry is definitely on the up. Sumari and the organising team als o believe that the brand has become a household name and that the time has come to give the show a new identity and vision that not only benefits the exhibitor but also the general visiting public. The team are looking at re-launching the show in either Spring 2012 or definitely in May 2013 at the Sandton Convention Centre. Rooms on View's sponsors are Conde Nast House & Garden and Home Fabrics, and with the support of such market leaders, this ensures the continued high visibility of the show.

For more information, entrance fees and future dates please contact Rooms on View
Tel: +27-11-4445396
Fax: +27-11-2626110
Or email: roomsonview@mweb.co.za

Directions to Sandton Convention Centre
Via the Ben Schoeman highway (traveling towards Johannesburg)
Take the Grayston Drive off-ramp, and keep to the left. Turn left into Katherine Street, continue until you reach West Road and turn right. Turn left into Alice Lane at the second set of traffic lights. Pass the Game store on your left hand side, at turn left into Sandton City Convention Centre's basement parking at the next traffic light. Alternatively, parking is available at Sandton City Shopping Centre. The best entrances are the Alice Lane entrance crossing over the Fifth Street entrance next door to the Sandton Sun. The skywalk from Sandton City Shopping Centre to the Sandton Convention Centre is best accessed from Level 4 parking at the Sandton Shopping Centre.

Directions from the N3
Take the Marlboro off-ramp, pass six traffic lights and turn into Katherine Street at the seventh traffic light. Continue until you reach West Road and turn right. Continue until you reach Alice Lane and turn left. Pass the Game store on your left and turn left into Alice Lane parking at the first set of traffic lights.
Nearby Listings
2.1km South of center of Rooms On View
Inanda's First B & B is a superb guest house situated in a tranquil, tree lined avenue in Illovo which is one of Sandton/Johannesburg's exclusive suburbs. The guest house is within close proximity to some of the most popular office and shoppin
Sleeps: 6 in 3 units/rooms
3.6km South of center of Rooms On View
La Bougain Villa is an elegant Bed and Breakfast in a quiet peaceful garden setting in the heart of Johannesburg's northern suburbs. Holiday makers and business executives are most welcome.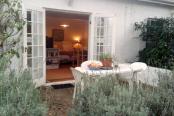 Sleeps: 6 in 3 units/rooms
From
R 425,00
Per person, per night sharing.
5.0km South of center of Rooms On View
6 on Sixth Bed & Breakfast is conveniently situated in the up-market Johannesburg suburb of Parktown North.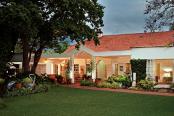 Sleeps: 8 in 4 units/rooms
5.1km South of center of Rooms On View
Cotswold Gardens situated in the beautiful treed suburb of Saxonwold Johannesburg. Beautiful garden, a large sparkling swimming pool, with free standing sculptures and a variety of contemporary art inside the house.
5.3km South of center of Rooms On View
Self catering accommodation in Parkhurst, Johannesburg. Including office area and within walking distance restaurants, shops and pubs. A sports club is on the boundary of the establishment.
5.3km North East of center of Rooms On View
Acacia House Executive Suite is an exclusive private suite, comprising accommodation for a single business professional or a couple. Situated in Kelvin, a peaceful boomed suburb of Sandton, Acacia House is close to Sandton...
5.4km North of center of Rooms On View
The Syrene is a friendly, professionally run four star boutique hotel featuring the luxury of business class travel. As the name suggests our guests will experience a quiet, private and tranquil setting offering best in class accommodation and personalize
5.4km North of center of Rooms On View
Nestled in the leafy Northern Johannesburg suburb of Gallo Manor, a lodge of distinction and style awaits you. Situated on the prestigious Johannesburg Country Club Golf Course minutes away from the heart of Sandton.
Sleeps: 8 in 2 units/rooms
From
R 1 300,00
Per unit, per night.
5.5km West of center of Rooms On View
Victoria Apartments are brand new stunning 2 bedroomed (queen size beds), fully furnished self catering apartments to rent on a nightly, weekly or monthly basis in Bryanston, Sandton.
Sleeps: 28 in 14 units/rooms
From
R 745,00
Per person, per night sharing.
5.6km North of center of Rooms On View
The Oasis Boutique Hotel (owned by Grayham and Anita Beazley) offers travellers the opportunity to relax and unwind in safety and style. The Oasis Signature Hotel visitors 11 luxurious rooms in which to relax and unwind. Located near ...