Showing 1 to 10 of 10 results
Nearby Listings
Sleeps: 22 in 10 units/rooms
From
R 1 200,00
Per unit, per night.
3.1km North of center of Zwavelpoort
Guesthouse @ 56 is an elegant country guest house conveniently situated 8 km from the city, in the Mooiplaats area, East of Pretoria. Our 7 semi self-catering double rooms are in close proximity to a wide range of outdoor activities, excellent restaurants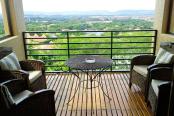 From
R 475,00
Per person, per night sharing.
5.7km West of center of Zwavelpoort
Jopasso is a luxurious Guest House situated against the Bron Mountain in the Eastern suburbs of Pretoria. It has spectacular views and an indigenous garden. It offers an intriguing combination of understated hospitality, privacy and comfort...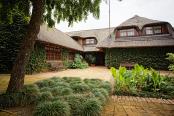 6.1km North West of center of Zwavelpoort
The Guest Lodge, surrounded by indigenous trees, is situated on 4 hectares of land. The main building is a spacious 1040m2 thatched house, consisting of 8 en-suite single/double bedrooms of which 2 are self-catering. Special attention was given to...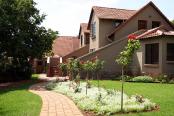 7.1km West of center of Zwavelpoort
Bellstone Guesthouse is situated in Faerie Glen and offers intimate and homely lodging. The guesthouse prides itself in providing service with a personal touch to business people, tourists, brides and families. Bellstone Guesthouse...
From
R 1 075,00
Per person, per night sharing.
7.4km South West of center of Zwavelpoort
Woodpecker Inn is an affordable yet luxurious guest house, situated in the prestigious Woodhill residential and golfing estate, Pretoria East. Only some 50 meters from the clubhouse, on the 18th fairway ...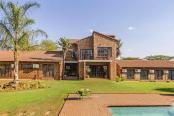 Sleeps: 23 in 11 units/rooms
From
R 425,00
Per person, per night sharing.
7.9km North West of center of Zwavelpoort
Peter's Guesthouse is situated in Pretoria East in Equestria. The guesthouse offers 10 en-suite rooms with air conditioning, DSTV, coffee/tea facilities and free wireless internet.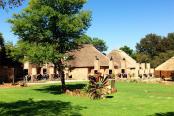 7.9km North East of center of Zwavelpoort
Riverside Kaia is located in Donkerhoek outside Pretoria along to N4 Highway towards Witbank. GPS coordinates: S25 46.985 min / E28 27.441. Riverside Kaia is on a 25 Ha farm along the Rhenosterfontein with 500 meter river front.
Sleeps: 10 in 3 units/rooms
From
R 350,00
Per person, per night sharing.
8.8km South East of center of Zwavelpoort
Our modest but comfortable and clean B&B offers two double en-suite rooms. One has its own entrance and outside sitting area. There is a lapa and pool as well as barbeque facilities. There is safe parking on the premises...
Sleeps: 14 in 6 units/rooms
From
R 370,00
Per person, per night sharing.
8.9km West of center of Zwavelpoort
This beautiful establishment with its Cape Georgian style is one of the first guesthouses established in Pretoria. Oxnead still offers a comfortable and highly recommended base for business and leisure traveller.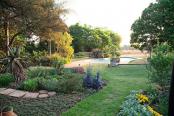 Sleeps: 6 in 2 units/rooms
From
R 420,00
Per person, per night sharing.
9.8km North East of center of Zwavelpoort
The Pearl Guest House in Donkerhoek consists of one cottage and one en-suite room.
---
Zwavelpoort
Zwavelpoort is undoubtedly one of the most popular areas in Pretoria East and is also one of the most scenic areas in the east with the Bronberg mountain range creating a scenic view over the valley. Also contributing to the attraction of this area is the Bronberg protected greenbelt and the close proximity to amenities and easy access to main roads. With its moderate climate, sunny skies, scenic environment, and well maintained facilities it is definitely a lovely place to spend some time. Zwavelpoort is also within close proximity to major shopping centers and many other places of interest.

The area is well known for its horses with various stabling facilities and many dirt roads for out rides on horseback. Zwavelpoort is also known as the home to the worlds number one Friesian stud farm outside the Netherlands. The Swivel Friesian Stud farm was named the third best stud farm in the world. The first and second places went to Dutch studs and no other South African Friesian studs were rated in the top 50.

Located in the area is a fully equipped Virgin Active Gym which will fulfill any fitness fanatics needs with a swimming pool, steam baths, and sun beds. For the avid golfer this suburb is also located in close proximity to two of Cape Towns great golf clubs. And for those wanting to spend some time outdoors enjoying nature, the bird life in the area is plentiful as the extensive greenbelt area serves as their natural habitat.