Showing 1 to 10 of 10 results
A fantastic 3-bedroom home directly located on a vlei at Imhoff's Gift in Kommetjie, only minutes away from Long Beach and Noordhoek Beach. We call the house "BUHLE" which means "beautiful house" in Xhosa - and it is truly uniqu..
Nearby Listings
From R 950,00
Per unit, per night.
2.4km West of center of Imhoffs Gift
5 Pelican Place offers a choice of two separate entrance apartments situated on the same property, both within a minute's stroll to the beach.
Sleeps: 14 in 6 units/rooms
From R 750,00
Per person, per night sharing.
2.7km North East of center of Imhoffs Gift
Self Catering Villas with uninterrupted views overlooking Noordhoek Valley to the Atlantic Ocean, offer privacy and comfort in a contemporary African setting. Bask in the African sun at the pool.
Sleeps: 14 in 5 units/rooms
From R 650,00
Per person, per night sharing.
3.3km East of center of Imhoffs Gift
Nestled against the mountainside and bordering a nature reserve, Makapa Lodge is situated in Capri Village, with glorious panoramic views over the Noordhoek amphitheatre, the Atlantic Ocean and Chapman's Peak mountain. Positioned on the Cape Penin...
From R 900,00
Per unit, per night.
3.4km North East of center of Imhoffs Gift
Located in Capri Village on just about the highest point of the mountain overlooking the gorgeous Noordhoek Valley, we are delighted to offer our two bedroom self-catering holiday apartment.
From R 475,00
Per person, per night sharing.
4.7km North of center of Imhoffs Gift
Brynbrook is a modern tastefully decorated two bedroomed self-catering apartment that sleeps four adults. Situated in beautiful tranquil Noordhoek only 5 mins from the beach and the world famous Chapmans Peak Drive.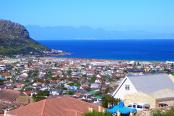 Sleeps: 11 in 3 units/rooms
From R 400,00
Per person, per night sharing.
5.5km North East of center of Imhoffs Gift
Situated on the mountainside in Fish Hoek, A Place in Thyme offers accommodation in three separate units: the cottage (sleeps 5); Small Thyme (sleeps 2) and Big Thyme (sleeps 2 adults & 2 children; or 3 adults.)
Sleeps: 6 in 3 units/rooms
5.9km North East of center of Imhoffs Gift
The management of the Villa Honeywood guest house is proud to offer you a peaceful and private place in which to relax. Our suites are individually designed and furnished to make you feel at home, even if you're a long way from home. As our guest ...
From R 3 000,00
Per unit, per night.
6.0km South East of center of Imhoffs Gift
This luxurious double storey beachfront villa in Scarborough offers privacy, beauty and security. If you seek a safe and peaceful beach retreat within easy reach of the Cape Town Buzz, don't miss here.
From R 999,00
Per unit, per night.
6.8km East of center of Imhoffs Gift
Blue Yonder enjoys one of Fish Hoek's most enviable locations. Ideally situated on the mountain slope, these self catering apartments combine luxurious holiday accommodation with breathtaking views of the beach and sea. Fish Hoek beach offers exce
---
Imhoffs Gift
With a history spanning over 250 years, Imhoffs Gift has a proud heritage of being Cape Towns hidden gem. The area borders on the Table Mountain Nature Reserve. Imhoffs Gift is a residential area which comprises of approximately 250 properties. Situated on Wildevoelvlei, the area is close to the ocean and hemmed in by mountains with views of the ocean, nature reserve and Chapmans Peak.

History
The rich history of the area starts in the mid 1700s. After the directors of the Dutch East India Company (VOC) decided to save their ships from the constant barrage of deadly winter storms in 1741, they put a halt to anchorage at Table Bay and chose to use Simons Bay instead. The new, safer destination also had its problems, one of which was the return journey on foot to Cape Town to source vital supplies for the fleet, a trip which would take a full four days. The Commissioner Extra-ordinaire at the Cape, Baron Gustav Wilhelm van Imhoff ordered the construction of the Simons Bay refreshment station in 1743. One of the main projects was the cultivation of lands in the Fish Hoek and Noordhoek valleys. Baron van Imhoff was impressed by the widow Christina Rousseaus efforts to alleviate the problems of supplying fresh produce from her farm Zwaansweide, that he that he awarded her a gift of land near Slangkop ridge. The area - which also encompassed the lands now claimed by Kommetjie and Ocean View - became known as Imhoffs Gift.