Showing 1 to 10 of 10 results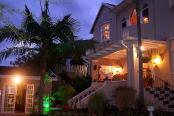 From R 550,00
Per person, per night sharing.
Acorn Bed & Breakfast in Durban, an oasis of graciousness and tranquility in Durban's exclusive Berea, has every modern convenience, yet retains the old-worlde impeccable service and style of yester-year.
From R 250,00
Per person, per night sharing.
Situated high up on Berea, below Musgrave Centre, with views over the CBD towards the beachfront in a peaceful, secure cul-de-sac road lined with samples of architectural listed buildings this 110 year old house boasts clean wooden floors, high ceilings,
Nearby Listings
From R 650,00
Per unit, per night.
0.2km North of center of Berea, Durban
This is a newly-decorated 3 bedroomed, 2 bathroomed simplex in Durban's fashionable Morningside, within a few minutes' walk from Greyville Racecourse, shops and restaurants, and within a few minutes' drive of all Durban's amenities
Sleeps: 35 in 16 units/rooms
From R 1 400,00
Per unit, per night.
1.0km North of center of Berea, Durban
We have 16 en-suite bedrooms including 1 Family suite. For your convenience, all rooms are equipped with air-conditioning, DSTV and complimentary Wi-Fi access. Other facilities include secure off-street parking, 24 hour security and a swimming pool.
From R 625,00
Per person, per night sharing.
1.3km North West of center of Berea, Durban
The six suite Lodge provides state-of-the art bedroom and bathroom accommodation and also a ten seater boardroom/dining room for corporate meetings and entertaining.
Sleeps: 42 in 21 units/rooms
From R 775,00
Per person, per night sharing.
1.4km North West of center of Berea, Durban
Albion Manor is the perfect guesthouse for you, boasting a central location in Morningside, Durban, with convenient access to both commercial and entertainment venues.
From R 475,00
Per person, per night sharing.
1.5km South of center of Berea, Durban
Musgrave Avenue Guest Lodge is a renovated Georgian style building offering affordable accommodation in Durban, which is suitable for families, groups, couples and corporate travellers.
Sleeps: 15 in 6 units/rooms
From R 350,00
Per person, per night sharing.
1.8km North of center of Berea, Durban
We have 2 units that are suited to couples and/ or business people. The units can accommodate 2 people or more on a sleeper couch if needed. We are in the process of converting more .
From R 850,00
Per unit, per night.
2.2km East of center of Berea, Durban
Summersands 39 is situated in the prime area of the Durban Beachfront, it is a 2 bedroom 2 bathroom, luxury self-catering apartment. It has modern furnishings and decorated with beautiful paintings and chandeliers.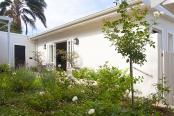 From R 1 200,00
Per unit, per night.
2.2km North of center of Berea, Durban
Very special, newly renovated, one bedroom garden cottage with fabulous views in a lovely part of Morningside. Riverview Cottage sleeps 2 maximum in a king bed or two singles, with a full bathroom with bath and shower. Self-catering with a fully equ
---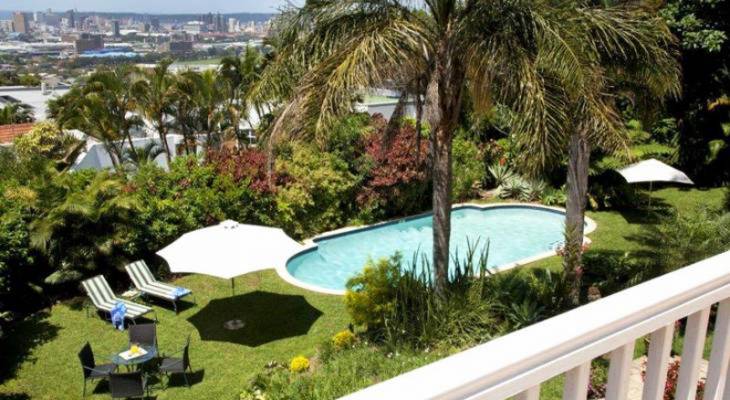 Berea, Durban
Berea in Durban is one of the city's most upmarket suburbs. Built on a ridge rising from the city centre, most of Berea overlooks the sea and harbour as well as Greyville Racecourse surrounding the prestigious Royal Durban Golf Course. From many points there are also views of the magnificent Botanical Gardens, Kingsmead Cricket Ground and King's Park rugby and other sports stadiums. Durban must be the only city in the world with so many recreational amenities bordering its CBD! So there is little wonder that Durban's Berea is much sought after as a residential area as well as by visitors who prefer to stay in sedate suburbia but want easy access to the tourist hotspots. Berea is also favoured by business executives visiting Durban. They have many comfortable B&B guesthouses and lodges to choose from, as well as self-catering cottages and apartments. Many of them are within walking distance of Musgrave Shopping Mall, which includes several cinemas. Berea also boasts a broad selection of excellent restaurants.
Guests Visit to Durban
"I know a place that feels like home..." truly describes our stay at the Acorn Bed & Breakfast in Essenwood, on Durban's Berea.
My nieces wedding on the Berea in Durban KwaZulu Natal, was the perfect excuse to escape the Free State, and we made this beautifully restored old colonial home on the Berea our home base for the long weekend.

In close proximity is the hustle and bustle of Durban's Berea Florida Road - which stretches from Jameson Park rose gardens, to Greyville Berea. Florida road offers a diverse selection of culinary delights, and the Berea's Fabulous Moroccan Restaurant (yes, that really is its name), was the setting for a never to be forgotten gathering of family and friends, for an authentic North African experience.

While searching for accommodation in Berea Durban, we discovered handy facilities like Berea's Musgrave Centre which offers shopping for the discerning shopper - an upmarket centre where you feel that you really are 'living the good life'. On the opposite end of the scale, the Victoria Street Market in central Durban was a vision of the Maharajah Palace - a big 'pink jewel' reigning over the somewhat shabby, bland surrounding buildings. Almost every inch of the warrens meandering the length and breath of the building are covered in stalls, stuffed from head to toe with an irresistible eclectic mix of African and Oriental delights. After splurging on a variety of 'must haves', we tucked into traditionally Durban Bunny Chow's, then headed back to the bed & breakfast on the Berea for drinks under the stars.

The weekend's highlight was of course the wedding, which was held at the Durban Country Club - another 'old world' establishment steeped in Durban's history. The golfer's among us thoroughly enjoyed a Sunday game at the Durban Country Club, voted one of the top 100 golf courses of the world, and within 'spitting' distance of Durban's 'golden mile' beachfront, where the non-golfers spent the morning strolling the promenade and soaking up the sun.

The weekend was too short to visit much of the surrounding Durban area, but we do plan a return trip, where we hope to stay at a self catering cottage on Durban's North Coast, and explore Umhlanga Rocks and Ballito - firm family summertime favourites.
Accommodation in Durban can be a bit "all over the place" if you don't know exactly where you want to go. If you need to be close to the main Durban swimming beaches, then you should look at the Durban Beachfront Hotels, or maybe one of the Durban beachfront apartments. Some of these can be a little shabby, so check the advertisements out cartefully. If you wish to skip the traffic chaos on Durban's beachfront, then choose a Durban Bed and Breakfast or a Durban Guest House on the Berea.
Morningside accommodation is adjacent to Durban's Berea and also offers plenty of Durban accommodation options, only a few minutes from the Durban beachfront.
Thank you Don and staff at the Acorn Bed & Breakfast for making our stay such a memorable experience.....we made the right choice

Sandy & Doug
WhereToStay Berea, Durban accommodation ranges from a variety of specific categories such as Berea, Durban self catering accommodation to Berea, Durban b and b accommodation and many more.

More sought after Berea, Durban accommodation categories include Berea, Durban pet-friendly and Berea, Durban wheelchair-friendly accommodation. If you are specifically pursuing these Berea, Durban accommodation categories, then we highly recommend that you contact the accommodation owner directly to ensure that the facilities are satisfactory and to your liking.
The Berea, Durban pet-friendly accommodation and the Berea, Durban wheelchair-friendly accommodation facilities can vary between large Berea, Durban Hotels as well as small room only accommodation. Self catering Berea, Durban accommodation will occupy the majority of these listings.

99% of all Berea, Durban guest houses listed on WhereToStay will display rates for your convenience. Occasionally a Berea, Durban guest house will ask you to request a quotation.
WhereToStay tries to keep the Berea, Durban self catering and Berea, Durban b&b standards at the highest levels relative to tariffs charged. Misleading advertising related to any listings of Berea, Durban B&B and Berea, Durban self catering accommodation should be reported so that WhereToStay can act accordingly.

See our full list of Berea, Durban accommodation special categories at the top of this page

AFRIKAANS

WhereToStay Berea, Durban Akkommodasie wissel van `n verskeidenheid van spesifieke categoriee soos Berea, Durban selfsorg akkommodasie, Berea, Durban, b en b blyplekke en nog veel meer.

Meer gesogte Berea, Durban slaapplek kategoriee sluit in Berea, Durban troeteldier-vriendelike blyplekke en Berea, Durban rolstoel-vriendelike akkommodasie.
As jy spesifiek vrae oor die voorsetting van hierdie Berea, Durban blyplekke, sal dit raadsaam wees om kontak met die eienaars te maak om te verseker dat die fasiliteite bevredend is en na you hart.

Die Berea, Durban troeteldier-vriendelike verblyf en Berea, Durban rolstoel-vriendelike vakansie blyplekke kan wissel tussen Berea, Durban Hotelle asook klein kamer akkommodasie in Berea, Durban. Berea, Durban selfsorg slaapplekke sal die meerderheid van hiedie inskrywings beset.

99% van alle Berea, Durban gastehuise gelys op WhereToStay sal pryse vertoon vir u gerief. Soms sal `n Berea, Durban gastehuis vra om `n kwotasie te versoek.

WhereToStay probeer om die lys van Berea, Durban slaapplek standaarde op die hoogste vlakke (relatief tot tariewe) gehef hou.

Misleidende advertensies wat verband hou met enige lys van Berea, Durban blyplekke moet aangemeld word sodat WhereToStay kan daarvolgens optree.