Bainskloof pass

This 30km pass between Ceres and Wellington was completed in 1853 by the famous road engineer, Andrew Geddes Bain, and is one of the most picturesque passes in the Cape. Like most of the passes built arround that time, like Michels Pass and Tradouw Pass, Bainskloof was built using convict labour. Often there were up to 350 convicts working on the pass and the number sometimes grew to 450 at any one time, over 1000 different convicts could claim there place in history after building this pass. Bain started the project from Wellington where he set up a constuction village named Eerste Tol in 1848 which included the usual storerooms and workshops, as well as a hospital, a church or school building, recreation area and stables. Work on the project comenced in 1849. The first section of the pass was the easier section which required a minimal amount of blasting and bridge building, it was on this section, the western approach, that bain planted over 300 oak trees to provide shade on the pass. In 1951 he moved the camp to Tweede Tol, the more trechorous part of the project. This part required blasting through solid rock and reinforing the banks with 20 metre high retaining walls in places. We need to remember that in the 1850s there were no big earthmoving machines and most of the work was done using little more than hand drills, sledge hammers, steel bars, picks and shovels. The pass was opened in September 1853, was tarred nearly 81 years later in 1934 and declared a National Monument in 1980, 127 years after its opening. Originally built for the horse drawn traffic of the 1950s, Bainskloof Pass is still open today as part of the regional road, the R303.

At the top of the pass, 595 metres above sea level you will find a plantation and a picnic spot, where the road meets the Witte River. The river cascades down the rock faces, through a cleft in the mountainside, down a stretch of rapids, over waterfalls and into natural pools on the northern side of the mountains. Surrounded by interesting rock formations and wild flowers, this is one of the most beatiful stretches of road in the western province. Halfway down the pass there is a beautiful campsite, with an awe inspiring river pool set amid smooth boulders (The Tweede Tol campsite will be receiving new developments and will be closed for bookings until 22 September 2010.) So the 30km stretch of road needn't be just a view through your car window, it can be a destination, to picnic, to hike though what is know as Wolvenkloof, or even spend some time camping.

Could Andrew Geddes Bain and those 1000 convicts ever have imagined that they were making one of the most beautiful parts of the Cape accessible to so many people for over 157 years and for many more to come.

Come and marvel at this natural paradise and stand amazed at what man can do when he sets his hands to work.
Nearby Listings
9.8km North West of center of Bainskloof Pass
We have four self catering cottages on the property which can accommodate a maximum of 20 guests. They are fully equipped with bedding, towels, cutlery and crockery. Children of all ages are welcome. As we are a self catering establishment, with ...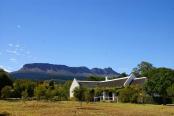 Sleeps: 14 in 4 units/rooms
From
R 720,00
Per unit, per night.
* Rates may vary according to season
10.7km South of center of Bainskloof Pass
Mooi Bly offers five well-appointed, charming thatched cottages that can sleep up to six people, situated in a big garden with a swimming pool. They are fully equipped, serviced, have private verandas with barbecue facilities and a magnificent view of the
Sleeps: 9 in 4 units/rooms
12.5km East of center of Bainskloof Pass
Please Note: This page is a test page!!!
15.4km South West of center of Bainskloof Pass
Middelplaas Paarl Guest house is set on a tranquil farm situated within easy reach of the town centre. It is an ideal destination for corporate guests, holidaymakers, wedding guests, school groups, team builders or sports groups.
Sleeps: 20 in 9 units/rooms
From
R 375,00
Per person, per night sharing.
* Rates may vary according to season
17.0km South West of center of Bainskloof Pass
5 Konings Accommodation in Paarl invites you to stay in one of our 10 stylishly decorated, en-suite rooms catering for your comfort and enjoyment. All the rooms are equipped with air conditioning, DSTV, flat screen televisions, and free wi-fi. Each room h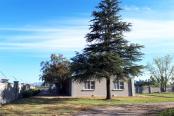 18.1km South of center of Bainskloof Pass
Hamlin Country Cottage is a spacious three bedroomed self catering establishment situated in Paarl and close to KWV Cellar, Nederburg Wines, and Fairview Winery & Cheese.
18.1km South West of center of Bainskloof Pass
Treat yourself to a night in a luxuriously decorated room within a beautiful idyllic garden setting in the Cape Winelands. The guesthouse is surrounded by romantic Lavender Fields and mountains-meet-vineyard-themed outdoor scenery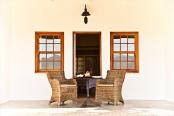 Sleeps: 10 in 5 units/rooms
18.1km South West of center of Bainskloof Pass
d'Olyfboom guest rooms situated in Paarl welcome travellers and tourists who would like to experience the Boland in all its splendour.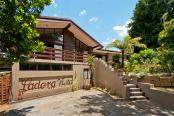 19.6km South of center of Bainskloof Pass
Ladera-vista is nestled against Paarlberg offering panoramic views of the Paarl Valley and the Drakenstein Mountains. Five self-catering units in a rustic, country atmosphere that indulges the senses and rejuvenates even the most weary of minds.
Sleeps: 20 in 5 units/rooms
From
R 1 300,00
Per unit, per night.
* Rates may vary according to season
22.5km West of center of Bainskloof Pass
Denneboom Vineyards and Wildlife offers self catering accommodation in Voor-Paardeberg in the Paarl Winelands, Cape Winelands. A boutique producer of wine and olive oil and purveyor of 4 star accommodation. Our self catering accommodation was born out of