Wolkberg Wilderness Area


Wolkberg Wilderness Area is an area that is maintained for its scientific importance as a natural ecosystem which has remained largely untouched by modern progress, and is an important catchment area which delivers a high quality water supply to the surrounding communities. And in doing the above Wolkberg Wilderness Area perfectly fits the definition of a Wilderness Area. The area is the catchment area which gives origin to the Letaba, Thabina, Letsitele and Mohlapitse Rivers, all of which are watched over by yellowwoods, wild figs, wild beeches and waterberry trees. The Mohlapitse River and its tributaries have cut through the landscape dramatically over a long period of time, with the result that the wilderness area is characterised today by beautiful peaks, sheer cliffs, deep valleys and high waterfalls. The river separates the Strydpoort Mountains from the Drakensberg Mountains.

The beautiful 22000 hectare Wilderness Area is positioned approximately 80 km south-west of Tzaneen. The Wolkberg which means Cloud Mountain is part of the northern Drakensberg and Strydpoort ranges. It is characterised by its great, vertical quartzite krantzes, countless kloofs, cool, deep and densely forested ravines, massive buttresses and folded and interlocking spurs. The area was aptly proclaimed a wilderness area in 1977.

The Wolkberg is rich in birdlife with 150 bird species to see including the hamerkop, bat hawk, black eagle, lilac-breasted roller, blackcollared and pied barbets, pearlbreasted swallow and crested francolin. Hikers have the chance of seeing klipspringer, grey rhebok, mountain reedbuck, duiker, bushbuck, genet, otter, the noctumal caracal and vervet and samango monkeys, and if extremely lucky, leopard and brown hyena.

A row of quartzite cliffs that face north east for about 2 km, known as the Devils Knuckles, drop over a distance of 6 km to the west and form a striking feature of the reserve. There are some long hiking trails with overnight camping spots in the area but there is an easier hiking route along a series of ridges to the spectacular Thabina Waterfall, and another one from the Georges Valley end of the reserve towards Serala peak. Serala, which is situated on the edge of the escarpment, is the highest peak in the wilderness area, reaching a height of 2050 metres.

This stunning part of the Limpopo province is loved by local hikers, climbers, walkers and wanderers and this is mainly due to its variety of trails and its diverse habitat. There are marked trails, but you can walk anywhere you want, exploring dramatic gorges and cliffs, thickly forested ravines and wide-open grasslands.

Don't go to the Wolkberg Wilderness Area without your swimming costume because the area boasts clear stream, refreshing waterfalls and potholed pools.
Nearby Listings
9.7km West of center of Wolkberg Wilderness Area
Magoebaskloof Adventures Accommodation provides chalet accommodation near Haenetsburg in the Limpopo province. Discover a magical place where mountain meets river and the spirit of adventure is born. Magoebaskloof Adventure Chalets' wooden chalets are in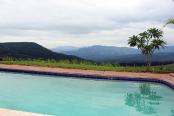 Sleeps: 14 in 6 units/rooms
10.9km North of center of Wolkberg Wilderness Area
Granny Dot's Country Spot offers bed and breakfast accommodation in the outskirts of Tzaneen in the Limpopo province. This is the perfect spot snugly settled on a hillside amidst lush tropical greenery and overlooking the magnificent Wolkberg mountains ra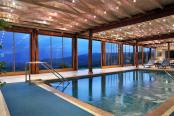 12.6km North of center of Wolkberg Wilderness Area
Coach House Hotel & Spa offers hotel accommodation near Tzaneen in the Limpopo province. (38 Rooms). Easily accessible from Gauteng, Coach House Hotel & Spa offers country style hospitality and comfort in tranquil settings. Internationally renowned, this
15.2km North West of center of Wolkberg Wilderness Area
Glenogle Farm offers 2 self catering cottages in the mountainous area of Magoebaskloof in the Limpopo province. (Sleeps 4 and sleeps 2). Situated between Haenertsburg and Tzaneen, hidden amongst the pine plantations in the beautiful mountainous area of Ma
Sleeps: 9 in 4 units/rooms
16.0km West of center of Wolkberg Wilderness Area
L'Orange provides self catering accommodation in Haenertsburg in the Limpopo province. L'Orange one of the oldest houses in Haenertsburg. It was built back in the early 1960s. Karen Boyum (a humanitarian and founder of Thusanang) and two friends, bought t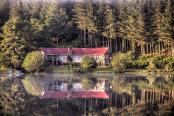 Sleeps: 18 in 2 units/rooms
17.9km North West of center of Wolkberg Wilderness Area
Pavetta Country House provides self catering accommodation in Magoebaskloof in the Limpopo province. This self catering house (6 adults and 2 children) is scenically placed next to the Haenertsburg Trout Association's trophy dam with great views over the
Sleeps: 28 in 8 units/rooms
From
R 450,00
Per unit, per night.
* Rates may vary according to season
18.3km North West of center of Wolkberg Wilderness Area
Cheerio Trout Fishing Lodge offers a self catering escape in the beautiful Cheerio Valley close to Haenertsburg, in the Magoebaskloof area, between Polokwane and Tzaneen and is an excellent stop over to the Kruger National Park and other game parks. (Slee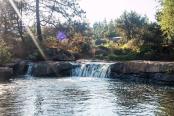 Sleeps: 40 in 7 units/rooms
19.5km North West of center of Wolkberg Wilderness Area
Zwakala River Retreat is situated on a privately owned farm in the beautiful Magoebaskloof Mountains, just north of Haenertsburg in the Limpopo Province. Our array of accommodation includes cosy self catering cottages, a guest house and a private camp sit
22.0km North of center of Wolkberg Wilderness Area
Boskiep 2 provides self catering flat accommodation in Tzaneen, in the Limpopo province. (Sleeps 6). Boskiep 2 is a convenient stopover or holiday base, an affordable self catering flat for business travellers, sales representatives, tourists, parents wit