Cyril Jackson Observatory
Cyril Jackson was a prominent South African Astronomer who discovered / co-discovered three comets and 72 asteroids which made him one of South Africas leading Astronomers. These discoveries included the periodic comets 47P / Ashbrook Jackson and 58P / Jackson Neujmin, both named after the astronomer. Jackson worked mainly in South Africa, Australia and South America, but during the last years before retirement, in the early 1950s, he built an observatory on his farm named Hilltop in the Haenertsburg district. After his retirement he moved to the farm and used the observatory. He sold the observatory ground in the 1970s and the site was forgotten about until it was rediscovered. Magda Streicher identified the site, had the site registered as a Provinsial Heritage Site with the National Heritage Foundation, and managed to contribute a display at the local Haenertburg museum.

The small stone observatory lies 3 kilometres from Haenertsburg on the road to Polokwane, the R71. (Visitors shouls turn off at the Fillys Way sign and drive 800m further, it will be on your right hand side)

The museum in Haenertsburg kindly allowed Magda Streicher to display some material.
Nearby Listings
1.2km East of center of Cyril Jackson Observatory
L'Orange one of the oldest houses in Haenertsburg. It was built back in the early 1960s. Karen Boyum (a humanitarian and founder of Thusanang) and two friends, bought the property in 1968. Karen is one of Haenertsburg Village's valuable, "old stock." Kare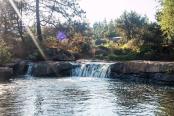 3.6km North of center of Cyril Jackson Observatory
Zwakala River Retreat is situated on a privately owned farm in the beautiful Magoebaskloof Mountains in the Limpopo Province. Our accommodation includes cosy cottages, a guest house and a private camp site located next to a tranquil river in the mountains
Sleeps: 28 in 8 units/rooms
From
R 450,00
Per unit, per night.
4.8km North of center of Cyril Jackson Observatory
Cheerio Trout Fishing & Holiday Resort is situated in the beautiful Cheerio Valley. Sleeps from 28 - 33 guests.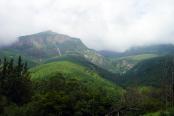 7.6km East of center of Cyril Jackson Observatory
Discover a magical place where mountain meets river and the spirit of adventure is born. Magoebaskloof Adventure Chalets' wooden chalets are in the indigenous forest on the edge of the Letaba Gorge with stunning views.
7.7km North East of center of Cyril Jackson Observatory
Glenogle Farm is a privately owned estate hidden amongst the pine plantations in the beautiful mountainous area of Magoebaskloof. This picturesque farm boasts horses, a magnificent dam stocked with trout as well as 2 Luxury self catering units.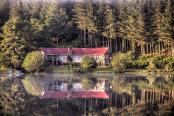 8.6km North of center of Cyril Jackson Observatory
The house is scenically placed next to the Haenertsburg Trout Association's trophy dam with great views over the dam and indigenous forest. The house accommodates 6 adults and 2 young children, sharing with their parents in the master bedroom.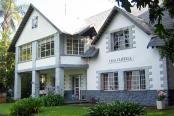 Sleeps: 100 in 10 units/rooms
From
R 1 300,00
Per unit, per night.
10.6km North East of center of Cyril Jackson Observatory
Stunning views from this three storey Manor House in the heart of Magoebaskloof. The house, of historic value, was built by Italian Prisoners of World War II and has been lovingly restored in keeping with the architecture and style of the period.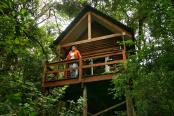 Sleeps: 24 in 4 units/rooms
From
R 550,00
Per person, per night sharing.
12.3km North West of center of Cyril Jackson Observatory
You could book a Forest Lodge cabin, 3 metres up in the canopy of the indigenous forest, surrounded by magnificent trees, animals and birds. Alternatively, soak up the views at the earthy Thora Boloka Cottage, on the mountain's edge overlooking ...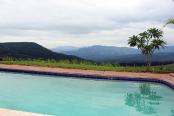 Sleeps: 14 in 6 units/rooms
18.8km East of center of Cyril Jackson Observatory
Granny Dot's is set up in a warm and welcoming way, an ideal getaway for leisure travellers and jaded business executives. Within the guest house there's a choice of 4 double rooms and 2 outside rooms. All are...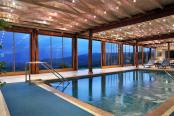 22.3km East of center of Cyril Jackson Observatory
Easily accessible from Gauteng, Coach House Hotel & Spa offers country style hospitality and comfort in tranquil settings. Internationally renowned, this gracious estate is situated on 560 hectares in the lush sub-tropical Letaba district of Limpopo.