Louis Changuion Hiking Trail
There are a lot of short walks and trails accross our beautiful land that are worth exploring. When we hike trails like the Magoebaskloof Trail it is worth looking around at what the area has to offer and maybe spend an extra day relaxing and doing some of the day trails in the area. One of these trails is in Haenertsburg in the Limpopo Province, The Louis Changuion Hiking Trail.

The trail goes through three Afromontane forest patches and a highly threatened grassland. It begins and ends in the historical village of Haenertsburg in the foothills of the Wolkberg Wilderness area in Limpopo Province. The remains of a Long Tom cannon can be viewed in the village and a quaint isolated graveyard along the route also warrants a stop.

The trail is about 10 km in length and has stunning views, including a panorama of the northern most part of the Drakensberg range and quaint picnic spots. It should take about half a day to complete but hikers are encouraged to stop and look for special plants and animals along the way. Maps of the trail and information booklets on medicinal plants, insects and birds are available for hikers in the village. It is interesting to note that only one out of six plants are actually grasses unlike many other trails and hikers may be rewarded by seeing some unusual flowers. Some threatened fauna that may be seen along the hike are Blue Swallow, Methuens Dwarf Gecko and the Wolkberg Zulu Butterfly.

The trail is maintained on a volunteer basis by the community. The Louis Changuion Hiking Trail offers a restful weekend to recharge the batteries and the senses. Haenertsburg is about 300 km north of Johannesburg and 60 km north east of Polokwane (Pietersburg).

The trail is maintained on a volunteer basis by the community. For a guided trail contact well known bird guide David Letsoalo. Cell: +27-83-5684678

For more information contact:
Liz Blandy
Tel: +27-15-2764972
Or email: mta@magoebaskloof.com
Nearby Listings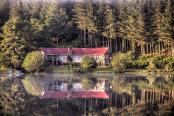 1.6km North of center of Louis Changuion Hiking Trail
Pavetta Country House provides self catering accommodation in Magoebaskloof in the Limpopo province. This self catering house (6 adults and 2 children) is scenically placed next to the Haenertsburg Trout Association's trophy dam with great views over the
1.8km South East of center of Louis Changuion Hiking Trail
Glenogle Farm offers 2 self catering cottages in the mountainous area of Magoebaskloof in the Limpopo province. (Sleeps 4 and sleeps 2). Situated between Haenertsburg and Tzaneen, hidden amongst the pine plantations in the beautiful mountainous area of Ma
Sleeps: 28 in 8 units/rooms
From
R 450,00
Per unit, per night.
3.2km South West of center of Louis Changuion Hiking Trail
Cheerio Trout Fishing Lodge offers a self catering escape in the beautiful Cheerio Valley close to Haenertsburg, in the Magoebaskloof area, between Polokwane and Tzaneen and is an excellent stop over to the Kruger National Park and other game parks. (Slee
Sleeps: 100 in 10 units/rooms
From
R 1 300,00
Per unit, per night.
3.4km North of center of Louis Changuion Hiking Trail
Casa Clavella provides a wonderful self catering escape in the heart of Magoebaskloof between Haenertsburg and Tzaneen in the Limpopo province. This self catering home sleeps 10 people. Stunning views abound from this three storey Manor House in the heart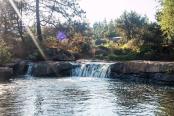 5.6km South West of center of Louis Changuion Hiking Trail
Zwakala River Retreat is situated on a privately owned farm in the beautiful Magoebaskloof Mountains, just north of Haenertsburg in the Limpopo Province. Our array of accommodation includes cosy self catering cottages, a guest house and a private camp sit
Sleeps: 9 in 4 units/rooms
6.9km South of center of Louis Changuion Hiking Trail
L'Orange provides self catering accommodation in Haenertsburg in the Limpopo province. L'Orange one of the oldest houses in Haenertsburg. It was built back in the early 1960s. Karen Boyum (a humanitarian and founder of Thusanang) and two friends, bought t
8.5km South East of center of Louis Changuion Hiking Trail
Magoebaskloof Adventures Accommodation provides chalet accommodation near Haenetsburg in the Limpopo province. Discover a magical place where mountain meets river and the spirit of adventure is born. Magoebaskloof Adventure Chalets' wooden chalets are in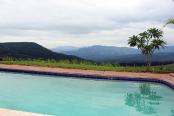 Sleeps: 14 in 6 units/rooms
14.0km East of center of Louis Changuion Hiking Trail
Granny Dot's Country Spot offers bed and breakfast accommodation in the outskirts of Tzaneen in the Limpopo province. This is the perfect spot snugly settled on a hillside amidst lush tropical greenery and overlooking the magnificent Wolkberg mountains ra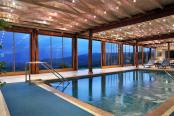 17.4km East of center of Louis Changuion Hiking Trail
Coach House Hotel & Spa offers hotel accommodation near Tzaneen in the Limpopo province. (38 Rooms). Easily accessible from Gauteng, Coach House Hotel & Spa offers country style hospitality and comfort in tranquil settings. Internationally renowned, this
17.9km North East of center of Louis Changuion Hiking Trail
Boskiep 2 provides self catering flat accommodation in Tzaneen, in the Limpopo province. (Sleeps 6). Boskiep 2 is a convenient stopover or holiday base, an affordable self catering flat for business travellers, sales representatives, tourists, parents wit