Debengeni Falls

"The place of the big pot" is the english translation from the Pedi language for the word Debengeni. And what a word to describe what nature has created at the foot of the Magoebaskloof mountains, just out Tzaneen in the Limpopo province. The Ramadipa river cascades over 80m down the Debengeni Falls into a large basin which has been slowly formed over millions of years by the rivers powerful forces. Today the basin is an ideal spot for the tired hiker, or even just the picnicking family to stop and take a dip in the cool refreshing waters. (Please note that there are no lifeguards present and swimming is at your own risk, and due to seasonal temperature changes, swimming is only recommended between December and March.) The surrounding area at the foot of the falls is ideal just to spread out you blankets and relax under the trees, with a few short walks leading from here into the De Hoek State forest. If you enjoy extreme sports there is also a challenging15km - 18km mountain bike track, the Debengeni Downhill, to test your skills and endurance.

For more information contact Magoebaskloof Tourism on Tel: +27-15-2764880

Directions
From Johannesburg/Pretoria, take the N1 to Polokwane, approx 10km before you get to Polokwane, turn right toward Tzaneen. After a approx 15km, at the second traffic light, turn right towards Tzaneen and Haenertsburg. From Haenertsburg town, drive straight on the R71 for another 16km until you get to Magoebaskloof. At the bottom of the Magoebaskloof Mountain Pass on the R71 route between Haenertsburg and Tzaneen you will find the Debengeni Falls.
Nearby Listings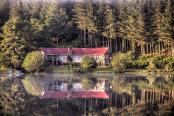 Sleeps: 18 in 2 units/rooms
7.4km South of center of Debengeni Falls
Pavetta Country House provides self catering accommodation in Magoebaskloof in the Limpopo province. This self catering house (6 adults and 2 children) is scenically placed next to the Haenertsburg Trout Association's trophy dam with great views over the
9.5km South of center of Debengeni Falls
Glenogle Farm offers 2 self catering cottages in the mountainous area of Magoebaskloof in the Limpopo province. (Sleeps 4 and sleeps 2). Situated between Haenertsburg and Tzaneen, hidden amongst the pine plantations in the beautiful mountainous area of Ma
Sleeps: 28 in 8 units/rooms
From
R 450,00
Per unit, per night.
* Rates may vary according to season
11.2km South of center of Debengeni Falls
Cheerio Trout Fishing Lodge offers a self catering escape in the beautiful Cheerio Valley close to Haenertsburg, in the Magoebaskloof area, between Polokwane and Tzaneen and is an excellent stop over to the Kruger National Park and other game parks. (Slee
12.6km East of center of Debengeni Falls
Boskiep 2 provides self catering flat accommodation in Tzaneen, in the Limpopo province. (Sleeps 6). Boskiep 2 is a convenient stopover or holiday base, an affordable self catering flat for business travellers, sales representatives, tourists, parents wit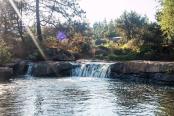 Sleeps: 40 in 7 units/rooms
13.3km South West of center of Debengeni Falls
Zwakala River Retreat is situated on a privately owned farm in the beautiful Magoebaskloof Mountains, just north of Haenertsburg in the Limpopo Province. Our array of accommodation includes cosy self catering cottages, a guest house and a private camp sit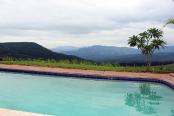 Sleeps: 14 in 6 units/rooms
15.3km South East of center of Debengeni Falls
Granny Dot's Country Spot offers bed and breakfast accommodation in the outskirts of Tzaneen in the Limpopo province. This is the perfect spot snugly settled on a hillside amidst lush tropical greenery and overlooking the magnificent Wolkberg mountains ra
Sleeps: 9 in 4 units/rooms
15.8km South of center of Debengeni Falls
L'Orange provides self catering accommodation in Haenertsburg in the Limpopo province. L'Orange one of the oldest houses in Haenertsburg. It was built back in the early 1960s. Karen Boyum (a humanitarian and founder of Thusanang) and two friends, bought t
16.6km South of center of Debengeni Falls
Magoebaskloof Adventures Accommodation provides chalet accommodation near Haenetsburg in the Limpopo province. Discover a magical place where mountain meets river and the spirit of adventure is born. Magoebaskloof Adventure Chalets' wooden chalets are in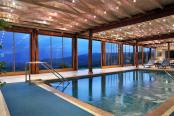 17.6km South East of center of Debengeni Falls
Coach House Hotel & Spa offers hotel accommodation near Tzaneen in the Limpopo province. (38 Rooms). Easily accessible from Gauteng, Coach House Hotel & Spa offers country style hospitality and comfort in tranquil settings. Internationally renowned, this