Imhoff Farm
Imhoff Farm is situated in Kommetjie in Cape Town, South Africa. It is a warm, historical Cape farmstead, steeped in a rich and eventful history. It is a must visit.
The farm is conveniently situated on the busy tourist route to Cape Point and is equally popular amongst locals and visitors from around the country and internationally. The whole family will enjoy the farm, there is something for everyone of all ages.

History:
After the directors of the Dutch East India Company (VOC) decided to save their ships from the constant barrage of deadly winter storms in 1741, they put a halt to anchorage at Table Bay and chose to use Simons Bay instead. The new, safer destination also had its problems, one of which was the return journey on foot to Cape Town to source vital supplies for the fleet, a trip which would take a full four days. The Commissioner Extra-ordinaire at the Cape, Baron Gustav Wilhelm van Imhoff ordered the construction of the Simons Bay refreshment station in 1743. One of the main projects was the cultivation of lands in the Fish Hoek and Noordhoek valleys. Baron van Imhoff was impressed by the widow Christina Rousseaus efforts to alleviate the problems of supplying fresh produce from her farm Zwaansweide, that he that he awarded her a gift of land near Slangkop ridge. The area - which also encompassed the lands now claimed by Kommetjie and Ocean View - became known as Imhoff's Gift.

The town of Kommetjie was proclaimed in 1903 and the following 50 years were quite uneventful. In 1958 however, a raging fire swept across the valley, leaving smouldering farm buildings in its wake. The original homestead of Imhoffs Gift was badly damaged. Two historic wooden figureheads which had been salvaged from shipwrecks and given pride of place at the front entrance were also destroyed in the inferno. 10 years later in 1967 the farm was dealt another blow as the then apartheid government expropriated another portion of the farm, under the Group Areas Act, to form the township of Ocean View. In 2003 the land between the vleis (marshes) and the sea was transferred to the Table Mountain National Park. The historically lucrative trade of dairy and livestock farming is no longer viable on this once remote stretch of land but it has now become a busy tourist route and the farmstead has evolved into Imhoff Farm. The commercial hub with old-world charm. The homestead now houses the Blue Water Cafe while the stables, silo, smithy, slave quarters and milking sheds are occupied by local artists and interesting craft, furniture and food shops. The present owners (since 1912) the Van der Horst family are committed to maintaining the country farm atmosphere and providing an excellent one stop venue for visitors to the Cape Point Route.

There is so much to see and do at the farm from relaxing and enjoying the stunning scenic views to beach rides and animal encounters. There are also beautiful unique shops and organic produce for sale.

The Imhoff Farm offers a large variety of shops and activities which are all independently run. The farm also boasts festivals from time to time which attract many visitors. Some of the attractions on the farm are the Blue Water Café where you will find delectable foods, beautiful gardens and loads of entertainment to keep the little children occupied. The children can enjoy the Higgeldy Piggeldy Animal Farm which has many friendly animals. Here you can also enjoy and taste some of the Cape's superb wines while taking in breathtaking views. Children's parties are also available at the Blue Water Café as well as guided tours and educational programmes for groups and schools.

The Imhoff's Free Range Farm Shop is where you can enjoy good wholesome foods, fresh from the farm from freshly picked herbs, platters and exotic dishes as well as honey, chutneys and award winning cheeses, olives, breads and organically grown fruits and vegetables to mention only a few.

The Farm Gallery is an arts and crafts gallery and studio. The farm gallery is run by James Mitchell who specialises in oil paintings. He also offers painting lessons at the gallery. You will get to see many stunning works of art by other artists as well as eco friendly recycled wooden frames and decor for the home. There is so much to see and do.

The farm also has a large variety of cheeses which can be tasted and the children are welcome to watch the milking process at the dairy. There are also camel rides available at the farm and relaxing and romantic Horse Rides along the beach. The Imhoff Equestrian Centre offers a 2 hour guided beach ride along the shores of the Noordhoek beach. The views are spectacular and you will also get to see whales, dolphins, seals and a shipwreck.

There is so much to see and do at the farm. For more information and for more details on all the activities and shops at the farm, visit www.imhofffarm.co.za
For general information contact 021-783-4545.
Nearby Listings
From
R 2 500,00
Per unit, per night.
* Rates may vary according to season
0.9km North East of center of Imhoff Farm
A fantastic 3-bedroom home directly located on a vlei at Imhoff's Gift in Kommetjie, only minutes away from Long Beach and Noordhoek Beach. We call the house "BUHLE" which means "beautiful house" in Xhosa - and it is truly uniqu..
Sleeps: 14 in 6 units/rooms
From
R 900,00
Per unit, per night.
* Rates may vary according to season
3.6km North East of center of Imhoff Farm
Self Catering Villas with uninterrupted views overlooking Noordhoek Valley to the Atlantic Ocean, offer privacy and comfort in a contemporary African setting. Bask in the African sun at the pool.
Sleeps: 14 in 5 units/rooms
4.2km North East of center of Imhoff Farm
Nestled against the mountainside and bordering a nature reserve, Makapa Lodge is situated in Capri Village, with glorious panoramic views over the Noordhoek amphitheatre, the Atlantic Ocean and Chapman's Peak mountain. Positioned on the Cape Penin...
4.3km North East of center of Imhoff Farm
Located in Capri Village on just about the highest point of the mountain overlooking the gorgeous Noordhoek Valley, we are delighted to offer our two bedroom self-catering holiday apartment.
5.5km North of center of Imhoff Farm
Brynbrook is a modern tastefully decorated two bedroomed self-catering apartment that sleeps four adults. Situated in beautiful tranquil Noordhoek only 5 mins from the beach and the world famous Chapmans Peak Drive.
From
R 2 750,00
Per unit, per night.
* Rates may vary according to season
5.9km South East of center of Imhoff Farm
This luxurious double storey beachfront villa in Scarborough offers privacy, beauty and security. If you seek a safe and peaceful beach retreat within easy reach of the Cape Town Buzz, don't miss here.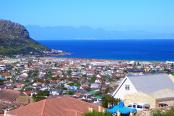 Sleeps: 11 in 3 units/rooms
From
R 600,00
Per unit, per night.
* Rates may vary according to season
6.3km North East of center of Imhoff Farm
Situated on the mountainside in Fish Hoek, A Place in Thyme offers accommodation in three separate units: the cottage (sleeps 5); Small Thyme (sleeps 2) and Big Thyme (sleeps 2 adults & 2 children; or 3 adults.)
Sleeps: 6 in 3 units/rooms
From
R 2 000,00
Per unit, per night.
* Rates may vary according to season
6.8km North East of center of Imhoff Farm
The management of the Villa Honeywood guest house is proud to offer you a peaceful and private place in which to relax. Our suites are individually designed and furnished to make you feel at home, even if you're a long way from home. As our guest ...
7.7km North East of center of Imhoff Farm
Blue Yonder enjoys one of Fish Hoek's most enviable locations. Ideally situated on the mountain slope, these self catering apartments combine luxurious holiday accommodation with breathtaking views of the beach and sea. Fish Hoek beach offers exce
Sleeps: 14 in 6 units/rooms
7.7km North East of center of Imhoff Farm
The villa boasts 6 spacious en-suite rooms named according to the direction they face. While each room has its own special attributes all rooms have Posturepedic beds, 100% percale cotton linen and down duvets. All the bathrooms have heated towel ...