The Vital Run is an annual event held in the Western Cape and is brought to you by Vital Health Foods in conjunction with Run Walk for Life WP Athletics Club. The race is popular amongst locals and visitors and attracts thousands of runners each year including some well known celebrities, so keep an eye out for them. The run will take place on the 3rd December 2011 and is in aid of the PATCH Helderberg Centre for Abused Children.
This year Vital is introducing the Vital Red Socks Initiative to help raise funds for PATCH. By buying a pair of the red socks it will benefit a worthy cause.

There's a choice of race distances to choose from so the whole family can join in the festivities of the day. There will be a 21km run, 10km run, 10km walk and a 4km run/walk. The 21km and 10km run routes are both off road and the 21km route has quite a few challenges including a 3km climb at the beginning of the race. The 10km walk also has challenges of its own but is worth the effort. The route back is a comfortable and level road to the end. The Fun Run is suitable for all ages and offers a beautiful, scenic route to all participants. All finishers who complete the course in cut-off time will be awarded medals.
After the races, participants can relax and enjoy all the festivities at the popular Family Market. There are great lucky draws and prizes too.

Participants may enter online at www.vitalrun.co.za
Late entries will be accepted on the day between 5am and 6:15am before the race.

Contact +27(0)21-852-8473 for more information.
Nearby Listings
Sleeps: 20 in 3 units/rooms
4.0km South East of center of Vital Run
13 Vines offers a choice of two spacious homes on a 13-hectare grape and olive-growing farm. It has a wonderful country feel but is only 2 km from a world-class shopping centre and 4 km from a renowned medical facility.
Sleeps: 24 in 9 units/rooms
From
R 1 200,00
Per unit, per night.
4.0km West of center of Vital Run
Spanish Farm is a special piece of paradise, offering a wonderful peaceful ambiance and typical warm South African hospitality. For many of our guests Spanish Farm in Somerset West is a home away from home and they return year after year.
Sleeps: 22 in 7 units/rooms
From
R 750,00
Per unit, per night.
4.2km South East of center of Vital Run
On a private 600 acre estate at the foot of the Hottentots Holland Mountain with outstanding views of False bay and Cape Point, Lalapanzi Lodge offers exclusive accommodation. This stylish vineyard retreat is the perfect place to unwind or use as a base.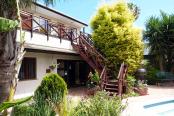 4.6km South West of center of Vital Run
Situated in the beautiful Somerset West, at the gateway to the Cape Winelands, Penny Lane Lodge offers THE BEST affordable, self-catering accommodation in the area.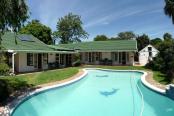 Sleeps: 14 in 3 units/rooms
From
R 425,00
Per unit, per night.
5.3km South West of center of Vital Run
Our cozy, individually managed Inn "Somer Place B&B" is located at the foot of the Helderberg Nature Reserve in the quiet, safe neighborhood of Somerset West. All of our 5 spacious double rooms and also the large living room are equipped with...
Sleeps: 10 in 5 units/rooms
From
R 475,00
Per person, per night sharing.
5.4km West of center of Vital Run
A tranquil setting with spectacular, panoramic sea and mountain views... Roosboom, houses four luxury en-suites apartments, all air-conditioned, extra length twin beds. All apartments have fully equipped kitchens for those who prefer to self-cater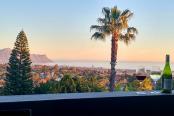 Sleeps: 6 in 2 units/rooms
5.7km West of center of Vital Run
Experience a relaxed lifestyle of privacy, peace and tranquility at Agape Apartments... Luxury Self-Catering Apartments in best location, high over Somerset West with beautiful views of the sea and overlooking the lush garden and pool.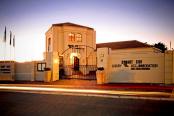 Sleeps: 20 in 6 units/rooms
From
R 690,00
Per unit, per night.
5.9km West of center of Vital Run
Our smart stay luxury self - catering apartments are situated in a quiet street in somerset west one of a elegant part of the town, an oasis of peace and tranquillity. Only 3 minutes from the center of somerset west with its many restaurant...
6.0km West of center of Vital Run
The Winelands Villa Guesthouse is located in the beautiful town of Somerset West and perfect for the discerning guest who values privacy, comfort and hospitality. The guesthouse offers ten spacious luxury rooms, all with en suite bathrooms.
Sleeps: 17 in 6 units/rooms
From
R 400,00
Per person, per night sharing.
7.0km West of center of Vital Run
Bay View is conveniently located in Heldervue, Somerset West with Easy access from the N2 and R44. Rooms have Panoramic Daylight views of surrounding Mountains and the entire False Bay including Hangklip, Gordon's Bay, Strand and Cape Point...