Gautrain

A new frontier in public transport has gripped Gauteng, The Gautrain. A high speed rail system that links Pretoria and Johannesburg and OR Tambo International Airport has finally arrived relieving congestion on major routes by up to a claimed 20% during peak hours. The state of the art system was announced in the year 2000, with a 20 year PPP (Public-private Partnership) contract being signed in 2006, with construction beginning in May 2006. The first public passenger trip was made on 3 February 2009 by 150 people on a 3 kilometre test track at the depot and the first part of the system, between Sandton and OR Tambo Airport, opened to the public on 8 June 2010. This opening was made in time for the 2010 FIFA World Cup.
The Gautrain will offer international standards of public transport with high levels of safety, reliability, predictability and comfort. The 24 trains themselves will consist of 4 cars. 5 of these trains will service the airport link with additional storage areas for luggage and more luxurious seating. Gautrain will run at maximum speeds of 160 to 180 kilometres per hour and it will reach Pretoria from Johannesburg in less than 40 minutes. The train is planned to run approximately 18 hours a day with an initial six trains per hour per direction. Gautrain have also ensured that their public transport service will also include dedicated, exclusive bus services to transport passengers to and from stations. Apart from its 3 anchor stations there will also be stations at, Rosebank, Sandton, Marlboro, Midrand, Centurion, Hatfield, and Rhodesfield.

The future trend of lifestyles in Gauteng is expected to focus on living, working and seeking entertainment along Gautrains route. Each of the stops on the Gautrains route includes interesting attractions and destinations for example:
Park Station
Constitution Hill, Johannesburg Art Gallery, Ellis Park Stadium, FNB stadium in Soweto and several theatres and museum.
Rosebank Station
Rosebank Mall, The Zone, African Market, Melrose Arch, Wanderers cricket stadium and golf course, Johannesburg Zoo and the Museum of Military History.
Sandton Station
The Sandton Convention Centre, Nelson Mandela Square and Sandton City.
Marlboro Station
A multibillion-rand, mixed-use development called Frankenwald Estate is planned with a dedicated pedestrian link to the station.
Midrand Station
Grand Central Airport, Gallagher Estate, the Midrand business district and Zonk Izizwe, a 220-ha multibillion rand seven story mixed-use, high-density property development which will include a lake, parks, outdoor shopping, a hotel, museums, an aquarium, themed-adventure experiences, a nightlife village, multiplex cinemas as well as office and retail space.
Centurion Station
Tshwane International Convention, Supersport Park and Centurion City shopping centre.
Pretoria Station
Theatres such as the State Theatre, UNISA, City Hall, Transvaal Museum, Church Square, the National Zoological Gardens and the National Cultural History Museum, Union Buildings and the Voortrekker Monument.
Hatfield Station
Brooklyn Mall office and shopping area, the campus and sports grounds of the University of Pretoria, Loftus and Diplomatic missions and embassies.

Should you wish to find out more about the project, initial works and construction activities you can contact the toll-free customer centre on Tel: 0800-42887246. The call centre is operational weekdays between 07:00 and 19:00 with a voicemail system after-hours.
Nearby Listings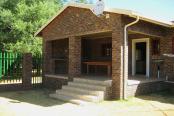 3.3km North East of center of The Gautrain
Blueberry place is a self-catering deluxe guesthouse that consists of a self-catering unit, which offers all you will ever need to feel as if you're home. The open plan kitchen, and dining room that leads out to the braai area, makes this house...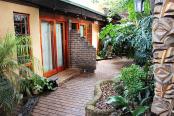 Sleeps: 19 in 8 units/rooms
4.3km South West of center of The Gautrain
Breena BnB Guest House is a Uniquely, Up-market, BEAUTIFUL venue specially designed for the "Discerning Guest", specifically aimed at Business Travelers (because of the convenience and close proximity to the O.R.Tambo International Airpo...
Sleeps: 14 in 6 units/rooms
5.9km West of center of The Gautrain
The Georgian is situated in a cul-de-sac, in the peaceful, secure residential area of Edenglen (Edenvale), only 8 minutes away from O.R. Tambo International Airport. We are in a secure boomed-off area with .......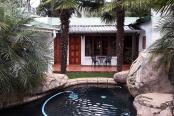 Sleeps: 9 in 4 units/rooms
From
R 430,00
Per person, per night sharing.
6.0km North of center of The Gautrain
Sugar Rose Guesthouse set in the peaceful neighbourhood of Glen Marais offers a peaceful and tranquil setting where you can relax and recharge.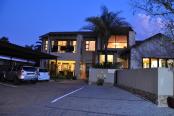 Sleeps: 50 in 6 units/rooms
6.1km North of center of The Gautrain
Woodpecker's inn is an up market Bed & Breakfast guesthouse situated in Kempton Park, 15 minutes drive from the OR Tambo International Airport.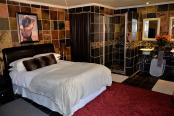 Sleeps: 49 in 9 units/rooms
6.1km South West of center of The Gautrain
3Brothers B&B is your home away from home. Your hosts Ernest & Maggie, is available to their guests to make them feel welcome and provide them in their individual needs.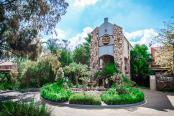 Sleeps: 48 in 24 units/rooms
From
R 889,00
Per unit, per night.
6.2km South East of center of The Gautrain
Afrique Boutique Hotel in Boksburg Gauteng Oliver Tambo has 24 delightfully stylish and luxurious air-conditioned rooms with en-suite bathrooms and state of the art Flatron televisions with DSTV coverage.
Sleeps: 18 in 5 units/rooms
From
R 850,00
Per unit, per night.
6.4km West of center of The Gautrain
Why not make your next business trip to Johannesburg a healthy one. Stay in our self catering cottages in Edenglen. Eagle Crest is a safe, warm and friendly environment, and we also speak Afrikaans. Safe environment with electric fence around the pro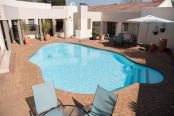 Sleeps: 31 in 14 units/rooms
6.6km South West of center of The Gautrain
President Lodge is a jewel of a guest house, within 10 minutes' drive from OR Tambo International Airport and close to major highways to and from Johannesburg and all surrounding destinations.
Sleeps: 13 in 5 units/rooms
7.0km West of center of The Gautrain
Bastille de Blignaut B&B, situated in Edenvale in the Ekurhuleni Aerotropolis, is centralized to Johannesburg, Midrand, the East rand, and within 10 km from OR Tambo International Airport...