Diaz Beach, Cape Point
Diaz Beach


Surrounded by sheer craggy cliffs, one of the most scenically stunning Cape Town beaches is just over an hour's drive from Cape Town. Diaz Beach is situated in the Cape Point Nature Reserve, right at the tip of Cape Point on the western side. With an hour's drive, a R35.00 entrance fee, and lots of steps to get to the beach and back up again, what is Diaz Beaches appeal? Well, all of the above help to make Diaz beach what it is, and its seclusion makes sure that its extreme beauty is matched only by its peaceful atmosphere. You may even have the whole beach to yourself, apart from the baboons who occasionally venture down to the beach.

Once you reach the Cape Point road continue all the way to the end until you reach the parking lot. The beach itself is not accessible by road, and the 20 min walk down and 30-40 min walk up is well worth the reward of spending time basking on the snow-white sand surrounded by 200m wave-battered cliffs and ocean. When you close your eyes the only sounds you will hear are the sounds of the waves, the birds and the wind. No traffic noise, no crowds and that unmissed electronic buzz which we only realise is there when you come to quiet secluded spots like Diaz Beach.

Most of the year the beach is protected by its steep cliffs from the winds blowing down from the north, but the prevailing summer winds blow from the south. Diaz Beach can produce excellent waves with a north westerly wind and the right swell direction. This is why the surfers love it, for its big, hollow, closeout barrels. Be warned though, bathing can be dangerous and it is possible to get trapped by the tide if you stray across to the bottom of the cliffs on the Cape Point side.

But there is more than just bathing and surfing. Photographers love this secluded beach for its awesome beauty and many moods created by waves, lighting and variations in the water and sky colours. And for couples, nothing beats a romantic beach walk along this beautiful piece of coastline.

Visit Diaz Beach, escape the crowds, and experience, for even just a few minutes, this raw, untamed stretch of Atlantic Ocean shoreline, where early explorers sailed just a short distance offshore from where you are standing.

Remember to bring everything you may need because there is no little beach shop to shoot into for those things you forgot. And remember to bring them down to the beach otherwise you will be drawing straws to see who is climbing back up to the car to get them.
Nearby Listings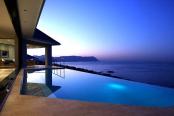 Sleeps: 10 in 5 units/rooms
14.1km North West of center of Diaz Beach, Cape Point
Aqua Terra Boutique Guesthouse is situated in the quiet suburb of Murdock Valley in Simon's Town and offers accommodation on a bed and breakfast basis. Situated in a prime position 5 minutes from the beach, this landmark house overlooks the entire False
Sleeps: 8 in 3 units/rooms
14.6km North West of center of Diaz Beach, Cape Point
The Flying Penguin holiday accommodation in Simonstown is a haven offering complete relaxation close to nature yet within easy reach of the city.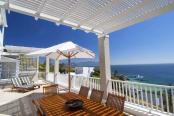 From
R 2 695,00
Per unit, per night.
15.0km North West of center of Diaz Beach, Cape Point
Luxury holiday home with stunning sea views of False Bay; 2 minutes walk to beach; 1 km from Boulders Penguin Beach; sleeps 6; beautifully furnished, fully equipped, all mod cons; satellite TV; free Wi-fi; superb patio for outdoor entertainment...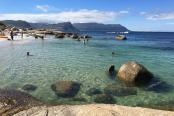 From
R 1 300,00
Per unit, per night.
16.3km North West of center of Diaz Beach, Cape Point
Cape Penguin Cottage is situated in Simon's Town, close to three beaches with safe swimming, smallish waves and no backwash or rip currents. Sleeps 5 adults in 3 bedrooms and a mattress can be put out for an additional child.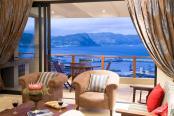 Sleeps: 21 in 9 units/rooms
From
R 695,00
Per person, per night sharing.
16.5km North West of center of Diaz Beach, Cape Point
Custom built on the mountainside in historical Simon's Town, award-winning 4-star Mariner Guesthouse offers breathtaking sea views across False Bay. We are within walking distance of restaurants and beaches, and pride ourselves on offering style, comfort
Covid-19 Compliant
Instant Booking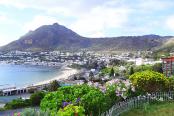 18.3km North West of center of Diaz Beach, Cape Point
Bay Splendour, nestles in a quiet cul-de-sac only ten minutes walk from the old world charm of Simon's Town, South Africa's premier naval station. A coastal gem of peace and tranquillity, Bay Splendour has a spacious open-plan lounge and kitchen...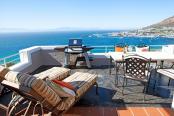 From
R 2 800,00
Per unit, per night.
18.5km North West of center of Diaz Beach, Cape Point
Following on the great success of San's Place in Umdloti on the KZN North Coast, San has opened a penthouse situated in historic Simonstown on the Cape Peninsula. Simonstown is situated on the False Bay coast of the warm Indian Ocean...
From
R 2 750,00
Per unit, per night.
19.2km North West of center of Diaz Beach, Cape Point
This luxurious double storey beachfront villa in Scarborough offers privacy, beauty and security. If you seek a safe and peaceful beach retreat within easy reach of the Cape Town Buzz, don't miss here.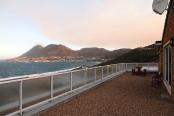 Sleeps: 14 in 2 units/rooms
19.5km North West of center of Diaz Beach, Cape Point
Fully equipped seafront flatlet, additional rooms, honeymoon suite and entire complex available on request. The entire complex can accommodate up to 12 people if necessary. Amazing mountain and sea views, secure parking, DStv, playground equipment...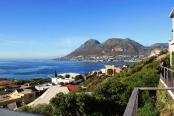 19.8km North West of center of Diaz Beach, Cape Point
There are 6 well appointed ensuite bedrooms all with seaviews. 4 rooms have queen beds and all rooms have percale linen with hand embroidered duvet covers. Rooms have TV, Fridge, Hairdryer, Tea and coffee tray prepared each evening. Breakfast is ...