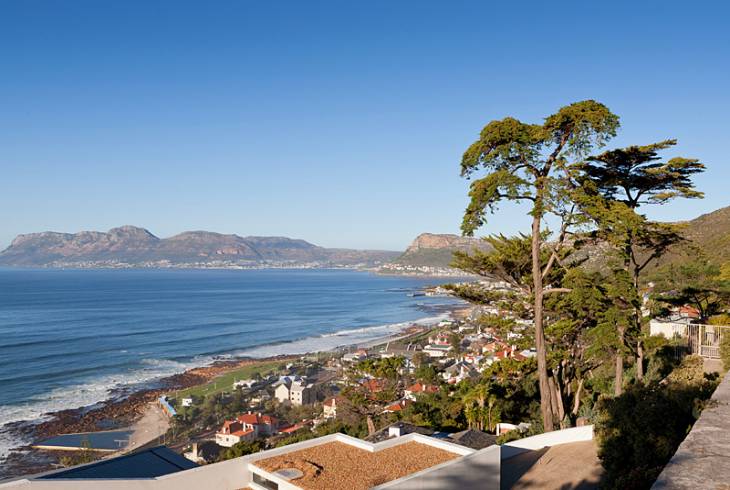 False Bay
False Bay is a body of water defined by Cape Hangklip and the Cape Peninsula in the extreme South-West of South Africa. It's name came from sailors who over 300 years ago confused the bay with Table Bay to the north. The confusion arose because sailors returning from the east initially confused Cape Point and Cape Hangklip, which are somewhat similar in form. Cape Hangklip was known to the early Portuguese seafarers as Cabo Falso, which means False Cape, and the name of the bay was therefore derived from this.

Known for its scenic beauty, False Bay encompasses the small seaside villages from Hangklip, near Pringle Bay, to Cape Point. It has one of the Cape Peninsulas most tranquil and picturesque stretches of coastline. The bay is popular with surfers, swimmers, bodyboarders and anyone who enjoys peace and quiet and the fresh sea air. Towns along the False Bay coastline offer a multitude of arts and craft shops, fantastic restaurants and bars, cute and quirky coffee shops, and quiet look-out points.

Whales abound on the False Bay coastline and every year between June and November, southern right whales migrate to the Western Cape waters to calve and nurse their newborns, while humpback whales journey through the region between May and December. Thousands of local and international visitors flock to False Bay to experience these amazing whale-watching opportunities, where the creatures are often seen metres from the shore. And it is not uncommon to spot whales only metres from the road while driving along the coastal route.

Nature reserves, including Cape of Good Hope, Rondevlei and Silvermine, offer the opportunity of walking among the rich biodiversity of the Cape Peninsula, which includes indigenous fynbos. But some of the other ways to relax along the False Bay coastline, while enjoying the stunning scenery, are playing a round or two of golf at either the Westlake, Clovelly or Simons Town golf courses, or sampling a few wines along the Cape Point Wine Route. There is also the experience of sharing Boulders Beach with its local inhabitants, the African penguins.

Some of the most popular small towns along the False Bay coastline include the historical naval village of Simons Town, Muizenberg with its popular water slides, St James with its colourful huts, Kalk Bay with great seafood restaurants and Fish Hoek with one of the best beaches in the Cape.

False Bay has a Mediterranean climate, with warm, dry summers and cool, damp winters. In winter gales and storms from the northwest are common and can be ferocious. False Bay is exposed to south easterly winds in summer and its waters are approximately 6(°)C warmer than those of Table Bay, because of the influence of the warm Agulhas Current.
Nearby Listings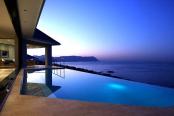 Sleeps: 10 in 5 units/rooms
17.8km West of center of False Bay
Situated in a prime position 5 minutes from the beach, this landmark house overlooks the entire False Bay, a symphony of architecture, glass and modern design Aqua Terra has one of the best possible views the area has to offer.
17.8km West of center of False Bay
The Lookout in Simon's Town, is a beautiful, contemporary guesthouse situated a few paces from the False Bay shoreline, offering uninterrupted views of the ocean and the Hottentots Holland Mountains. We are just a short stroll away from Fisherman's Beach,
Sleeps: 8 in 3 units/rooms
17.9km West of center of False Bay
The Flying Penguin holiday accommodation in Simonstown is a haven offering complete relaxation close to nature yet within easy reach of the city.
Instant Booking
Direct Enquiry
Call Direct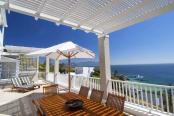 From
R 2 695,00
Per unit, per night.
18.2km West of center of False Bay
Luxury holiday home with stunning sea views of False Bay; 2 minutes walk to beach; 1 km from Boulders Penguin Beach; sleeps 6; beautifully furnished, fully equipped, all mod cons; satellite TV; free Wi-fi; superb patio for outdoor entertainment...
Instant Booking
Direct Enquiry
Call Direct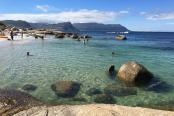 From
R 1 300,00
Per unit, per night.
19.5km West of center of False Bay
Cape Penguin Cottage is situated in Simon's Town, close to three beaches with safe swimming, smallish waves and no backwash or rip currents. Sleeps 5 adults in 3 bedrooms and a mattress can be put out for an additional child.
Direct Enquiry
Call Direct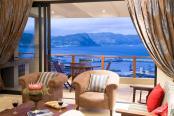 Sleeps: 21 in 9 units/rooms
From
R 695,00
Per person, per night sharing.
20.1km West of center of False Bay
Custom built on the mountainside in historical Simon's Town, award-winning 4-star Mariner Guesthouse offers breathtaking sea views across False Bay. We are within walking distance of restaurants and beaches, and pride ourselves on offering style, comfort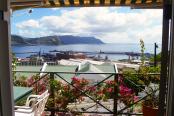 From
R 900,00
Per unit, per night.
20.2km West of center of False Bay
A beautiful townhouse above the Naval Harbour in Simonstown. The panoramic view is spectacular. You can look down onto the harbour, yacht club, and out to Glencairn, Kalk Bay and Gordon's Bay. In fact a clean sweep of the entire bay...
Direct Enquiry
Call Direct
20.7km North East of center of False Bay
We have three suites, two fully equipped for self catering with separate entrances, the other on a bed and breakfast basis. All have balconies with magnificent sea views.
Direct Enquiry
Call Direct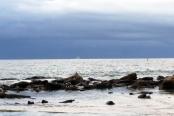 From
R 2 500,00
Per unit, per night.
21.0km West of center of False Bay
Stonehurst situated in St. James, Cape Town. The house is self-catering and can sleep 8 comfortably. 1 minutes walk to St. James tidal pool and a short stroll to Kalk Bay and Muizenberg. Whale watching from your bed!
Direct Enquiry
Call Direct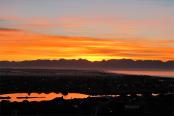 Sleeps: 14 in 7 units/rooms
From
R 700,00
Per unit, per night.
21.0km West of center of False Bay
Bluebottle Guesthouse is nestled on the slopes of the Muizenberg Mountain. The guesthouse offers a breath-taking panoramic view of False bay from Cape Hangklip on the one end of the bay to Cape Point on the other.
Instant Booking
Direct Enquiry
Call Direct