Showing 1 to 15 of 15 results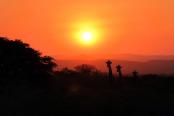 Sleeps: 8 in 2 units/rooms
Toad Tree Lodge is a exclusive destination situated within a private game reserve. it boasts a wealth of antelope species, as well as giraffe, zebra and wildebeest, all of which are endemic to the area. we are a premier bird lovers destination ...
Sleeps: 46 in 21 units/rooms
Guests can enjoy an unrivalled ethnic experience by staying in DumaZulu Lodge which consists of ethnic units resembling the different tribes of Southern Africa on the exterior while the interior is modern and tastefully decorated in ethnic fabrics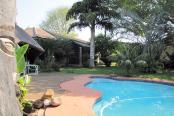 From R 375,00
Per person, per night sharing.
The Guest House has 8 rooms, sleeping 18 people sharing. All rooms have en-suite bathrooms and air-conditioning. Relax and unwind at our swimming pool or challenge your partner to a game of snooker. A comfortable reading room and TV lounge is ...
Sleeps: 34 in 17 units/rooms
Bushlands Game Lodge is centrally situated in Zululand and surrounded by 300 000 acres of National Parks, including Hluhluwe/Umfolozi, Mkuzi, Nduma, Sodwana Bay and St. Lucia.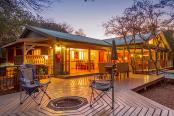 Thornwood offers luxury accommodation for up to 8 people in a self-catering, fully serviced, upmarket lodge. A unique blend of luxury timber frame units, fit seamlessly into the surrounding bush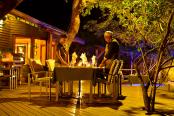 Sleeps: 18 in 6 units/rooms
The luxury bedroom units are linked by wooden walkways to a central facility with furnishings that nurture the bushveld experience. The spacious lounge, kitchen, dining room and pool deck create an ambience of solitude
Twelve luxury thatched chalets are dotted around a magnificent indigenous garden each with its own viewing deck. There are eight two bed chalets, two four bed family chalets with private shower and toilet facilities. In addition there are two ...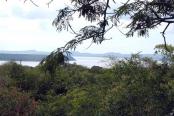 Sleeps: 8 in 2 units/rooms
Situated in Hluhluwe area. (1km from entrance gate to False Bay Park, 13km from Hluhluwe town, 30km from Hluhluwe-Umfolozi Game Reserve).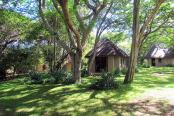 From R 350,00
Per person, per night sharing.
Umziki is the Zulu name for the common Reedbuck which occur on this 80ha Natural Heritage Site (no.67) The property has been awarded this prestigious status due to the presence of pristine sand forest habitat and associated endemic plants.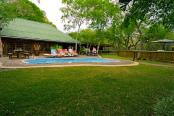 Comfortable overnight facilities are available at Ezulwini Lodge, and there are choices between either one of six self-catering units detailed under the Rates section below. Breakfast and dinner are being served in a central kitchen-lapa.
SPECIAL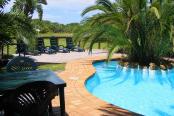 From R 695,00
Per person, per night sharing.
Malala is a bush lodge on a 140 hectare (340 acre) private nature reserve, accommodating a maximum of only 18 guests, thereby ensuring a tranquil African bush atmosphere and experience. Our lodge is located in the Hluhluwe area, in the centre of the El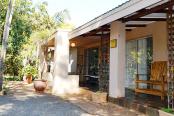 Hlulala Guest House, Hluhluwe in the heart of the Elephant Coast, an exciting tourist destination. This unique safari destination combines the best of both land and marine natural environments.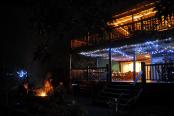 Sleeps: 24 in 11 units/rooms
The lodge has been sensitively built into pristine African sandforest, carefully preserving this fragile ecology. The focus is on conservation through education and environmental awareness.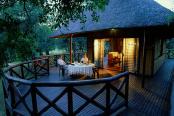 iMfolozi Game Reserve is situated in northern Zululand, approximately 270 km from Durban. The reserve was established on 30 April 1895 and with Hluhluwe Game Reserve, is the oldest game reserve in Africa. This reserve, together with the Corridor Section a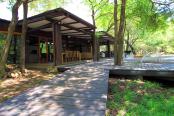 2 x 2 sleeper bush lodges set in beautiful unique sand forest within Kuleni. Game Park. Game. Lodges have outside showers and fully equipped kitchenette.
WhereToStay Hluhluwe accommodation ranges from a variety of specific categories such as Hluhluwe self catering accommodation to Hluhluwe b and b accommodation and many more.
More sought after Hluhluwe accommodation categories include Hluhluwe pet-friendly and Hluhluwe wheelchair-friendly accommodation. If you are specifically pursuing these Hluhluwe accommodation categories, then we highly recommend that you contact the accommodation owner directly to ensure that the facilities are satisfactory and to your liking.
The Hluhluwe pet-friendly accommodation and the Hluhluwe wheelchair-friendly accommodation facilities can vary between large Hluhluwe Hotels as well as small room only accommodation. Self catering Hluhluwe accommodation will occupy the majority of these listings.
99% of all Hluhluwe guest houses listed on WhereToStay will display rates for your convenience. Occasionally a Hluhluwe guest house will ask you to request a quotation.
WhereToStay tries to keep the Hluhluwe self catering and Hluhluwe b&b standards at the highest levels relative to tariffs charged. Misleading advertising related to any listings of Hluhluwe B&B and Hluhluwe self catering accommodation should be reported so that WhereToStay can act accordingly.
See our full list of Hluhluwe accommodation special categories at the top of this page
AFRIKAANS
WhereToStay Hluhluwe Akkommodasie wissel van 'n verskeidenheid van spesifieke categoriee soos Hluhluwe selfsorg akkommodasie, Hluhluwe, b en b blyplekke en nog veel meer.
Meer gesogte Hluhluwe slaapplek kategoriee sluit in Hluhluwe troeteldier-vriendelike blyplekke en Hluhluwe rolstoel-vriendelike akkommodasie.
As jy spesifiek vrae oor die voorsetting van hierdie Hluhluwe blyplekke, sal dit raadsaam wees om kontak met die eienaars te maak om te verseker dat die fasiliteite bevredend is en na you hart.
Die Hluhluwe troeteldier-vriendelike verblyf en Hluhluwe rolstoel-vriendelike vakansie blyplekke kan wissel tussen Hluhluwe Hotelle asook klein kamer akkommodasie in Hluhluwe. Hluhluwe selfsorg slaapplekke sal die meerderheid van hiedie inskrywings beset.
99% van alle Hluhluwe gastehuise gelys op WhereToStay sal pryse vertoon vir u gerief. Soms sal 'n Hluhluwe gastehuis vra om 'n kwotasie te versoek.
WhereToStay probeer om die lys van Hluhluwe slaapplek standaarde op die hoogste vlakke (relatief tot tariewe) gehef hou.
Misleidende advertensies wat verband hou met enige lys van Hluhluwe blyplekke moet aangemeld word sodat WhereToStay kan daarvolgens optree.