National Botanic Garden of Namibia
National Botanic Garden of Namibia


The National Botanic Garden of Namibia is a 12 hectare property which is located on a hill between Klein Windhoek and the city centre of Namibia's capital City, Windhoek. It is a special place where visitors can see and learn about Namibia's fascinating plants. The purpose of the Botanical Gardens is to protect and promote the sustainable utilisation of the Namibian flora and to function as an educational and recreational nature facility for Namibians and visitors alike.

The City Council of Windhoek donated the land to the Government in October 1969, and was originally planned to be a nature reserve. Unfortunately, due to a lack of funds the initial development which had started in the early 1970s, with the construction of walking trails, a storm water system and a dam, had to be terminated by the then Department of Nature Conservation and the garden was abandoned. It was only 20 years later, when the National Botanical Research Institute (NBRI) moved to the buildings neighbouring the reserve in 1990, that the idea arose to develop the area as a Botanic Garden. It took a further 3 years of negotiations between the Ministry of Environment and Tourism and the Ministry of Agriculture, Water and Forestry (MAWF), before the NBRI obtained the right to develop the land into a Botanic Garden in February 1993. Unlike many other botanical gardens, the larger part of this garden has not been landscaped. The reasons for this are firstly to conserve water and secondly to emphasise plants in their natural environment. This decision has allowed students and visitors to learn more about the vegetation around Windhoek, known as highland savannah. However, in the developed sections of the gardens there are several special displays that ensure visitors also get to see plants from other parts of the country, such as the Desert House display on the Namib Desert or the Kunene Region.

There are a number of self-guided walking trails that lead through the garden with the most common woody plants being labelled and bird and plant lists available at Reception. The gardens also claim to have one of the densest areas of the Windhoek Aloe which is the symbol of the city of Windhoek. In the early 1970s a forest of quiver trees and bottle trees was planted and today, considering exceptional size and beauty of the trees, this forest is well worth the visit. Early in the year, after good rains, you can admire some of the gardens lilies flowering along the Lily Walk. The garden also is home to a variety of mammals, birds, reptiles and insects. The picnic area provides the perfect spot to end your visit relaxing in the tranquil atmosphere of the garden.

The Gardens are open from Monday to Friday, from 08:00 to 17:00 and every first Saturday of the month from 08:00 to 11:00. Entrance is free, except on weekends. The National Botanical Gardens of Namibia request that be no removal, damaging or collecting of any plants or plant material such as seeds as this is strictly prohibited. Visitors are also asked to remain on the paths and approach all wildlife in a respectful manner. There are also allocated dustbins in the gardens and visitors are requested to use these to dispose of their litter.
Nearby Listings
0.6km North of center of National Botanic Garden of Namibia
These spacious, fully equipped self contained apartments are located in Klein Windhoek, a quiet residential suburb of Windhoek, yet within walking distance of shops, restaurants and other amenities, and only 3 km from the CBD.
Sleeps: 10 in 4 units/rooms
From
R 700,00
Per unit, per night.
0.7km South of center of National Botanic Garden of Namibia
Our five serviced, self catering apartments are perfectly located in the heart of Windhoek within walking distance to Windhoek's business and shopping precinct. Every apartment offers a fully equipped kitchenette, an elegant bathroom...
1.0km South of center of National Botanic Garden of Namibia
Uzuri Guesthouse moved to a new premises and is now situated at 154 Jan Jonker Road, opposite the Windhoek Show Grounds and 5 minutes walking distance from Maerua Mall. The Mall houses a variety of Clothing Shops, Coffee Shops/Restaurants, Food...
From
R 1 485,00
Per unit, per night.
1.0km West of center of National Botanic Garden of Namibia
The apartment is situated in the heart of Windhoek's, Namibia in a complex and contains two bedrooms both covered in luxurious linen.
Sleeps: 14 in 7 units/rooms
From
R 2 178,00
Per person, per night sharing.
1.9km North West of center of National Botanic Garden of Namibia
The Olive Exclusive All-Suite Hotel offers hotel accommodation in Windhoek, Central Region, Namibia.
4.1km South of center of National Botanic Garden of Namibia
Experience Namibia from the start of your trip at Arebbusch Travel Lodge with wide open spaces, beautiful gardens, birdlife and wildlife. The lodge offers high quality, affordable accommodation in luxury rooms, standard rooms, 2 - 6 bed self-catering unit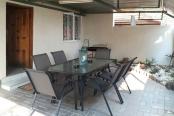 Sleeps: 14 in 2 units/rooms
4.3km South of center of National Botanic Garden of Namibia
Spinoza Self Catering Accommodation in Windhoek is ideal for business travelers, overnight stays and holidaymakers.
16.1km North East of center of National Botanic Garden of Namibia
At present our accommodation consists of five self-catering chalets plus three new separate rooms each with it's own shower, toilet and wash basin. The chalets have a lovely view of the awesome Auas mountainwell as a game camp populated with var
35.2km North East of center of National Botanic Garden of Namibia
Experience spectacular African Wildlife and pure nature at Na'an ku sê Lodge and Wildlife Sanctuary, situated only 40km east of Windhoek