Heroes' Acre
Heroes' Acre


Namibia gained independence from South Africa on 21 March 1990 and prior to that it was ruled by Germany from 1884 to 1915 when it was taken over by South Africa after Germanys defeat in World War 1. Like a lot of African countries its independence was a struggle which saw the rise of scores of freedom fighters, including Hendrik Witbooi who was instrumental in the Nama uprisings against German rule. The struggles and stories of Witbooi and others are remembered at Heroes' Acre memorial just south of Windhoek. The enormous monument is situated at the foot of the Auas Mountains and was inaugurated in 2002 by former state president Sam Nujoma.

The monument, which was designed by a North Korean firm: Mansudae Overseas Projects and built by workers from the same country, is highlighted by a 15 metre high marble obelisk and an 8 metre high bronze statue of a heavily armed soldier representing the Unknown Soldier. Although these are a visual centrepiece, the main focus of the memorial are the tombs for 174 Namibian heroes, whose names and pictures are engraved in black marble. Some tombs are still open providing space for future heroes. The entire site took 13 months to construct and covers a total area of over 732 hectares. It houses the 174 graves, is 286 meters long and has a width of 134 meters. Heroes Acre has a parking area of almost 10000 square meters while a three-kilometre long palisade fence protects the site. The memorial has extensive parade grounds and grandstands for an audience of over 5000 people. At the bottom of the stairs that lead up to the obelisk, visitors will find an eternal flame burning which burns 24 hours a day every day.

The date, 26 August 2002 marked the inauguration of the monument but is also remembered by a Namibian public holiday known as Heroes Day. Heroes Day marks the begging of the armed struggle of SWAPO (South West Africa People's Organization) against South African forces. In his inaugural statement, President Sam Nujoma stated that The Heroes' Acre was a place for all Namibians irrespective of their political, racial, ethnic or religious background to come and honour those sons and daughters of Namibian soil who sacrificed their lives, and those who, during their lifetimes, made great and meaningful contributions to the liberation of the land of the Brave and all her people in their diversity. He told the attendees that the monument was built as a token of honour to the fallen heroes and heroines. It was built in the true African tradition of bestowing honour to their forefathers and mothers.

Heroes Acre is regarded as by a large portion of the population as sanctified ground and visitors are reminded of this and expected to behave in a respectful and dignified manner.
Nearby Listings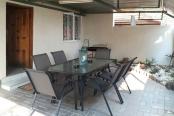 Sleeps: 14 in 2 units/rooms
5.6km North West of center of Heroes' Acre
Spinoza Self Catering Accommodation in Windhoek is ideal for business travelers, overnight stays and holidaymakers.
8.3km North of center of Heroes' Acre
Uzuri Guesthouse moved to a new premises and is now situated at 154 Jan Jonker Road, opposite the Windhoek Show Grounds and 5 minutes walking distance from Maerua Mall. The Mall houses a variety of Clothing Shops, Coffee Shops/Restaurants, Food...
Sleeps: 10 in 4 units/rooms
From
R 700,00
Per unit, per night.
8.5km North of center of Heroes' Acre
Our five serviced, self catering apartments are perfectly located in the heart of Windhoek within walking distance to Windhoek's business and shopping precinct. Every apartment offers a fully equipped kitchenette, an elegant bathroom...
From
R 1 485,00
Per unit, per night.
9.1km North of center of Heroes' Acre
The apartment is situated in the heart of Windhoek's, Namibia in a complex and contains two bedrooms both covered in luxurious linen.
9.8km North of center of Heroes' Acre
These spacious, fully equipped self contained apartments are located in Klein Windhoek, a quiet residential suburb of Windhoek, yet within walking distance of shops, restaurants and other amenities, and only 3 km from the CBD.
Sleeps: 14 in 7 units/rooms
From
R 2 178,00
Per person, per night sharing.
11.0km North of center of Heroes' Acre
The Olive Exclusive All-Suite Hotel offers hotel accommodation in Windhoek, Central Region, Namibia.
21.1km North East of center of Heroes' Acre
At present our accommodation consists of five self-catering chalets plus three new separate rooms each with it's own shower, toilet and wash basin. The chalets have a lovely view of the awesome Auas mountainwell as a game camp populated with var
42.4km North of center of Heroes' Acre
Experience spectacular African Wildlife and pure nature at Na'an ku sê Lodge and Wildlife Sanctuary, situated only 40km east of Windhoek