George Airport
George Airport


One of South Africa's premier tourism destinations is the Western Cape's Garden Route and at its heart you will find the George Airport. The Garden Route in not only a wold renowned holiday destination, it is also home to a large number of South Africa's most affluent residents. With this in mind it is understandable how George and its surrounding areas have an almost unsurpassed level of both commercial and residential development in South Africa.

The airport, which lies halfway between Cape Town and Port Elizabeth, plays a central role in the region's tourist economy as the number of visitors to the region's mountains, beaches and forests grows each year. The region is also a national distribution hub for products such as flowers, fish, oysters, herbs and ferns which are all found in this beautiful part of the country. Although the Airport is not an International Airport it still serves as a link to most of the major cities in South Africa

The airport which was built in 1977 as an exact replica of the Keetmanshoop Airport in Namibia was formerly known as P.W. Botha Airport, named after the state president who lived in this part of the country. It has since grown to the busy hub it is today handling over 600,000 passengers each year. This steady growth, coupled with its unwavering commitment to service and efficiency, has won George Airport the South African Airport of the Year award six times.

The Airports Company South Africa (ACSA) who run George Airport are committed to providing world-class facilities that meet the needs of all airport users. The company ensures that all existing and new facilities within their airports meet the particular needs of disabled travellers and airport users. And things are no different at George Airport. The Airport caters for disabled passengers by ensuring that there are special lifts, ramps and reserved parking bays provided specifically for them. Passengers who require special assistance in boarding and disembarking from the aircraft can make arrangements with their airline at time of booking.
Accommodation Near George Airport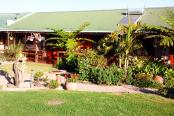 Sleeps: 48 in 13 units/rooms
4.2km North of George Airport
African Sun offers a relaxing atmosphere and a beautiful view of the Outeniqua mountains, it is a small holding where guests can walk through the rose garden or sit out in the rose garden under an umbrella and read while you are served with a cup of
Direct Enquiry
Call Direct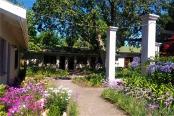 4.3km North West of George Airport
Farmlands Guest House is located on a privately owned farm, situated in a tranquil area of George, 5 min away from George Airport. The guest house is ideal for guests looking for comfortable lodging, close to various facilities and attractions within the
Direct Enquiry
Call Direct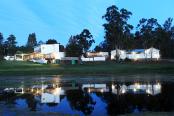 4.6km North West of George Airport
A beautiful farm guesthouse overlooking the Outeniqua Mountains in the middle of the Garden Route. We can accommodate up to 40 people on a sharing basis, where you can select one of the following 9 rooms/cottages to suit your requirements...
Direct Enquiry
Call Direct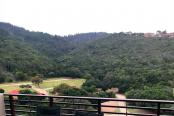 5.0km South East of George Airport
Heroldsbay 705 is a two bedroom, two bathroom apartment. The complex has a communal swimming pool and braai area.
Direct Enquiry
Call Direct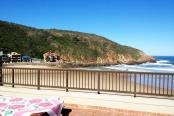 5.1km South East of George Airport
No 6 Beach Road, is situated in Herolds Bay, in the heart of the Garden Route. The self-catering apartment sleeps 8
Direct Enquiry
Call Direct
5.1km South East of George Airport
Nagenoeg Beach Cottage is set right on the beachfront with magnificent sea views and direct access to a sandy beach and a tidal pool within walking distance. The temperate climate makes for an enjoyable holiday experience all year round...
Direct Enquiry
Call Direct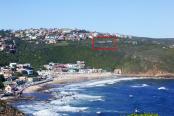 Sleeps: 12 in 2 units/rooms
5.1km South East of George Airport
Situated 200m from the beach, 8km from the airport, 1km from Oubaai Golf Estate and 15km from George.The location is a comfortable pivot to all the major attractions in the Garden route.
Sleeps: 16 in 4 units/rooms
5.3km South East of George Airport
This is a luxurious self catering holiday apartment . Oubaai is the ultimate destination for a relaxing stay on the Garden route and is the ideal getaway for golfers, birders, loafers, surfers and the rest. Something for all...
Direct Enquiry
Call Direct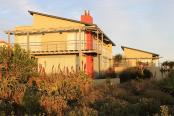 6.5km South East of George Airport
The house is situated in the Oubaai Golf Estate in Herolds Bay and is self-catering. It is only 5 minutes drive from George International Airport.
Direct Enquiry
Call Direct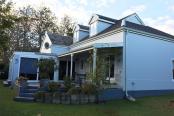 6.6km North of George Airport
Bethans offers an upmarket accommodation for a couple that can share or for a single person in the quiet and safe suburb, Heather Park, in George. Therefore the accommodation is ideal for business accommodation, golf excursions, hospital appointments and
Direct Enquiry
Call Direct