Showing 1 to 10 of 10 results
Nearby Listings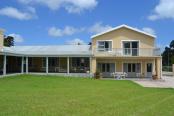 Sleeps: 10 in 5 units/rooms
From
R 430,00
Per person, per night sharing.
2.5km North East of center of Fancourt
Situated in the spectacular Garden Route of South Africa, Burrough Place is a Guesthouse that is on the main road when entering George from the Outeniqua Pass (N9) side. Loved equally by all the business travellers, golf enthusiasts, cyclists and tourists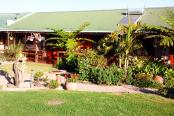 Sleeps: 48 in 13 units/rooms
From
R 550,00
Per person, per night sharing.
3.1km South West of center of Fancourt
African Sun offers a relaxing atmosphere and a beautiful view of the Outeniqua mountains, it is a small holding where guests can walk through the rose garden or sit out in the rose garden under an umbrella and read while you are served with a cup of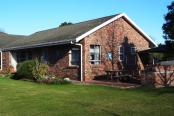 From
R 600,00
Per unit, per night.
4.3km North East of center of Fancourt
We offer you private accommodation in an upmarket tranquil suburb of George. Ideally suited for a family, or the guest who seeks peace and quiet. Accommodation is large, modern and, comfortable.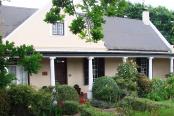 Sleeps: 26 in 11 units/rooms
From
R 550,00
Per person, per night sharing.
4.6km North East of center of Fancourt
Die Waenhuis Guest House is in the elegant Caledon Street within walking distance of the business center of George and some outstanding restaurants. Ideal for business people and tourists visiting the garden route.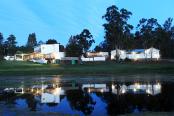 4.7km South West of center of Fancourt
A beautiful farm guesthouse overlooking the Outeniqua Mountains in the middle of the Garden Route. We can accommodate up to 40 people on a sharing basis, where you can select one of the following 9 rooms/cottages to suit your requirements...
Sleeps: 24 in 4 units/rooms
From
R 750,00
Per unit, per night.
4.8km East of center of Fancourt
Rustverseker is centrally located in George and offers quality accommodation for business travelers, overnight guests and holidaymakers. It is close to several shops, restaurants, the N2 and a variety of attractions.
From
R 1 495,00
Per unit, per night.
9.2km South of center of Fancourt
This is a luxurious self catering holiday apartment . Oubaai is the ultimate destination for a relaxing stay on the Garden route and is the ideal getaway for golfers, birders, loafers, surfers and the rest. Something for all...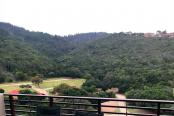 From
R 1 000,00
Per unit, per night.
10.0km South of center of Fancourt
Heroldsbay 705 is a two bedroom, two bathroom apartment. The complex has a communal swimming pool and braai area.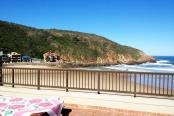 10.0km South of center of Fancourt
No 6 Beach Road, is situated in Herolds Bay, in the heart of the Garden Route. The self-catering apartment sleeps 8
From
R 250,00
Per person, per night sharing.
10.0km West of center of Fancourt
This beautiful countryside house is in the breathtaking Geelhoutboom area of George in the Garden Route. George in the Garden Route. You can watch the beautiful 360 degree sunset
---
Fancourt
Fancourt, South Africas premier golf resort, is situated in the heart of the Garden Route, one of the most picturesque areas in the world. The suitably named 200km long stretch along the Southern Coast of South Africa offers beautiful and diverse flora and fauna, coupled with a mild Mediterranean-like climate. Along with being the golfing Mecca of South Africa, the area offers a wide variety of things to do, from exploring meandering hiking trails to swimming, boating, and fishing in the surrounding ocean, lakes and rivers. Fancourts beauty is complimented by wonderful waterways surrounded by exquisite mountains, forests and swathes of green fairways and gardens. It is truly a five-star leisure destination with outstanding facilities.

Fancourt has three golf courses, all of which are ranked in the Top 20 in South Africa (2011 Golf Digest rankings), The Links was ranked No. 1, Montagu ranked 7, and Outeniqua ranked 18. Since its opening in the early 1990s with just 27 Gary Player-designed holes, Fancourts Outeniqua and Montagu golf courses have matured and developed into two of the finest 18-hole parkland layouts in the country. A round on either is a special experience, sculpted and finished as they are, with rare attention to detail and designed with the coastal George winds in mind.

In addition to its courses, Fancourt has an exceptional golf academy that houses a state-of-the-art teaching facility, backed up by the expertise of PGA professionals. And to keep golfers looking the part, there are two well stocked pro shops, offering a wide variety of clothing, accessories and hardware.

But if golf is not your thing and your idea of relaxation is getting some fresh air outdoors, you can always take a mountain bike or go for a jog or hike in the awe-inspiring surrounds of the estate. Fancourt has entertainment for the whole family with four tennis courts, volleyball, indoor and outdoor swimming pools, and Jacuzzis. And with supervised games and crafts to keep the kids entertained, mom and dad can enjoy a well -deserved game of golf or spa treatment.

Did you say Spa? The luxurious Fancourt Spa offers complete relaxation in the most tranquil setting. Unwind with a hot stone massage or enjoy a swim in the heated Roman Bath. All the facilities you could want are available, including a steam room, sauna, Jacuzzi and tepidarium.

Without having to leave the estate, there are a variety of dining experiences. From casual and child friendly to elegant and bespoke, there is a dining option for every occasion.

La Cantina
For relaxed family dining, La Cantina offers the whole family a taste of the Mediterranean with a traditional Italian menu that ranges from pasta to succulent steaks. And is open for Breakfast from 06:30 to 10:30 seven days a week and for dinner from 18:00 to 22:30 seven days a week. Back by popular demand is the Sunday Family Lunch Buffet served from 12:30 to 14:30.

Morning Glory
Situated next to the Spa and overlooking the 1st tee of the Outeniqua golf course with the mountains as the backdrop, the Morning Glory is the perfect place to relax from morning to late afternoon. Morning Glory is open seven days a week from 06:30 to 18:00.

The Club Lounge
Enjoy traditional club meals on the terrace overlooking the 18th green of the Montagu golf course, or in the adjoining clubhouse daily. The Lounge is open from 10:00 to 23:00 daily with snacks being served from 10:00 to 18:00, and Cocktails from 10:00 to 23:00. And for the Classic Dining Experience there is Henry Whites
Enjoy contemporary European cuisine, prepared by Sous Chef, Regan Wilson and his team at this elegant restaurant where no detail is over looked in its dedication to excellence in the culinary arts. This restaurant is innovative and progressive, yet recognises the classic wine and food tradition from which it comes. One of the more unique attributes of this discerning restaurant is thatit not only offers fine cuisine, but fine art too. Henry Whites is open seven days a week for dinner from 19:00 to 22:30.