Union Buildings
Union Buildings


The Union Buildings form the official seat of South Africa's government and house The Presidency as well as the Department of Foreign Affairs. They are built at the highest point of South Africa's capital city, Pretoria, and represent an extravagant time in South African history. The buildings were originally built to house the entire Public Service for the Union of South Africa, and at that point in history they were the largest building in the country and possibly the largest building work undertaken in the Southern Hemisphere.

The building is which is over 285m long is divided into three sections, left offices, amphitheatre and right offices, and each of these sections is 95m in length. The buildings are built in a semi-circle design with two wings at either side. The wings represented the union of a formally divided nation, the English and the Afrikaners. Construction began on The Union Buildings in 1909 and was completed in 1913. The project made use of approximately 1265 artisans, workmen and labourers, used over 14 million bricks for the interior office walls, half a million cubic feet of freestone, 74 000 cubic yards of concrete, 40 000 bags of cement and 20 000 cubic feet of granite. Although the architect wanted to use imported granite, the idea of using anything but South African stone for the most important government building of the new state was unthinkable to those who commissioned it, as a result, the terraces and retaining walls in the grounds are built predominantly of mountain stone quarried on site, the foundation of the building is of granite, while freestone was used for the exterior walls, the amphitheatre and major courtyards.

Although the last 100 years have seen a lot of important events, possibly the most important one was in 1994 when the buildings played host to the inauguration of former President Nelson Mandela, South Africa's first democratically elected President, heralding the beginning of a new era in South Africa's history. The buildings are located on the top of Meintjieskop at the northern end of Arcadia, close to historic Church Square and the Voortrekker Monument. An interesting fact about the Union Buildings and the Voortrekker Monument is that due to their significance a law in Pretoria limits the height of any building between the two structures so that the view between them remains unobstructed.

The Union Buildings are surrounded by beautifully terraced gardens of indigenous plants and various monuments embellish the expansive lawns. Some of these monuments include the Delville Wood War Memorial, which is a tribute to South African troops who died during the First World War, and a statue of the country's first president, General Louis Botha. The lawn in front of the Union Buildings is often the location for public gatherings, whether they are protest or celebration, such as the presidential inauguration. Unfortunately the buildings themselves are not open to the public.
Nearby Listings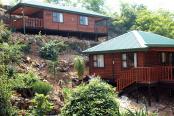 Sleeps: 8 in 3 units/rooms
1.1km North West of center of Union Buildings
This new chalets built in 2009. the property is the perfect place for a relaxing holiday break in Pretoria. Close to the city centre, with a wide range of tourist attractions to keep you occupied throughout your stay.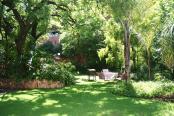 1.6km South East of center of Union Buildings
Oorkant Loftus Self-catering flatlets in Pretoria East: Situated opposite Loftus Versfeld sport stadium, in Clydesdale the "village in the city",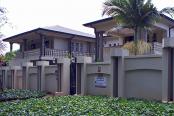 Sleeps: 19 in 9 units/rooms
From
R 447,50
Per person, per night sharing.
2.7km North East of center of Union Buildings
Goodey's Guesthouse is situated in the beautiful Jacaranda-lined Amos Street in the tranquil suburb of Colbyn - one of Pretoria's oldest suburbs.Goodey's Guesthouse offers you six well equipped, stylish en-suite bedrooms...
3.1km East of center of Union Buildings
The Village in Hatfield is a delightful guesthouse offering a cluster of separate units, perfectly appointed for a comfortable stay. We aim to create an urban village atmosphere where travellers from all over the world will feel welcome...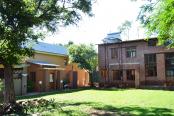 Sleeps: 36 in 14 units/rooms
From
R 400,00
Per person, per night sharing.
3.2km East of center of Union Buildings
Bed & Breakfast in Hatfield is serenely tucked away in the secluded part of Hatfield, Pretoria. Luxury and warm hospitality, provided by Des & Errol will make your South African stay memorable and create a home away from home.
3.5km North West of center of Union Buildings
Cozy self-catering garden cottage in central Pretoria with private entrance. Comfortable sleeping accommodation which is ideal for two guests with one bedroom, two beds and en-suite bathroom as well as undercover parking
Sleeps: 25 in 12 units/rooms
3.7km North West of center of Union Buildings
Green Valley Lodge is a luxury guesthouse providing accommodation on a bed and breakfast basis in Wonderboom South, Greater Pretoria, Gauteng. Green Valley Lodge is located right in the heart of Wonderboom South a suburb of Pretoria, nestled below the Won
Sleeps: 120 in 6 units/rooms
4.0km North East of center of Union Buildings
Queensrest self catering units is centrally situated in the suburb called Queenswood, in Pretoria close to Brooklyn Mall and Hatfield.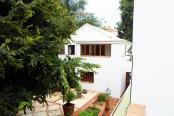 Sleeps: 10 in 4 units/rooms
From
R 495,00
Per person, per night sharing.
4.3km South East of center of Union Buildings
We are nestled in the heart of Waterkloof, and cater for the solitary traveler as well as for a family of four. Peaceful and private, the Self Catering flatlets offer a luxurious and relaxing atmosphere aimed at making your stay a memorable one.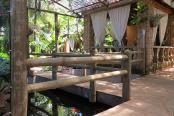 Sleeps: 8 in 4 units/rooms
From
R 445,00
Per person, per night sharing.
4.7km North of center of Union Buildings
Dinkwe Guest House offers you up market accommodation in a genuine Out of Africa Style, with all modern conveniences including free wi-fi access throughout the property and you can enjoy the privacy of your own garden and patio.