Older than the city itself, the Polokwane Golf Course which was founded in 1863 is rated one of the best in South Africa. Over the years this golf course and its stunning club house, the halfway house, have evolved into an icon and with 700 members it is a hive of activity. US Open Champion, Retief Goosen learned to play here and springbok golfers Ray Earle and Callie Swart both hail from the club. Designed to cater for all members of the public, the establishment has a bar, braai area and function hall overlooking the ponds and bent grass greens. If golf is your pastime or whether you hanker for a cocktail and barbeque at the pool, Polokwane Golf Course is a must.

Since its founding in 1863 a few changes have occured - not only do they now call the city of Pietersburg, Polokwane, but the golf course itself looks quite different from its original design, with the last of these changes made between 1989 and 1990.

The course itself sports generous fairways and lush bent grass greens, providing golfers every opportunity to play their best as well as allowing them to enjoy the scenery. The Half-Way House is always well stocked and expertly run, and provides sustenance throughout the day while the 19th Hole awaits golfers, at the end of a long day on the course, with some well-deserved refreshments.

The Polokwane Golf Club has a long history and part of that history is a long list of prestigeous events hosted over the years. These events include the Sunshine Tour during the 1990s to the recent Country Districts Tournament, the 2012 WGSA 72 Hole Stroke Play Tournament and the clubs signature event:The Baobab Classic. For more information and booking please contact:
Tel: +27-15-2954118
Fax: +27-15-2957493
Cell: +27-82-3766126
Or email: fandb@polokwanegolfclub.co.za

Physical Address Voortrekker Street
Polokwane
Limpopo

Nearby Listings
2.0km North West of center of Polokwane Golf Course
Mosate Lodge is a 4 star bed and breakfast situated in Polokwane in the Capricorn region of Limpopo. This luxury guest lodge offers you a warm, friendly, distinguished atmosphere and efficient personal service to suit your every need while visiting Polokw
Sleeps: 13 in 5 units/rooms
2.6km North of center of Polokwane Golf Course
Marlot Guest House believes in hospitality of the highest standard. A visit to our friendly guest house will exceed all your expectations, and you will soon become a returning guest. An unforgettable experience of service excellence and warm South...
Sleeps: 12 in 6 units/rooms
4.3km North of center of Polokwane Golf Course
Thabeng Guesthouse offers bed and breakfast accommodation in Polokwane in the Capricorn region of Limpopo. Our bed and breakfast is situated in the suburb of Bendor to the east of the Polokwane centre. This guest house is conveniently located 1 to 3 km fr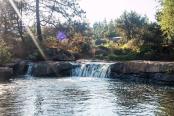 Sleeps: 40 in 7 units/rooms
46.9km North East of center of Polokwane Golf Course
Zwakala River Retreat is situated on a privately owned farm in the beautiful Magoebaskloof Mountains, just north of Haenertsburg in the Limpopo Province. Our array of accommodation includes cosy self catering cottages, a guest house and a private camp sit
Sleeps: 9 in 4 units/rooms
47.8km East of center of Polokwane Golf Course
L'Orange provides self catering accommodation in Haenertsburg in the Limpopo province. L'Orange one of the oldest houses in Haenertsburg. It was built back in the early 1960s. Karen Boyum (a humanitarian and founder of Thusanang) and two friends, bought t
Sleeps: 28 in 8 units/rooms
From
R 450,00
Per unit, per night.
* Rates may vary according to season
49.2km North East of center of Polokwane Golf Course
Cheerio Trout Fishing Lodge offers a self catering escape in the beautiful Cheerio Valley close to Haenertsburg, in the Magoebaskloof area, between Polokwane and Tzaneen and is an excellent stop over to the Kruger National Park and other game parks. (Slee