Delheim's Mushroom Week
Delheim's Mushroom Week
The Delheim's Mushroom Festival is a great way to enjoy the outdoors. It is an annual event and each year the estate becomes a hive of activity when visitors and locals from near and far come and enjoy the delicious tastes of something unique.
The festival runs for seven days and aims to educate visitors about mushrooms. There are so many different species and it can become quite scary as to which are edible or not. This festival will teach you just that. Not only will you learn to tell them apart but you will also be able to taste and enjoy some of the exotic flavours. It is very important to understand and know which mushrooms you may and may not eat.
The week long festival will be held on the well known Stellenbosch estate in Cape Town. The estate has become famous for its fungi-rich forest.
Be sure not to miss out on this great adventure, you will learn so much and have fun doing it. Enjoy the guided walks through the forest searching for mushrooms and after that, relax at the restaurant and enjoy the wild mushroom dishes that will be served.

Times and Prices:
Doors open at 10:30am until 2pm
R250 pp (includes guided forest walk)
R150 pp (includes set menu)
Bookings are essential and can be made by contacting the Delheim Restaurant on +27(0)21-888-4607.
Accommodation Near Delheim's Mushroom Week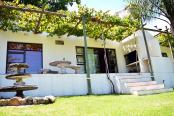 Sleeps: 24 in 6 units/rooms
5.2km North West of Delheim's Mushroom Week
In the Vineyard self catering cottages are situated on Uitkyk farm, a small family owned vineyard and olive farm, nestled at the foot of the Simonsberg mountains in Klapmuts, Stellenbosch. Enjoy the beauty and peace of nature that surrounds you.
Direct Enquiry
Call Direct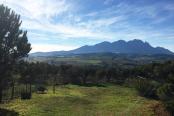 Sleeps: 10 in 2 units/rooms
5.6km South West of Delheim's Mushroom Week
Smiths @ Casa De Molteno, this cottage is a rustic, fully furnished, two-bedroom holiday with a stunning mountain-view located on the R304 just 4km's from Stellenbosch, South Africa.
Direct Enquiry
Call Direct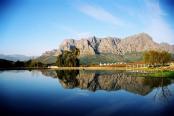 Sleeps: 34 in 13 units/rooms
6.2km South East of Delheim's Mushroom Week
Zorgvliet's warm and welcoming country lodge caters for the needs of every individual with exceptional attention to detail. This lodge offers guests an opportunity to truly experience the unique personality of the Stellenbosch winelands, from serv...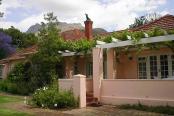 6.8km South of Delheim's Mushroom Week
Only 2 minutes form the Stellenbosch town centre, each of our 3 self catering apartments has a separate entrance and kitchenette. 7 min from Stellenbosch Golf Course.
Direct Enquiry
Call Direct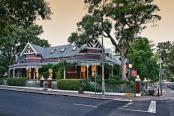 7.0km South of Delheim's Mushroom Week
A mere 5 minute walk from the village of Stellenbosch and the University. 10 stylishly decorated luxurious, en-suite rooms, furnished with beautiful antiques and a touch of Africa. Air-conditioner/heater, satellite television, mini-bar, tea/coffee...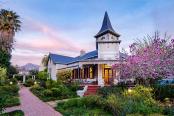 Sleeps: 40 in 21 units/rooms
7.0km South of Delheim's Mushroom Week
Bonne Esperance Guest Lodge is a charming Victorian Villa in the heart of Stellenbosch with a wrap-around veranda, cast iron mouldings and corner-turret.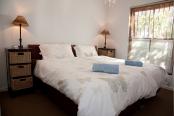 7.0km South of Delheim's Mushroom Week
Meustroom (number 4 and 7) are upmarket, self-catering apartments situated in a small block of flats, called Meulstroom in Stellenbosch. It is surrounded by historical houses, centrally situated yet in a quiet area..
Direct Enquiry
Call Direct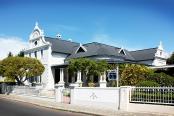 Sleeps: 36 in 15 units/rooms
7.1km South of Delheim's Mushroom Week
Caledon Villa embodies warm South African hospitality, culture and history. It is located within walking distance from the heart of historical Stellenbosch, from the vibrant campus of the University and from the peaceful flowing Eerste River.
7.1km South of Delheim's Mushroom Week
Stellenbosch Apartment is a two bedroom self catering apartment close to the historic town centre of Stellenbosch. Is is on the ground floor of a small apartment block and has a beautiful private garden with braai/barbeque facilities. Airport ...
Direct Enquiry
Call Direct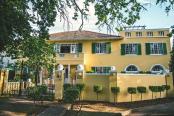 Sleeps: 43 in 11 units/rooms
7.1km South of Delheim's Mushroom Week
A warm-hearted villa in the centre of historic Stellenbosch. This elegant renovated 1920's villa offers a serene retreat within easy walking distance of the diverse attractions this vibrant University town offers.
Direct Enquiry
Call Direct