Set along the western part of the Rhensoterspruit Nature Conservancy, The Oori (Oori is Tswana for Crocodile) Nature Reserve is a reserve owned, funded and maintained by the residents and landowners of the area, including farms Riverside Estates, Rhenostespruit, and Vlakfontein. The game in the Oori belongs to the residents, and is managed by a Game Committee. The reserve is ideally positioned in the beautiful Crocodile River Valley is only a 40 minute drive from Johannesburg, just to the south of the Magaliesberg Mountains.

The reserve lies in a transitional zone between grassland and bushveld with rolling countryside and rocky ridges, principally dolomite, where the trees are able to find some protection during the occasional fires which sweep through the area. The area between grassland and bushveld is commonly known as Bankenveld. Both the southern and eastern borders of the reserve are formed by the Crocodile River, once known as the Oori River by the Tswana people.

The reserve covers a total area of almost 750 hectares and is made up of about 40 different properties, all of which have done away with internal fencing in order to live in harmony with nature. The commonly held belief is that human habitation has almost always been at the expense of the environment and the conservancy is attempting to change this and return the area to what it was. In aiming to do this the owners are trying to reintroduce every native game species, every type of indigenous tree, and every endemic bird species. As part of this initiative the reserve has already reintroduced 52 animals and residents are slowly planting indigenous trees, replacing those exotics mainly around dwellings, striving to keep existing eco-systems intact. Entrance to the Oori Nature Reserve is along the Winsome Valley Road from the Lanseria road (R512), and there is a boom gate which controls access. Visitors in the reserve are asked to please extreme caution and slowly within the Oori. April 2012 saw the birth of a new giraffe. The Giraffe family need space - Please do not get too close and please not to disturb them.
Nearby Listings
3.8km North West of center of Oori Nature Reserve
The Venue Country Hotel is located along the popular Magaliesberg R512 route (Pelindaba Road) between Johannesburg and Hartbeespoort Dam. Just 12 km past Lanseria International Airport, the hotel offers guests gorgeous views of the Magaliesberg mountain r
Sleeps: 14 in 8 units/rooms
From
R 765,00
Per person, per night sharing.
7.4km North East of center of Oori Nature Reserve
A place with a profound sense of peace, River Place Lodge makes one feel as if you're far removed from the city - the venue is, however, extremely accessible and is close to the major business centers of Gauteng.
10.5km North of center of Oori Nature Reserve
Situated on the slopes of waterberg mountain range at Saartjiesnek pass, overlooking the Hartbeespoort dam and the Magaliesberg mountain range, with direct access to all activities the area has to offer.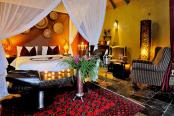 Sleeps: 42 in 20 units/rooms
11.6km South East of center of Oori Nature Reserve
Aquanzi Lodge a 4 star establishment which offers luxury, bed and breakfast and self-catering accommodation to visitors in Johannesburg
Sleeps: 16 in 6 units/rooms
11.7km North West of center of Oori Nature Reserve
Ponciana is an AA Superior Quality Assured Luxury Guesthouse and is situated in Ifafi on the top of the hill which gives us a magnificent view over the Hartbeespoortdam surrounded by the Magalies Mountain Range...
Sleeps: 18 in 9 units/rooms
From
R 375,00
Per person, per night sharing.
12.0km North West of center of Oori Nature Reserve
Aloha & welcome to our tropical paradise... Good times & tan lines, so get here fast then take it slow at Cocomo.
Sleeps: 56 in 18 units/rooms
13.5km North West of center of Oori Nature Reserve
Welcome to Casa Bianca. It is here that Casa Bianca welcomes its guests in the heart of the North West Province. We offer fourteen stylish en-suite rooms equipped with all you need to ensure a luxurious and pampered stay.
13.8km West of center of Oori Nature Reserve
Rivendell is a brand new water front property, at one of hartebeespoort's most exclusive estates where Gemsbok, nyala, springbok and many more roam freely amongst the houses. Rivendell offers accommodation for 6 adults in a large self-catering house.
Sleeps: 20 in 6 units/rooms
From
R 895,00
Per person, per night sharing.
13.9km North West of center of Oori Nature Reserve
Named after the quant neighborhood that it stems from, Kosmos Manor on the banks of the Hartebeespoort Dam consists of 6 beautifully appointed rooms with combination of Victorian romance and modern hi-tech decor. This elegant guest house focuse...
13.9km North West of center of Oori Nature Reserve
This house is situated on the waterfront with panoramic views from all the rooms. Four beautifully furnished bedrooms en-suite. 2 queen-size with a private lounge, one double, and two single beds. All rooms with balconies. rivate pool with a view ...