Warwick Wine Estate
The Warwick Wine Estate is situated in Stellenbosch in the Western Cape, South Africa. It is a successfully run family owned winery. Warwick Wine Estate was formerly known as "De Oude Sukses". It was renamed after the Anglo Boer War in 1902. Colonel William Alexander Gordon decided to remain in South Africa and called it "Warwick" as a tribute to the Warwickshire regiment.
Nowadays this beautiful estate is a well known and superbly kept winery. The winery offers informative tastings where you can enjoy these fine wines for yourself.

Tasting:
Sunday - Thursday 10am - 5pm
Friday and Saturday 10am - 6pm
R25 per person
R35 per person on tour group private tasting.
Cellar tours on request only.

The Warwick Estate also has a safari for its guests. The Big 5 Safari is a tour through the vineyards on Land Rover Vehicles. It is a fun and educational experience.
There is something for every one, nothing seems to have been overlooked. The Gourmet Picnic is a MUST! There is a selection of picnics from Gourmet, Vegetarian and Kids and a variety of picnic settings to choose from such as the Pods, The Forest Courtyard, The Lawn or the Penthouse. Each is designed with a touch of sophistication. The picnics are available every day of the week. Please phone for bookings +27 (0) 21 884 3144.
Accommodation Near Warwick Wine Estate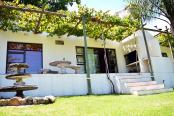 Sleeps: 24 in 6 units/rooms
2.8km North of Warwick Wine Estate
In the Vineyard self catering cottages are situated on Uitkyk farm, a small family owned vineyard and olive farm, nestled at the foot of the Simonsberg mountains in Klapmuts, Stellenbosch. Enjoy the beauty and peace of nature that surrounds you.
Direct Enquiry
Call Direct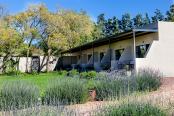 Sleeps: 22 in 11 units/rooms
5.1km North of Warwick Wine Estate
Bona Vista is in the heart of the Cape Winelands, which is surrounded by a semicircle of picturesque Boland mountains. It is an active wine and fruit farm with a thoroughbred horse stud.
Direct Enquiry
Call Direct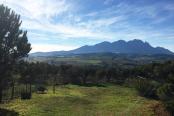 Sleeps: 10 in 2 units/rooms
6.5km South of Warwick Wine Estate
Smiths @ Casa De Molteno, this cottage is a rustic, fully furnished, two-bedroom holiday with a stunning mountain-view located on the R304 just 4km's from Stellenbosch, South Africa.
Direct Enquiry
Call Direct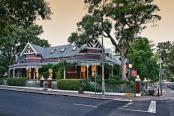 9.6km South East of Warwick Wine Estate
A mere 5 minute walk from the village of Stellenbosch and the University. 10 stylishly decorated luxurious, en-suite rooms, furnished with beautiful antiques and a touch of Africa. Air-conditioner/heater, satellite television, mini-bar, tea/coffee...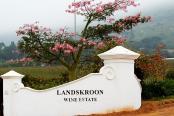 9.6km North of Warwick Wine Estate
Experience the pleasure of staying on a wine farm. Soak up the beauty of the surrounding views. Our close proximity to the towns of Stellenbosch, Paarl and Franschhoek, makes Landskroon an ideal base from which to explore the famed Cape Winelands.
Direct Enquiry
Call Direct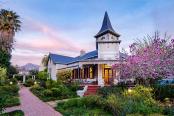 Sleeps: 40 in 21 units/rooms
9.6km South East of Warwick Wine Estate
Bonne Esperance Guest Lodge is a charming Victorian Villa in the heart of Stellenbosch with a wrap-around veranda, cast iron mouldings and corner-turret.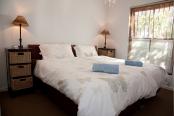 9.6km South East of Warwick Wine Estate
Meustroom (number 4 and 7) are upmarket, self-catering apartments situated in a small block of flats, called Meulstroom in Stellenbosch. It is surrounded by historical houses, centrally situated yet in a quiet area..
Direct Enquiry
Call Direct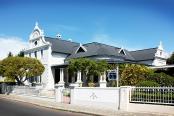 Sleeps: 36 in 15 units/rooms
9.7km South East of Warwick Wine Estate
Caledon Villa embodies warm South African hospitality, culture and history. It is located within walking distance from the heart of historical Stellenbosch, from the vibrant campus of the University and from the peaceful flowing Eerste River.
9.7km South East of Warwick Wine Estate
Stellenbosch Apartment is a two bedroom self catering apartment close to the historic town centre of Stellenbosch. Is is on the ground floor of a small apartment block and has a beautiful private garden with braai/barbeque facilities. Airport ...
Direct Enquiry
Call Direct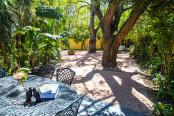 9.7km South of Warwick Wine Estate
Hunneyball House is Central Stellenbosch's newest guest house offering 8 non-smoking, en-suite rooms