Showing 1 to 9 of 9 results
Sleeps: 16 in 4 units/rooms
Fully serviced and staffed, air-conditioned and pet friendly, Crafters Lodge is designed for privacy and comfort. This small secure complex offers simple living ideally suited to the climate, with a large deck, expansive windows and charming rural surr
Sleeps: 42 in 21 units/rooms
In the Heart of Maputaland, nestling behind the world's highest vegetated sand dunes about 5km from the sea, Sodwana Bay Lodge has been carefully designed to match the rustic, eco-oriented nature of the region.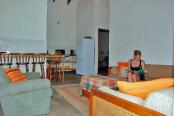 Our Toad Tree Cabins provide a number of different accommodation options for couples and families - to suit your romantic needs or your family getaway. With a choice of 5 double cabins and 2 x 4, 6 or 8 sleeper family cottages Toad Tree Cabins...
From R 520,00
Per unit, per night.
With its many exciting coral reefs and outstanding climate, Sodwana Bay has distinguished itself as one of the premier sport diving destinations in the world.
From R 3 000,00
Per unit, per night.
The house consists of five bedrooms with air-conditioning, three bedrooms have en suites, three bathrooms, an open plan living area with a TV and DSTV compact and a fully equipped kitchen, (double door fridge, stove and microwave).
Nearby Listings
Sleeps: 18 in 6 units/rooms
From R 495,00
Per person, per night sharing.
18.7km North West of center of Sodwana Bay
Amber Avenue Guesthouse, (formerly known as Harrow Hill farm), is situated at 8 Karkloof Road, very close to Howick Village and the Amber Developments (Amber Valley etc). You can't miss our elegant post- and – rail entrance!
Sleeps: 50 in 12 units/rooms
20.5km North of center of Sodwana Bay
This intimate, luxury 12 suite lodge is nestled on the pristine coast of Maputaland, Northern KwaZulu-Natal, within the Isimangaliso Wetland Park - an internationally recognized World Heritage Site. It's the ideal place to explore unspoilt, ...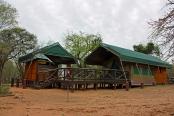 From R 80,00
Per person, per night sharing.
45.0km South West of center of Sodwana Bay
Mkhuze Game Reserve is situated in Northern Zululand, roughly 335 km from Durban. The reserve was established on 15 February 1912 and is 40 000 ha in extent. Today it forms part of the iSimangaliso Wetland Park.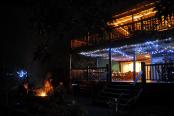 Sleeps: 24 in 11 units/rooms
From R 1 150,00
Per person, per night sharing.
49.6km South of center of Sodwana Bay
The lodge has been sensitively built into pristine African sandforest, carefully preserving this fragile ecology. The focus is on conservation through education and environmental awareness.
WhereToStay Sodwana Bay accommodation ranges from a variety of specific categories such as Sodwana Bay self catering accommodation to Sodwana Bay b and b accommodation and many more.
More sought after Sodwana Bay accommodation categories include Sodwana Bay pet-friendly and Sodwana Bay wheelchair-friendly accommodation. If you are specifically pursuing these Sodwana Bay accommodation categories, then we highly recommend that you contact the accommodation owner directly to ensure that the facilities are satisfactory and to your liking.
The Sodwana Bay pet-friendly accommodation and the Sodwana Bay wheelchair-friendly accommodation facilities can vary between large Sodwana Bay Hotels as well as small room only accommodation. Self catering Sodwana Bay accommodation will occupy the majority of these listings.
99% of all Sodwana Bay guest houses listed on WhereToStay will display rates for your convenience. Occasionally a Sodwana Bay guest house will ask you to request a quotation.
WhereToStay tries to keep the Sodwana Bay self catering and Sodwana Bay b&b standards at the highest levels relative to tariffs charged. Misleading advertising related to any listings of Sodwana Bay B&B and Sodwana Bay self catering accommodation should be reported so that WhereToStay can act accordingly.
See our full list of Sodwana Bay accommodation special categories at the top of this page
AFRIKAANS
WhereToStay Sodwana Bay Akkommodasie wissel van 'n verskeidenheid van spesifieke categoriee soos Sodwana Bay selfsorg akkommodasie, Sodwana Bay, b en b blyplekke en nog veel meer.
Meer gesogte Sodwana Bay slaapplek kategoriee sluit in Sodwana Bay troeteldier-vriendelike blyplekke en Sodwana Bay rolstoel-vriendelike akkommodasie.
As jy spesifiek vrae oor die voorsetting van hierdie Sodwana Bay blyplekke, sal dit raadsaam wees om kontak met die eienaars te maak om te verseker dat die fasiliteite bevredend is en na you hart.
Die Sodwana Bay troeteldier-vriendelike verblyf en Sodwana Bay rolstoel-vriendelike vakansie blyplekke kan wissel tussen Sodwana Bay Hotelle asook klein kamer akkommodasie in Sodwana Bay. Sodwana Bay selfsorg slaapplekke sal die meerderheid van hiedie inskrywings beset.
99% van alle Sodwana Bay gastehuise gelys op WhereToStay sal pryse vertoon vir u gerief. Soms sal 'n Sodwana Bay gastehuis vra om 'n kwotasie te versoek.
WhereToStay probeer om die lys van Sodwana Bay slaapplek standaarde op die hoogste vlakke (relatief tot tariewe) gehef hou.
Misleidende advertensies wat verband hou met enige lys van Sodwana Bay blyplekke moet aangemeld word sodat WhereToStay kan daarvolgens optree.
Nearby Towns With Accommodation