Showing 1 to 10 of 10 results
From R 1 750,00
Per unit, per night.
This luxurious 3 bedroom self-catering unit is spacious, tastefully furnished and is located across the road from Ballito's Compensation beach.
La Pirogue 56 is a newly renovated and luxurious 3-bedroom, pool level self-catering unit just across the road from Ballito's Willard's Beach (+-150m). The unit is situated within walking distance from supermarket and restaurants.
From R 1 200,00
Per unit, per night.
Boulder Bay is situated on Compensation Road in the very popular holiday town of Ballito Bay on the Northern Natal Coast This holiday unit has direct access to the beach, no crossing of any roads.
Sleeps: 8 in 2 units/rooms
From R 1 500,00
Per unit, per night.
Breath-taking views, songs of the ocean waves and luxurious furnishes and fittings welcome you. Italian designer furniture, travertine marble tiles, stainless steel fittings and most up to date electronic equipment ensures your stay is a luxurious...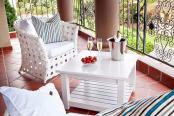 Our bedrooms are all luxurious and cater for your every possible need. You will discover that the pursuit of supreme comfort has been our vendetta while creating these wonderful rooms which are all decorated in a sophisticated manner. Though we ...
A luxurious and spacious 3 bedroom - 2 bathroom ground floor self-catering apartment with a garden, open plan living area, free WiFi and quick access to beaches, shops and restaurants. Situated on the Ballito coastline in the heart of the Dolphin Coast. O
From R 1 600,00
Per unit, per night.
43 La Pirogue is a , Self Catering , 3 Bedroom unit, situated in Central Balitto. This newly decorated, Air Conditioned unit is situated 100 meters from , Balitto's Compensation Beach.
Nearby Listings
1.5km South West of center of Ballito Area
Fantastic sea views. 1 x sitting room and dining room area. 5 x Bedrooms. Beautiful enclosed deck and bar area with braai facility overlooking ocean.
Sea views. Beautifully furnished. 1 x Large sitting room. 1 x Dining Room. 4 x Bedrooms.
1.5km South West of center of Ballito Area
Fantastic sea views. (10 metres away from the sea.). Professionally landscaped garden. Beautifully furnished.
Back to Ballito Central Overview
North Coast Conference Venue Accommodation