Sondela Nature Reserve


Known as The Great North, the Limpopo Province is the gateway to sub-Saharan Africa. It is a diverse landscape of bushveld, savannah, semi-desert, and subtropical vegetation. And nestled in the heart of the Bushveld you will find Bela Bela (Warmbaths) and one of South Africas most popular inland holiday resorts, Sondela Nature Reserve. The reserve is an almost 4800 hectare private game reserve, situated close to the N1 highway and only 90 minutes from Johannesburg and 10 km East of Bela Bela.

Sondela offers various wildlife activities for the whole family and facilities which include swimming pools, restaurants, horse riding, game drives, quad biking, mountain biking, bush walks, as well as horse trails and 4 x 4 challenges.

The Sondela Wildlife Centre is a wonderful facility within the reserve that captures your imagination and the little residents will definitely capture your hearts. It is an area where you can touch, feel, listen and tour through. A place where the staff share with you their vast experience, dedication and passion for the hand-rearing, care and handling of the wild animals in their charge. Sondela Wildlife Centre is dedicated to care for wild animals in distress, rescue and rehabilitate sick or injured wild animals, hand-rear orphaned wild animals, provide comfortable safe holding facilities for animals and finally to create a better world for wild animals by improving their welfare and educating people in an entertaining manner to care for their natural heritage.

But there is more to the reserve than just being a wildlife conservation area, it is also a working farm and as such a large number of farm animals and farm implements can be found in the farmyard. Popular with the kids, their delightful laughter and obvious thrill can be experienced as they flock to feed the various farm animals during feeding times. From milking cows to petting the tame sheep or admiring the boastful display of a peacocks feathers, the farmyard offers young kids an experience which they will not easily forget.

For moms and dads who are looking for something special the Spa and Wellness Centre offers a variety of revitalising Beauty and Body Treatments. The Kneipp Pool and Steam Room are sure to make you feel refreshed, alive and de-stressed. While trained therapists, quality products and assorted treatments have been carefully selected to enhance your overall experience at this welcoming and truly relaxing retreat. Awaken your senses by giving yourself that special pamper you deserve! The centre offers Hydro Therapy, Massages, Reflexology, Manicures, Pedicures, Waxing, Lash and Brow Treatments as well as relaxing or therapeutic Facials.

Remember, a visit to Sondela Nature Reserve provides a unique and invigorating holiday for the whole family.
Nearby Listings
2.3km South West of center of Sondela Nature Reserve
Makhato 84 provides bush lodge self catering accommodation in the Sondela Game Reserve, Bela Bela, in the Waterberg region of Limpopo. This luxurious self catering lodge sleeps up to 8 people. It consists of a main bedroom with a king size bed, an en-suit
Sleeps: 62 in 11 units/rooms
12.3km West of center of Sondela Nature Reserve
Hoogland Spa Holiday Resort provides self catering accommodation in the heart of Bela-Bela in the Limpopo province. This holiday resort offers 11 stunning self catering chalets for the best nights sleep. We have 4-sleepers, 6-sleepers and 8-sleepers avail
13.1km West of center of Sondela Nature Reserve
The Villa Manor is the perfect base from which to explore the Waterberg region. Centrally located in Bela-Bela also known as Warmbaths the home of the hot mineral springs. The Villa Manor is also ideal for business trips too. The Villa Manor is one of the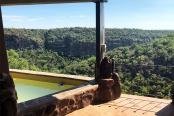 Sleeps: 14 in 3 units/rooms
17.5km North West of center of Sondela Nature Reserve
Leopards Rock Bush Boutique Apartments provides the perfect self catering escape into "the wild" midway between Bela-Bela and Modimolle to the north, in the Waterberg region of Limpopo. 3 Apartments sleeping, 2,4 and 8 are available. Discover serenity, lu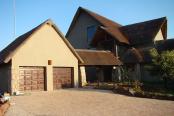 17.6km North West of center of Sondela Nature Reserve
69 Leopardrock offers self catering accommodation near Modimolle (Nylstroom) approximately 20 km outside Bela-Bela on a game estate. This self catering house sleeps 8. The house is a three story house with a two bed loft on the third floor. It consists ou
20.2km West of center of Sondela Nature Reserve
... Sundowner Bushcamp provides the perfect self catering bush camp getaway near Bela-Bela in the Waterberg region of the Limpopo province. (Sleeps 10 adults + 8 children). When you book Sundowner Bush Camp you have the use of the whole camp. We do not mi
Sleeps: 21 in 7 units/rooms
From
R 475,00
Per person, per night sharing.
* Rates may vary according to season
21.9km North West of center of Sondela Nature Reserve
7th Hole Golf Lodge offers bed and breakfast accommodation in the Koro Creek Golf Estate near Modimolle (Nylstroom) in the heart of the Waterberg in Limpopo. Conveniently located on the 7th hole within the bushveld Koro Creek Golf Estate. We specialise in
Sleeps: 8 in 2 units/rooms
29.4km West of center of Sondela Nature Reserve
Elements Private Golf Reserve Lodge 278 offers self catering accommodation in a golf estate near Bela-Bela in the Limpopo province. (Sleeps 4 adults). Set in the heart of the Bushveld, Elements Lodge No 278 is a privately owned Golf lodge in the exquisite
30.3km West of center of Sondela Nature Reserve
Elements Private Golf Reserve offers exclusive self catering accommodation on a golf estate to the west of the popular town of Bela-Bela in the Limpopo province. At Elements Private Golf Reserve we offer 6 wonderful chalets, 4x 2-sleepers and 2x 4-sleeper
30.5km West of center of Sondela Nature Reserve
Lodge 303 Elements Private Golf Reserve provides self catering accommodation in the Bela-Bela area in Limpopo. (Sleeps 8). This luxury 4 bedroom (all en-suite) self catering lodge is located in the Elements Private Golf Resort. All rooms are air-condition