An unfortunate turn of events, a passion for steam and a great sense of history have turned one estate into the largest private collection of narrow-gauge steam locomotives in the world. One of South Africas greatest privately owned heritage assets is the Sandstone Estates steam train collection near Ficksburg in the Eastern Free State.

It all began when the Midmar Museum which was a joint venture between the Kwa-Zulu Natal Parks Department and the Heritage section of the National Railways was dissolved by mutual agreement in 1997 and a selection of Narrow Gauge assets and the railway line came on the market. This event would give new direction to the Sandstone Heritage program. These assets were put up for auction which Sandstone put in a bid for and being the successful bidder Sandstone was suddenly the owner of enough components to create a small Narrow Gauge railway. It was decided to lay some track and to bring one of the NGG16 Garratts back into steam.

Now as you are driving on the R26 along South Africas border with Lesotho, look east and you will see the magnificent Maluti Mountains catching the morning sunlight. But more than this, you might catch a glimpse of a narrow-gauge steam locomotive chugging past in the distance, twin plumes of black smoke and white-coloured steam trailing in the air. And if he sees you, the driver might just toot in greeting.

South Africa was once a world leader in steam and Sandstone Estates wants to re-establish it as the Number 1 steam railway destination in the world. They are an integral part of the Steam In Action movement to preserve and rehabilitate many of the great old locomotives that once ran all over the country. The other two big players in South African steam preservation are Reef Steamers and Friends of the Rail.

Sandstone Estates understands the tourism value of this nostalgic form of rail travel, and as such they have built up a faithful following of overseas steam train enthusiasts who come out to South Africa to attend the various functions laid on throughout the year. But there is also great local support for the trains and every November at the Ficksburg Cherry Festival, Sandstone Estates gets involved and offers a daily schedule of steam runs for visitors. They then get the chance to poke around the many sheds at Sandstone and marvel at the wide range of preserved farm machinery, classic cars and military vehicles on show.

Its events like the Ficksburg Cherry Festival and the Narrow Gauge Steam Gala that bring world-class train photographers, steam clubs and true trainspotters from all over the world to Sandstone Estates.

Sandstone Estates, by way of clarification, state that they are not a museum; they are simply a private collection of Heritage items on a commercial farm and the staff do their best to keep everything in tip-top condition and to show visitors around as appropriate.

For more information, please contact:
Marisa Viljoen at Sandstone Estates
Or email: marisav@sandstone.co.za

Directions from Johannesburg.
Take the N3 to the second turn off to Villiers / Frankfort (This is the one just before the toll gate), turn right to Frankfort and bypass it (You are now on the R26). 2 kilometres past Frankfort turn left following the sign to Reitz, Tweeling and Bethlehem. After 1 hour you will arrive in Bethlehem and turn right into the main street into the town centre. Turn left at the fouriesburg and Ficksburg sign (Commissioner Street). Drive for 30 minutes to Fouriesburg and bypass it. Approximately 14 kilometres after Fouriesburg Turn left when you see the Sandstone Estates signboard onto a dirt road. You will need to sign in with the gaurd at the gate.

Directions from Durban.
Take the N3 to Harrismith and then turn left to Bethlehem and follow the directions above.

Directions from Cape Town
Take the N1 to Bloemfontein, take the Ladybrand exit and continue to Ficksburg.
Nearby Listings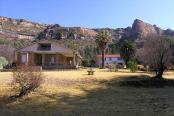 12.0km North of center of Sandstone Estates Steam Trains
The lodge, nestled below massive sandstone cliffs, consists of a beautifully renovated double storey English Cottage with four charming en suite bedrooms and a majestic, renovated sandstone farmhouse with 5 comfortable en-suite bedrooms and huge ...
Sleeps: 45 in 10 units/rooms
28.2km North East of center of Sandstone Estates Steam Trains
Camelroc sits between the two Caledon rivers, close to Caledonspoort border post. Its a good base from which to explore Eastern Free State as well as Lesotho. 6 chalets sleeps 8, 6, 2. Hikers Cabin sleeps 16 Main home has three rooms sleeps 6.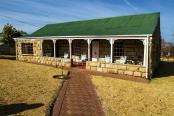 Sleeps: 28 in 4 units/rooms
From
R 800,00
Per unit, per night.
* Rates may vary according to season
30.2km North of center of Sandstone Estates Steam Trains
Come and experience the crisp clean air of the Eastern Free State in the relaxed atmosphere of The Old Country House and Cottage in the heart of Fouriesburg. Spend the evening with friend and family in front of the coal stove and greet the morning sunrise
Sleeps: 20 in 5 units/rooms
From
R 600,00
Per unit, per night.
* Rates may vary according to season
30.5km North of center of Sandstone Estates Steam Trains
Discover and enjoy the beauty and tranquillity of the Eastern Free State Mountains, close to the Lesotho border. Mont Plaisir offers luxurious self-catering accommodation...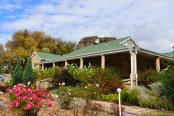 Sleeps: 8 in 2 units/rooms
33.7km North East of center of Sandstone Estates Steam Trains
The Rose House bed and Breakfast is situated on a 580 hectare farm between Fouriesburg and Clarens on the S 325 road.
37.7km North East of center of Sandstone Estates Steam Trains
Located 15km from Fouriesburg, with a view of the majestic Maluti mountains, lies the picturesque Middenrif Guest Farm. The house is a fully equipped, 4 bedrooms, 3 bathrooms self-catering farm house. The kitchen and bathrooms are equipped with modern day
Sleeps: 21 in 3 units/rooms
41.2km North of center of Sandstone Estates Steam Trains
Fairview Estates Cottages lies at the end of a 19km valley, described by some as the most beautiful valley in the Eastern Free State. This farm is situated between Fouriesburg and the very popular, proudly South African town of Clarens.
Sleeps: 12 in 2 units/rooms
41.2km North East of center of Sandstone Estates Steam Trains
The Barbet Country Cottages are situated on a large farm, 17 km from Clarens along the magnificent Maluti route, a beautiful, scenic drive, including our very own 'God's Window', overlooking the vast Maluti Mountain ranges.
47.7km North East of center of Sandstone Estates Steam Trains
Ridge Rd Cottage situated 9 km from Clarens offers self catering in 3 bedrooms all luxury en suite with queen size beds. Enclosed garden, 'sinkdam' styled swimming pool and covered patio & braai area makes for a relaxing experience.
47.7km North East of center of Sandstone Estates Steam Trains
Create your own "Year in Provence" in this beautiful stone French style farmhouse with natural rock pool. It has featured in Elle Decor, Country Life and many more. Sleeps 12 very comfortably. Every window frames a magnificent view.