Each year the people of Mzansi (slang for The South, as in South Africa) brace themselves in anticipation for the years biggest wine festival, the annual TOPS Soweto Wine Festival. Get set to join the countries thousands of trendsetters, movers and shakers, wine, food and music lovers, the aspirational and inspirational, connoisseurs and newbies and all those who just want to have a fun night out, meet people and taste over 900 of South Africas fabulous wines.

A Wine festival in Soweto? The idea of the festival in Soweto was borne around a braai in Pretoria in 2004 between neighbours Lyn Woodward (an original member) and Mnikelo Mangciphu (co-founding active member). The two were drinking wine out of Soweto Beer Festival glasses, and several glasses later, thought what a good idea it would be to have a wine festival in Soweto. Well it was also the right time to start introducing South Africas quality wines to the remaining 80% of our population. Wine should be a way of life for all South Africans. Eight years later, the Soweto Wine Festival is the pride of Soweto and the wine event not to miss on the annual South African wine calendar.

What does your entrance fee get you, well for R120 you get a free wine tasting glass and a festival buyers guide, which lists every winery and their wines along with space for you to make notes as you taste so you know what wines to buy in the future!

Organisers advise visitors to spend some time going through their exhibitors page on their website at www.sowetowinefestival.co.za before visiting the festival and planning the wines that they are going to taste. The wine exhibitors page has a comprehensive list of what wineries will be showcasing their wines at the event. But don't be in a rush, plan your festival experience over three days with a 3-day festival pass and start a journey of tastes that will lead you to your favourite South African Wine. Also make time to visit the Nederburg Taste Theatre and take a free wine and food pairing class, or visit the Cape Wine Academy stand and learn how to kick-start a career in wine, or start a wine club with your friends.

But there is more than just wines, you can plan your holidays by visiting some of the travel exhibitors showcasing their exciting resorts, or take time out from tasting to enjoy a cup of coffee in the Sasol Delight Coffee House or at one of the great restaurants selling food at the festival..

Thats a lot of wine to taste, and after youve tasted your way through the 950 wines, stop off at the Wine Shop and buy your favourite wine at a great price directly at the festival!

Event organisers also ask you to remember to drink responsibly! The festival has a number of spittoons at every station to ensure your experience is a safe and enjoyable one, but if you dont spit - take advantage of one of the safe driving options available to you at the festival!

The Dates and Times for the 2012 festival are as follows:
Thursday 6th September 2012 from 18:00 to 22:00
Friday 7th September 2012 From 18:00 to 22:00
Saturday 8th September 2012 from 17:00 to 21:00

The festival offers VIP and standard parking behind the University of Johannesburg. Be sure to follow the clearly marked signs off Chris Hani Road when travelling to the festival.

Directions to the Soweto Wine Festival (travelling by road):

From JHB or Sandton take the M1 South following the signs to Bloemfontein (where the road splits to Durban / Bloemfontein N1 / Roodepoort M2)
Travel for about 6 km past Booysens Drive, Gold Reef City and Xavier Road
You will see a large blue overhead highway sign before the lanes split into different directions.
Keep left and follow the M68 towards Soweto
Look for signs for the Chris Hani Road turn-off, about 3 km after taking they M68 split.
Take Chris Hani Road exit.
At the traffic lights turn right.
Continue for about 5 km until you see the signs leading up to UJ, which will be on your left-hand side and will direct you to public and VIP parking.
Nearby Listings
Sleeps: 12 in 6 units/rooms
From
R 680,00
Per unit, per night.
* Rates may vary according to season
11.3km North of center of Soweto Wine Festival
33 on First Guesthouse is situated a stone's throw from the Bohemian suburb of Melville's famous 7th Street with its vibe atmosphere, pavement cafes, cozy restaurants, antique/vintage stores and cocktail clubs, we are in the perfect location to explore Jo
From
R 750,00
Per unit, per night.
* Rates may vary according to season
11.9km North West of center of Soweto Wine Festival
Kingstone is a Self Catering Flat set in a quite cul de sac at 7 Adam Tasman Place, Constantia Kloof, Florida, West Rand, Gauteng, South Africa.
Sleeps: 12 in 5 units/rooms
12.2km North of center of Soweto Wine Festival
7th Street Guesthouse and Conference Venue is a 4 star graded by TGCSA, with 13 luxury en suite rooms equipped with DSTV, Wifi internet access, heaters, hairdryers, fans, digital safes, coffee/tea facilities and bar fridges stocked with compliment...
12.4km North of center of Soweto Wine Festival
Rockridge Manor is a bed and breakfast establishment situated in Fairland, Johannesburg. Architecturally designed in raw brick, wood & glass and atriums to blend with the garden of indigenous trees and rock.
Sleeps: 8 in 4 units/rooms
12.7km North East of center of Soweto Wine Festival
Parktown Guesthouse is set in a beautiful garden of a private Parktown estate - Situated in a lovely neighborhood. The cottage can accommodate two persons.
12.8km North of center of Soweto Wine Festival
Bearing the proud crest of the Higgo family, this boutique guesthouse offers luxury accommodation and conference facilities in the northern suburb of Northcliff, Johannesburg.
Sleeps: 18 in 11 units/rooms
From
R 600,00
Per person, per night sharing.
* Rates may vary according to season
13.9km East of center of Soweto Wine Festival
Villa Lugano Guesthouse is an exclusive Mediterranean styled luxury 4 Star and an AA Quality Assured Superior graded guest house ideally situated in Mulbarton in South Africa's City of Gold, Johannesburg. Situated close to the Camaro Street....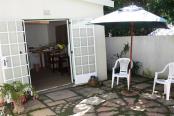 14.1km North East of center of Soweto Wine Festival
Nestled in the leafy suburb of Forest Town, in a quiet and secure cul-de-sac with 24 hour security guards. Friendly and warm comfort offered by Annie and Chris Challis - this is your home away from home.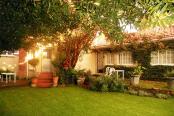 14.4km North East of center of Soweto Wine Festival
Forest Town Guest Cottages situated in Forest Town in Johannesburg. These attractively and comfortably furnished villas are self-contained, separate and private, 1- and 2-bedroom villas to suit families, the business traveller and tourists.
14.8km North West of center of Soweto Wine Festival
Homestay Travel Guesthouse provides both bed and breakfast accommodation and self catering accommodation in Roodepoort in Gauteng's Greater Johannesburg area. Located in the quiet suburb of Little Falls this bed and breakfast is conveniently situated clos