RAMfest Johannesburg

5 cities! 5 days! 7 stages! Local and international artists!
But its the ten of thousands of screaming fans who converge on the separate locations each year who truly create this raucous spectacle of sound, light, dance and rock n roll. Big sound, big stages and big parties are being trucked from North to South and East to West to make history through one of the biggest events South Africa has ever experienced. The 2012 Day of Thunder includes Infected Mushroom from Israel, In Flames from Sweden, Awolnation from the states, The Narrow, Pestroy, Fokofpolisiekar, Chrominium, Shadowclub, Newtown Knife Gang, Netsky, dj Set Ft. MC Darrison from Belgium and the United Kingdom, Niskerone, Rudeone, Tasha Baxter, Deeziak, Benson, Cutkeylow and Ambush.

The stages, bars and stalls will be inside a fenced off entertainment area. And there will also be large tented bar areas, with tables, benches and parasols. Parking will be on a first come first served basis with the gates opening at 17:00 on Friday for the 2 day campers and at 10:00 on the Saturday morning for day visitors. There will be ATMs placed around the entertainment area, to ensure that your cash flow does not run dry before you reach your saturation point for top entertainment!

The venue has also opened a secure fenced off village with 24 hour patrolling security for campers. Visitors are invited to bring their tents and mates and join in for a day or 2 of awesomeness. Oganisers have ensured that there will be a Rock Bar with DJs spinning top rock tunes, getting you in the mood for Sun. There will be cheap ice cold drinks as well as a food stand for the duration of your stay. The campsite will open on Friday afternoon at 17:00 and there will be clean and comfortable ablution facilities throughout! PLEASE NOTE that No open fires will be tolerated.

The festival will once again have a market bringing you the best in festival foods which are affordable yet healthy and delicious. Catering for everybodys needs, clothing and other festival paraphernalia as well as a Merchandise stand with credit debit card facilities will be there again.

Professional medics will be on site, with all the necessary emergency equipment, take your own headache tablets (no one elses) and please PARTY SAFE! Remember that its hot at this time of the year so make sure to bring extra shade, sun hats, umbrellas, and sun screen.

For more information please contact:
Email: dawid@ramfest.co.za

Directions: The 2012 RAMfest Johannesburgh will be held at Riversands Farm, Fourways, Johannesburg.
Head down William Nichol with Monte Casino on your right. Once you reach Fourways Mall on your left, go straight for another 6km. Riversands will be on your right. It's clearly marked, so you shouldn't get lost. Lots of secure parking available.

There is also a party bus from Pretoria.
After the success of Railway to RAMfest in 2010 and 2011, Hotbox Express have decided to organize a party bus from Pretoria to Ramfest - Jhb.

Although the idea is simple enough to understand, it is impossible to adequately describe the entire experience. As soon as the passengers step onto the bus, they are transferred to a parallel universe where time, space and real life ceases to exist. The individual experiences only the infinite joy and beauty of each present moment. Hotbox Express creates an intangible mosaic of Kodak moments, a vast array of memories, experiences and sensations that melt together to form one big happy smile. 1 day festival that seems to last forever and yet it's over in the blink of an eye. Just like a dream.

::STRICTLY NO::
Under16s. Children must be accompanied by a responsible adult over 21, Alcohol or any beverages (please leave your drinks at home, cash bars at the event), Littering (Leave No Trace), Fireworks, Domestic animals, Graffiti, Bad attitudes, Weapons, Independent sound systems, illegal substances.

Dont drink and drive.

P:L:U:R!
Nearby Listings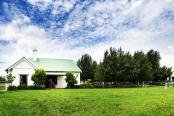 Sleeps: 7 in 2 units/rooms
From R 680,00
Per person, per night sharing.
3.3km East of center of RAMfest Johannesburg
Set in the tranquility of the enclosed & secured equestrian estate of Beaulieu, Midrand, is 'The Paddocks'. An up-market, two bedroom, self-catering cottage at affordable prices. Peace and tranquility as well as magnificent views...
3.7km South East of center of RAMfest Johannesburg
Donnybrook Guesthouse is situated in the lovely country environment of Glenferness, Johannesburg North. Converted from the original farm building of the Donnybrook estate, the Guesthouse offers you a warm and homely stay in an attractive country setting.
Sleeps: 14 in 8 units/rooms
3.7km South East of center of RAMfest Johannesburg
Welcome to The Roosters Nest BnB, a family owned and -run guesthouse which is set in beautiful tranquil country surroundings, and boasts a beautiful lush garden with lots of old, big trees which offer a restful country feel.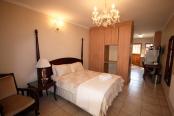 Sleeps: 27 in 8 units/rooms
From R 795,00
Per unit, per night.
4.7km South of center of RAMfest Johannesburg
The stylish, individually decorated accommodation has a colonial, Victorian feel. Guests may choose between private, fully equipped one and half, two or three bed-roomed self-catering cottages, fully equipped kitchens and TV. We also have fax, ...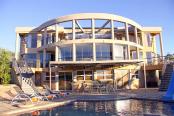 Sleeps: 24 in 7 units/rooms
From R 600,00
Per person, per night sharing.
4.8km East of center of RAMfest Johannesburg
Set in the tranquility of the enclosed and secured equestrian estate, Beaulieu, Midrand. Upmarket, attractive accommodation at reasonable prices. Designed for the corporate and equestrian markets, but suitable also for private use, our comfortable...
From R 1 400,00
Per unit, per night.
5.1km South of center of RAMfest Johannesburg
Nestled between Fourways Gardens & Dainfern, with beautiful views. A Two-bedroom apartment offers the perfect location for visiting business professionals and tourists.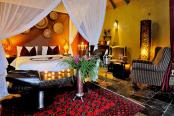 Sleeps: 42 in 20 units/rooms
5.1km South West of center of RAMfest Johannesburg
Aquanzi Lodge a 4 star establishment which offers luxury, bed and breakfast and self-catering accommodation to visitors in Johannesburg
Sleeps: 11 in 4 units/rooms
From R 305,00
Per person, per night sharing.
5.4km South of center of RAMfest Johannesburg
Villa D'or Guest House in Fourways offers high quality modern accommodation with the focus on comfort and entertainment. Villa D'or is known for its exceptional hygiene and cleanliness and its warm friendly atmosphere.
5.5km South of center of RAMfest Johannesburg
Nestling in the tranquil and well-treed environment of Lonehill in Fourways, Sandton these executive one-bedroom and two-bedroom apartments offer the perfect location for visiting business professionals and tourists alike. Savour the dynamic....
6.7km South West of center of RAMfest Johannesburg
Hoopoe Haven Guest House offers secure, affordable three star Bed and Breakfast and AA highly recommended self-catering cottages and luxury tented camps near Fourways.