The Apartheid Museum

The year 1948 marked the beginning of a very dark era in South Africas history, an era which was to last for 46 years, Apartheid. The word apartheid is an Afrikaans word which means separation, and in 1948 the ruling party, the National Party implemented the policy of apartheid which turned 20 million people into second class citizens, damning them to a life of servitude, humiliation and abuse. Those 46 years saw the rise and fall of many freedom fighters and activists, one of the most famous being South Africas first democratically elected president, President Nelson Mandela. 1994 was the beginning of a new era, the birth of The New South Africa, a proud South Africa, and a South Africa for the people.

The Apartheid Museum opened in 2001 and is acknowledged as the pre-eminent museum in the world dealing with 20th century South Africa , at the heart of which is the apartheid story. The Museum was constructed at a cost of approximately R80m which was paid for by Akani Egoli, who were the developers of the adjacent Gold Reef City Casino. The museum illustrates the rise and fall of apartheid and is a truly South African experience, pieced together by a team of curators, film-makers, historians and designers. The exhibits include provocative film footage, photographs, text panels and artefacts illustrating the events and human stories from this terrible period. There are a series of 22 individual exhibition areas which take the visitor through a journey that tells the story of the state-sanctioned system based on racial discrimination and the struggle of the majority to overthrow this tyranny.

The museum is described as a beacon of hope showing the world how South Africa is coming to terms with its oppressive past and working towards a future that all South Africans can call their own. For anyone who wants any insight into this oppressive period in South Africas history, a visit to The Apartheid Museum is a must.
The museum is open from Tuesday to Sunday from 09:00to 17:00.
Guided tours are available at an additional cost of R5.00 per person and must be booked in advance.

For more information, bookings and admission fees please contact:
Tel: +27-11-3094700
Fax: +27-11-3094726
Or email: info@apartheidmuseum.org

Physical Address:
Northern Parkway
& Gold Reef Road
Ormonde
Johannesburg

Directions
From M1 South
Take the Booysens Road offramp.
Cross over first traffic light in Kimberly Road
Turn right at the second traffic light into Alamein, which becomes Northern Parkway, pass under a bridge
At the next traffic light, turn right into Gold Reef Road through the gates.
The Apartheid Museum parking is on your left.
Nearby Listings
Sleeps: 31 in 9 units/rooms
From
R 700,00
Per unit, per night.
4.8km North West of center of The Apartheid Museum
Uniquely positioned on the highest point of Johannesburg, with panoramic views over the city, Grand View B&B provides an enclave of solitude and elegance in northern Johannesburg. This striking establishment is located in one of the most sough...
Sleeps: 12 in 6 units/rooms
From
R 680,00
Per unit, per night.
6.0km North West of center of The Apartheid Museum
33 on First Guesthouse is situated a stone's throw from the Bohemian suburb of Melville's famous 7th Street with its vibe atmosphere, pavement cafes, cozy restaurants, antique/vintage stores and cocktail clubs, we are in the perfect location to explore Jo
Covid-19 Compliant
Instant Booking
Sleeps: 8 in 4 units/rooms
6.1km North of center of The Apartheid Museum
Parktown Guesthouse is set in a beautiful garden of a private Parktown estate - Situated in a lovely neighborhood. The cottage can accommodate two persons.
6.4km North of center of The Apartheid Museum
7th Street Guesthouse and Conference Venue is a 4 star graded by TGCSA, with 13 luxury en suite rooms equipped with DSTV, Wifi internet access, heaters, hairdryers, fans, digital safes, coffee/tea facilities and bar fridges stocked with compliment...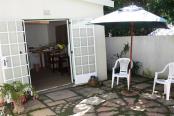 6.9km North of center of The Apartheid Museum
Nestled in the leafy suburb of Forest Town, in a quiet and secure cul-de-sac with 24 hour security guards. Friendly and warm comfort offered by Annie and Chris Challis - this is your home away from home.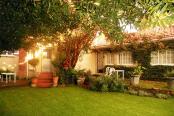 7.2km North of center of The Apartheid Museum
Forest Town Guest Cottages situated in Forest Town in Johannesburg. These attractively and comfortably furnished villas are self-contained, separate and private, 1- and 2-bedroom villas to suit families, the business traveller and tourists.
Sleeps: 18 in 11 units/rooms
From
R 600,00
Per person, per night sharing.
7.6km South East of center of The Apartheid Museum
Villa Lugano Guesthouse is an exclusive Mediterranean styled luxury 4 Star and an AA Quality Assured Superior graded guest house ideally situated in Mulbarton in South Africa's City of Gold, Johannesburg. Situated close to the Camaro Street....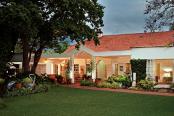 Sleeps: 8 in 4 units/rooms
8.8km North of center of The Apartheid Museum
Cotswold Gardens situated in the beautiful treed suburb of Saxonwold Johannesburg. Beautiful garden, a large sparkling swimming pool, with free standing sculptures and a variety of contemporary art inside the house.
Covid-19 Compliant
Instant Booking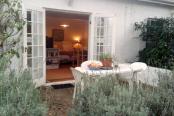 Sleeps: 6 in 3 units/rooms
From
R 425,00
Per person, per night sharing.
9.3km North of center of The Apartheid Museum
6 on Sixth Bed & Breakfast is conveniently situated in the up-market Johannesburg suburb of Parktown North.
9.3km North of center of The Apartheid Museum
Self catering accommodation in Parkhurst, Johannesburg. Including office area and within walking distance restaurants, shops and pubs. A sports club is on the boundary of the establishment.