Skeleton Gorge Hikes
Skeleton Gorge Hikes is a magical hike in the heart of Cape Town, South Africa. The hikes are offered daily, weather permitting and there's a choice of two distances, the 3 hour or the 6 hour hike. The Skeleton Hike is one of the most popular hikes amongst locals and visitors. If you are in the area, you must try to enjoy this great adventure. The name Skeleton Gorge is not a reflection of the danger of the hike, it is probably the most magical Table Mountain hikes. The trail will take you through an indigenous forest with beautiful trees overhead and breathtaking views of False Bay and the Southern Suburbs of Cape Town.

3 Hour Hike:
The 3 hour hike starts at Kirstenbosch and goes up Skeleton Gorge to the historical Helly Huchison Reservoir and the Waterworks Museum. This is where you can take a rest. After that the route will take you down Nursery Ravine which will take you back to Kirstenbosch Gardens.

6 Hour Hike:
The 6 Hour Hike also starts at Kirstenbosch and heads up Skeleton Gorge to the Helly Huchison Reservoir. From there the route will follow the Smuts Track to Maclears Beacon, this is where you will have spectacular views of Cape Town, remember to pack your camera. Table Mountain is fairly flat and for the more energetic, there is the option of hiking down Platterklip Gorge or India Venster. You may chose to take the cable car back down. For the more adventurous, there is the option of experiencing the worlds highest abseil from the top of Table Mountain.

Be sure to mark this activity on your list of exciting things to do when you are in the area, you won't be disappointed. Remember to pack sunscreen, hat and sunglasses as the weather can get really hot. Ensure that you have plenty of energy drinks and a water bottle with a some snacks, good comfortable shoes and a warm jacket.
Accommodation Near Skeleton Gorge Hikes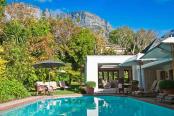 1.9km North East of Skeleton Gorge Hikes
Fernwood Manor is an elegant colonial style home in the leafy suburb of Newlands surrounded by lush greenery with wonderful mountain views.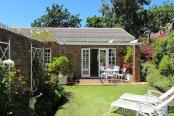 2.3km South of Skeleton Gorge Hikes
One or two bedroom cottage. En-suite bathroom with shower or full bathroom. Open plan kitchen/lounge/dining room. All essential appliances such as colour TV with M-Net, fridge, microwave, hair dryer, alarm clock radio, iron, ...
2.3km North East of Skeleton Gorge Hikes
Southey Cottage is located near the slopes of Table Mountain in the beautiful leafy suburb of Upper Claremont. It has a lovely sheltered and private garden - with pool, trampoline and superb mountain views, and secure off street parking.
2.4km North East of Skeleton Gorge Hikes
Acorn Tree, family accommodation sleeps 7. All double bedrooms open onto the sunny, quiet private walled garden with wonderful mountain views. Gas and electric cooking facilities, dishwasher, microwave, tumble dryer, washing machine. Auto garage...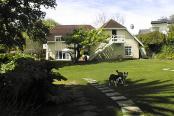 2.5km South East of Skeleton Gorge Hikes
Guests are welcomed to the tranquil beauty of the garden and the tastefully decorated interior by Annelie and her right-hand, Engela. Together they are more than qualified to see that your every need is catered for, from impeccably kept rooms and ...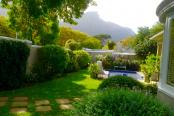 2.5km North East of Skeleton Gorge Hikes
Doris Cottage offers cosy and comfortable accommodation and is situated in a leafy quiet neighbourhood. It has a separate entrance and rose filled patio. The cottage is fully equipped and tastefully furnished with a kitchen. Ideal for a couple or single g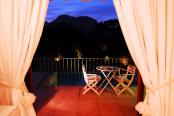 2.6km East of Skeleton Gorge Hikes
Take time out to discover a piece of Paradise tucked away in the heart of one of Cape Town's most exclusive suburbs. Complete tranquillity and privacy are afforded down a long tree-lined driveway.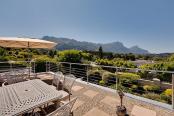 2.7km South of Skeleton Gorge Hikes
Le Bonheur is ideal for Film shoots, Company Conferences, Weddings or just for the family, couple looking to get away from the hustle and bustle of everyday life and having a holiday of a lifetime. 2 executive fitted bars which lead onto a...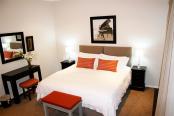 Sleeps: 9 in 3 units/rooms
3.1km North East of Skeleton Gorge Hikes
Glencoy is an upmarket, private self-catering apartment and en-suite guest room. It is situated in the quiet residential area of Upper Claremont.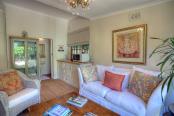 3.1km East of Skeleton Gorge Hikes
Hillingdale on Alexandra has 3 self-catering units all of which have Full DSTV package, Wi-fi, Their own private balcony/patios, Fully equipped kitchenettes, Private, secure off-street parking.