Sudwala Caves
The Sudwala Caves are considered to be the oldest caves in the world, located in a region of sedimentary rock in the Drakensberg nearly 3 billion years old.

One of the major tourist attractions in the Crocodile River Valley, these dolomite chambers are decorated with a fascinating variety of stalagmites and stalactites.

Visitors can explore a 600m route through passages and small halls, enjoying natural formations such as Screaming Monster and Weeping Woman. The caves extend beyond the tourist area into chambers filled even more elaborately. A resort has been established in the valley below the cave entrance.

LOCATION:
- from Nelspruit, take the N4 west for 35 km
- turn north onto the R539 and continue for 8 km


Accommodation Near Sudwala Caves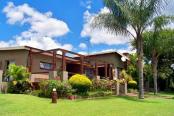 12.6km East of Sudwala Caves
Why would you choose to overnight at this homely guesthouse? Its your best overnight stop before the Kruger National Park and Mozambique. This luxury accommodation is geographically situated in the centre of the Lowveld Scenery like the Kruger ...
16.1km East of Sudwala Caves
Almar View B&B and Guest House offers you a magical view on the Crocodile River Valley. It is situated on N4 from Johannesburg, 16km west of Nelspruit.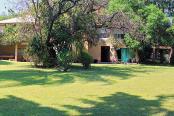 Sleeps: 24 in 9 units/rooms
17.6km East of Sudwala Caves
The accommodation takes the form of five log cabins, of which 4 are simple two- person sleeping cabins with ensuite bathroom, and access to a communal living-room. A braai and entertainment area is situated there and available for use.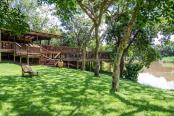 Sleeps: 39 in 9 units/rooms
18.2km East of Sudwala Caves
Hippo water front is the most peaceful and quiet setting on the banks of the Crocodile river only 10 km out of Nelspruit. Affordable, clean, comfortable and fully equipped chalets ensure a real rustic and African bush experience.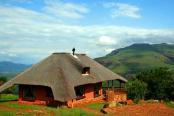 Sleeps: 20 in 5 units/rooms
19.4km South West of Sudwala Caves
The Drakenzicht Country Lodge and Moutain Links Golf Course is set high up on a mountain top right on the edge of the Drakensberg Escarpment where the grasslands of the Mpumalanga Highveld meets the warm Lowveld.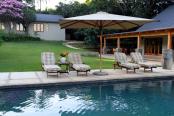 Sleeps: 10 in 5 units/rooms
22.5km North East of Sudwala Caves
la Granja guesthouse is situated on a three hundred hectares game farm in the beautiful surroundings of the Lowveld, just outside White River. Conveniently located 20km from the Kruger Mpumalanga National Airport.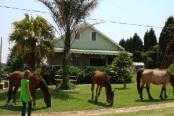 23.1km South East of Sudwala Caves
Clarizma is built in the authentic architecture of the 1880's. The house boasts two double rooms and another are with a bunker bed. One of the two bathrooms is en-suite and the kitchen is fully equipped for self catering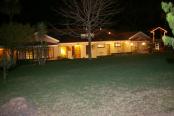 23.2km South East of Sudwala Caves
Nestled on the edge of the Mpumalanga escarpment, Kaapsche Hoop looks over the valleys toward Barberton and Nelspruit and in this tranquil setting you will find "Kaapsche Hoop Gastehuis" (Guesthouse).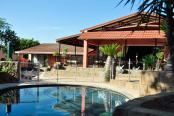 27.4km East of Sudwala Caves
A Tua Casa comfortably sleeps 8 guests. 4 Beautifully decorated air-conditioned bedrooms. 3 bathrooms. 2 en-suite with oval bathtub and spacious showers.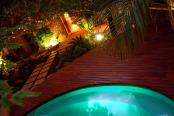 Sleeps: 65 in 33 units/rooms
27.8km East of Sudwala Caves
At Zebrina we offer you a exqusite rooms, a great view, peacefull gardens with birdlife and ultimately a wonderfull experience.