Showing 1 to 10 of 10 results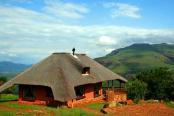 Sleeps: 20 in 5 units/rooms
From R 300,00
Per person, per night sharing.
The Drakenzicht Country Lodge and Moutain Links Golf Course is set high up on a mountain top right on the edge of the Drakensberg Escarpment where the grasslands of the Mpumalanga Highveld meets the warm Lowveld.
Nearby Listings
Sleeps: 18 in 8 units/rooms
17.3km South East of center of Schoemanskloof
A luxury boutique hideaway, Saragossa Game Lodge is nestled in the heart of the reserve, surrounded by dams, streams, savannah and bushveld. The original homestead, built in the 1920s, was recently restored to preserve its old world atmosphere and origina
Sleeps: 34 in 10 units/rooms
From R 800,00
Per unit, per night.
19.6km South of center of Schoemanskloof
Welcome to the Kingfisher Lodge - Where good fishing, food and friends unite. Situated in the Highland of the Trout Triangle, The Kingfisher offers the synergy of comfort, sophistication, luxury, simplicity and relaxation as well as exciting and rewardi
From R 800,00
Per person, per night sharing.
21.6km West of center of Schoemanskloof
Forest Creek nestles in a gorge of the Steenkampsburg Mountains, set in a Private Nature reserve of the Mpumalanga escarpment. The gorge is softened only by a blanket of shrubs and trees which have grown in this malaria-free zone
Sleeps: 23 in 9 units/rooms
From R 520,00
Per person, per night sharing.
25.0km South of center of Schoemanskloof
Family owned and managed, Bergwaters not only offers luxury accommodation, epicure meals, and a bliss boosting experience, supreme personalized service is guaranteed
Sleeps: 14 in 7 units/rooms
From R 555,00
Per person, per night sharing.
26.4km South of center of Schoemanskloof
Enjoy the warm embrace of the Shamrock Arms Guest Lodge, which offers good value, tranquil surroundings and wholesome food. Shamrock Arms is also the perfect base from which to explore many places of interest and scenic beauty in Mpumalanga.
Sleeps: 23 in 8 units/rooms
From R 1 120,00
Per person, per night sharing.
26.8km North West of center of Schoemanskloof
Stonecutters Lodge is a holiday, trout fishing & conference venue of exceptional quality. Travel to the Mpumalanga Highlands, just 2.5 hours from O.R. Tambo airport and stay in this four star graded lodge. The lodge lies between Dullstroom ...
Sleeps: 30 in 4 units/rooms
27.0km South West of center of Schoemanskloof
You can do fly-fishing, birdwatching, mountain biking (bring your own bike) or a walk in the mountains looking at the ancients ruines. This is all available on the property.
Sleeps: 28 in 5 units/rooms
From R 565,00
Per person, per night sharing.
29.4km North West of center of Schoemanskloof
A Country Estate that offers you privacy; peace & quiet; panoramic views; a large variety of bird life and renowned fly fishing; as well as pet friendly accommodation.
From R 3 500,00
Per unit, per night.
30.1km North West of center of Schoemanskloof
Tranquilty through Nature, Luxury by Design. "Luxury by Design" translates directly from the uncomparable design of Akabeko Botique Hotel's Architecture.
WhereToStay Schoemanskloof accommodation ranges from a variety of specific categories such as Schoemanskloof self catering accommodation to Schoemanskloof b and b accommodation and many more.
More sought after Schoemanskloof accommodation categories include Schoemanskloof pet-friendly and Schoemanskloof wheelchair-friendly accommodation. If you are specifically pursuing these Schoemanskloof accommodation categories, then we highly recommend that you contact the accommodation owner directly to ensure that the facilities are satisfactory and to your liking.
The Schoemanskloof pet-friendly accommodation and the Schoemanskloof wheelchair-friendly accommodation facilities can vary between large Schoemanskloof Hotels as well as small room only accommodation. Self catering Schoemanskloof accommodation will occupy the majority of these listings.
99% of all Schoemanskloof guest houses listed on WhereToStay will display rates for your convenience. Occasionally a Schoemanskloof guest house will ask you to request a quotation.
WhereToStay tries to keep the Schoemanskloof self catering and Schoemanskloof b&b standards at the highest levels relative to tariffs charged. Misleading advertising related to any listings of Schoemanskloof B&B and Schoemanskloof self catering accommodation should be reported so that WhereToStay can act accordingly.
See our full list of Schoemanskloof accommodation special categories at the top of this page
AFRIKAANS
WhereToStay Schoemanskloof Akkommodasie wissel van 'n verskeidenheid van spesifieke categoriee soos Schoemanskloof selfsorg akkommodasie, Schoemanskloof, b en b blyplekke en nog veel meer.
Meer gesogte Schoemanskloof slaapplek kategoriee sluit in Schoemanskloof troeteldier-vriendelike blyplekke en Schoemanskloof rolstoel-vriendelike akkommodasie.
As jy spesifiek vrae oor die voorsetting van hierdie Schoemanskloof blyplekke, sal dit raadsaam wees om kontak met die eienaars te maak om te verseker dat die fasiliteite bevredend is en na you hart.
Die Schoemanskloof troeteldier-vriendelike verblyf en Schoemanskloof rolstoel-vriendelike vakansie blyplekke kan wissel tussen Schoemanskloof Hotelle asook klein kamer akkommodasie in Schoemanskloof. Schoemanskloof selfsorg slaapplekke sal die meerderheid van hiedie inskrywings beset.
99% van alle Schoemanskloof gastehuise gelys op WhereToStay sal pryse vertoon vir u gerief. Soms sal 'n Schoemanskloof gastehuis vra om 'n kwotasie te versoek.
WhereToStay probeer om die lys van Schoemanskloof slaapplek standaarde op die hoogste vlakke (relatief tot tariewe) gehef hou.
Misleidende advertensies wat verband hou met enige lys van Schoemanskloof blyplekke moet aangemeld word sodat WhereToStay kan daarvolgens optree.